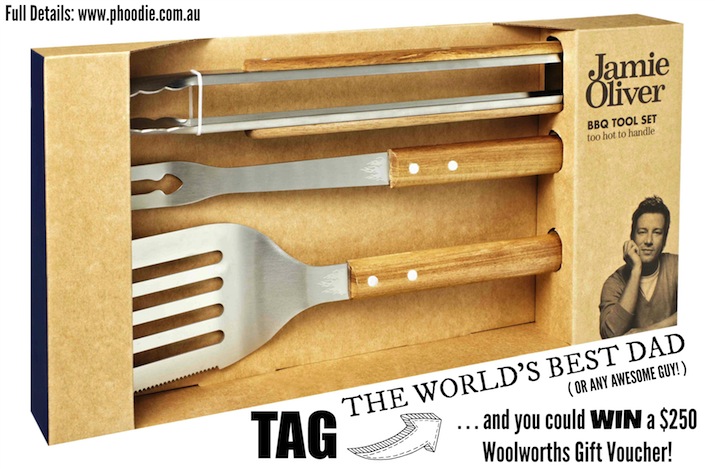 If you're anything like me, you haven't sorted your Father's Day gift (or gifts!) just yet….
BUT FEAR NOT!
Well, ONE LUCKY READER can fear not! I have an awesomely generous $250 GIFT CARD from Woolworths to give away!
Wahooooo!
If you WIN you can either gift the voucher directly to Dad or you can use it to buy him a whole bunch of super treats from Woolworths yourself! Of course general groceries are obviously an option, but have a read below to see the SPECIAL products that are available at Woolworths now just for Father's day. You could buy these for him instead!
With Father's Day just around the corner, Woolworths have prepared the ultimate Father's Day gifts that will leave dad grinning from ear to ear.
Bring the family together and fire up the BBQ with the Jamie Oliver Gas Torch, and let dad tuck into juicy, mouth-watering steaks – made easy with jumbo knives from Jamie Oliver's BBQ Steak Kit – exclusive to Woolworths.
Continue the fun as dad takes on the Best Dad Chilli Chocolate Wheel challenge and top off the day with tasty treats from Darrell Lea.
Posted in: REVIEWS 5 Comments