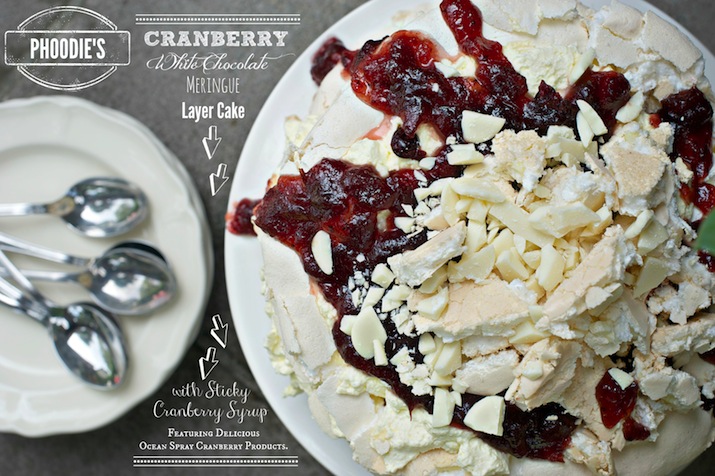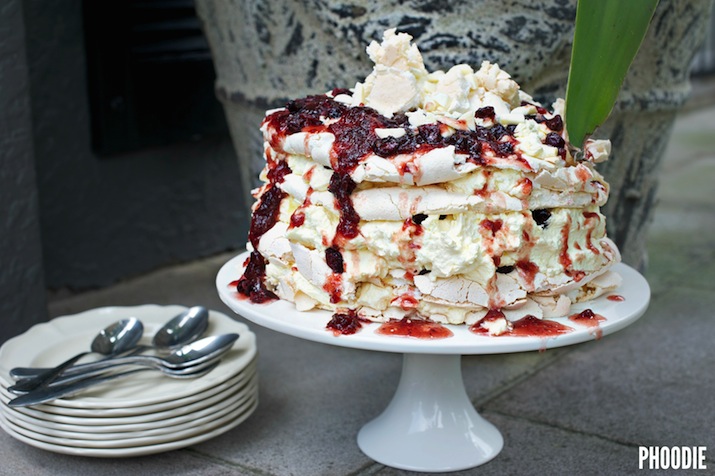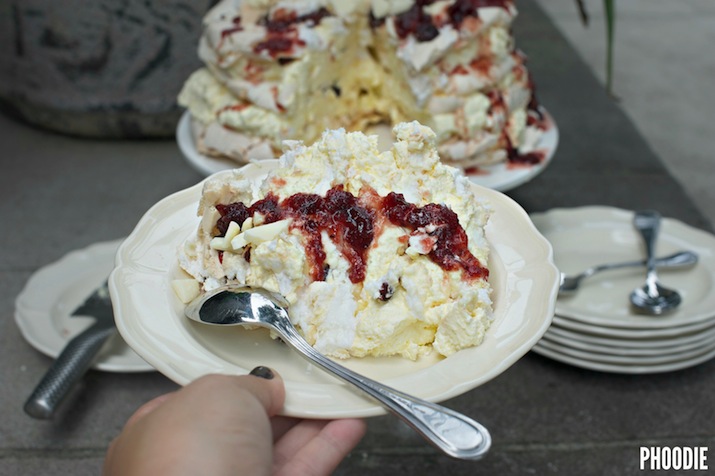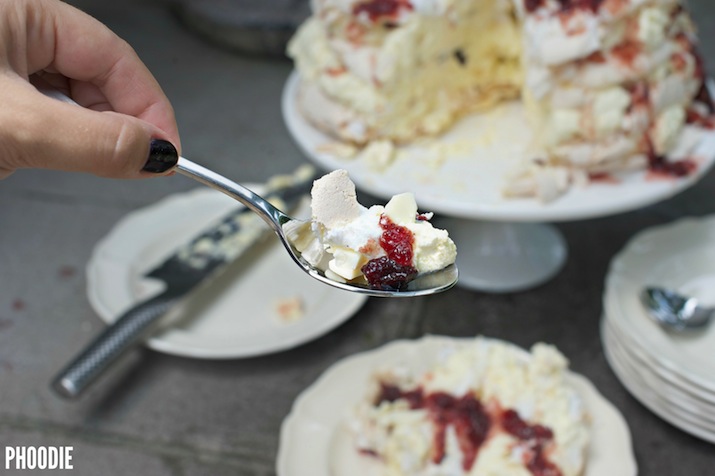 This Recipe post is Sponsored by Ocean Spray 
I think one of the best parts of being a kid is believing that MAGIC truly exists.
Trusting in magic meant that ANYTHING and EVERYTHING was possible!
As a kid, I found the kitchen to be the best place to hang out if I wanted to see some magic going down. I used to spend lots of time there with my grandmothers cooking up a storm, and miracle after miracle would take place. A really good example of this, one that can be seen when cooking this recipe, is how gloopy, clear, sticky egg whites could turn into pillowy, fluffy, bright white, voluminous meringue, simply by beating!
Dried cranberries are quite the little wonder too. Their versatile flavour means you can get really creative with how you use them. They blend with a variety of flavours and dishes – pair them with a savory dish (lamb!? Yummmmm) or a dessert (like I did!) for a delicious sweet tang :)
Apart from its magical nature, this recipe is also a showstopper. It's absolutely STUNNING to look at. The stark contrast of the arctic white meringue and cream with the deep, rich cranberry is exquisite. The Whole Berry Cranberry Sauce means that the sticky syrup is a breeze to make as most of the work has already been done for you. You eat with your eyes, and let's just say, my eyes get pretty hungry every time I look at this baby!
Want to get creative and make your own cranberry masterpiece? Head to the Ocean Spray Facebook page by clicking HERE and you could win a $1000 grocery voucher to buy all you need (and more) to bring your creation to life! Tell them the most creative dish you would make using cranberry products on the competition post here and the prize could be yours.
Hopefully you get some inspiration from this recipe – GOOD LUCK AND ENJOY! 
INGREDIENTS
For the Meringue Discs (4 discs of 23cm diameter plus one mini meringue, that gets smashed for decoration)
12 Egg Whites
3 cups Caster Sugar
2 teaspoons White Vinegar (or one cap)
1/2 cup Ocean Spray Craisins (Dried Cranberries)
180g White Chocolate – roughly chopped
Cream + Dried Cranberry Filling and Topping
2 x 600ml cartons Cream – for whipping
1/2 cup Ocean Spray Craisins (Dried Cranberries)
White Chocolate Chunks and Sticky Cranberry Syrup
90g White Chocolate – roughly chopped
275g jar of Ocean Spray Whole Berry Cranberry Sauce
4 heaped tablespoons caster sugar
1/3 cup water
 METHOD
For the Meringue Discs and mini meringue
1)     Preheat the oven to 170 degrees Celsius (fan-forced)
2)     Place the 12 egg whites into an electric mixer bowl on high speed. It is important that once the mixer has been turned on that it is not turned off until the meringue mixture has been made.
3)     Once the egg whites have whipped to form soft peaks you can start slowly adding the sugar. The mixture will gradually become glossy and stiff peaks will form, but you must not turn the machine off at any point!
4)     When you have reached stiff peaks, add in the vinegar and mix for another minute or so. You can now turn the machine off and gently fold through the white chocolate chunks.
5)     Scoop one cup of mixture out and set aside, then divide the remaining meringue evenly into four, placing each quarter on a baking paper lined tray. Sculpt each quarter into (approx.) a 23cm circle (I trace the base of a 23cm spring form pan onto baking paper to give me a rough guide.) Scatter each disc with Ocean Spray Craisins.
6)     Place each disc (one at a time) into the oven for about 30 mins or until meringue is coloured on top and has a solid stiff base. Remove to cool.
7)     After you have made your 4 discs, place the cup of mixture you scooped out at the start onto baking paper (in any shape) in the oven and cook until golden on top.
Cream + Dried Cranberry Filling
1)     Whip the cream until fluffy. Set aside.
2)     Have your Ocean Spray Craisins on hand, ready to scatter in between the layers.
White Chocolate Chunks and Sticky Cranberry Syrup
1)     Chop the 90g of chocolate into rough chunks and set aside
2)     Place the Ocean Spray Whole Berry Cranberry Sauce, the sugar and the water into a saucepan on low heat. Bring to the boil and allow to simmer for 5 minutes. Remove from heat and set aside to cool.
To Assemble
1)     Gently place a meringue disc in the centre of your serving platter or cake stand. Generously spread ¼ of the cream across the top of the disc and scatter Ocean Spray Craisins (Dried Cranberries) over the cream.
2)     Repeat with all the discs.
3)     After spreading the cream and scattering the Craisins on the top later, carefully drizzle the syrup over the top (and down the sides) of the cake. Top with chunks of the mini meringue and white chocolate pieces.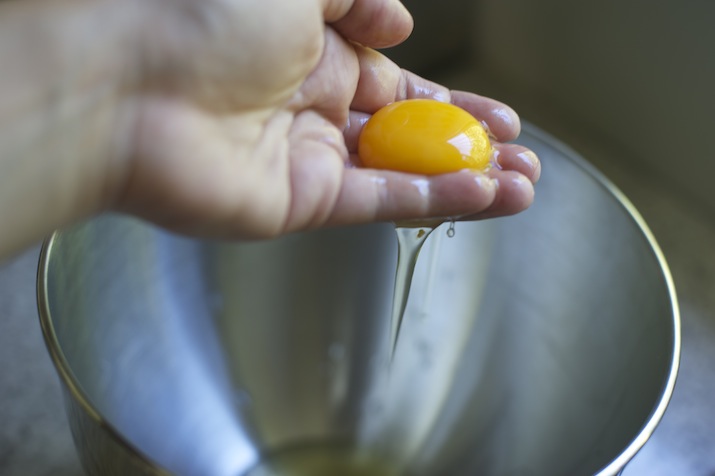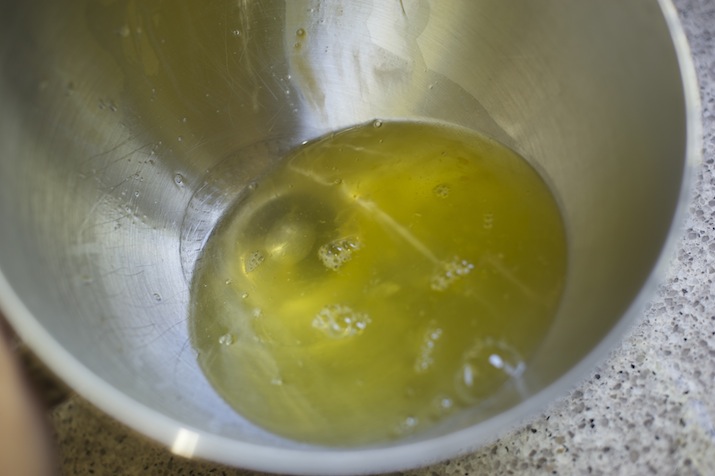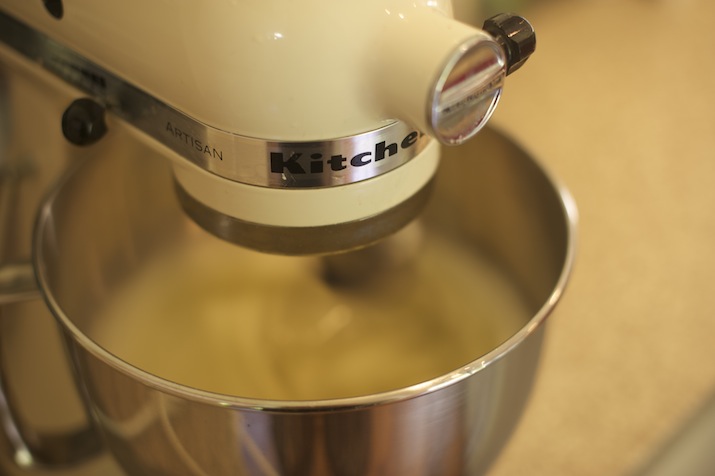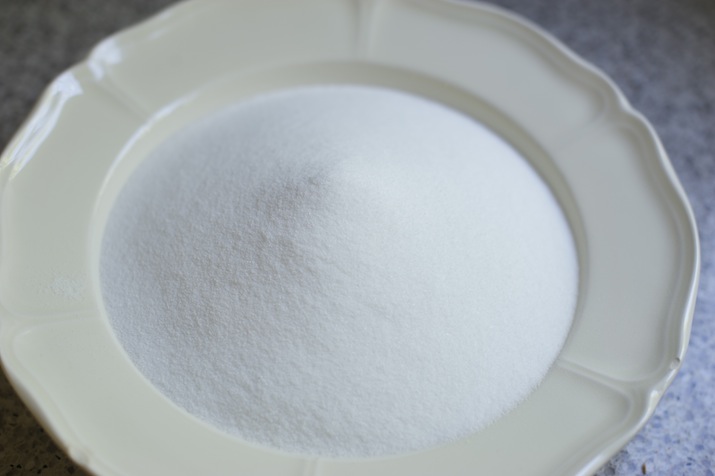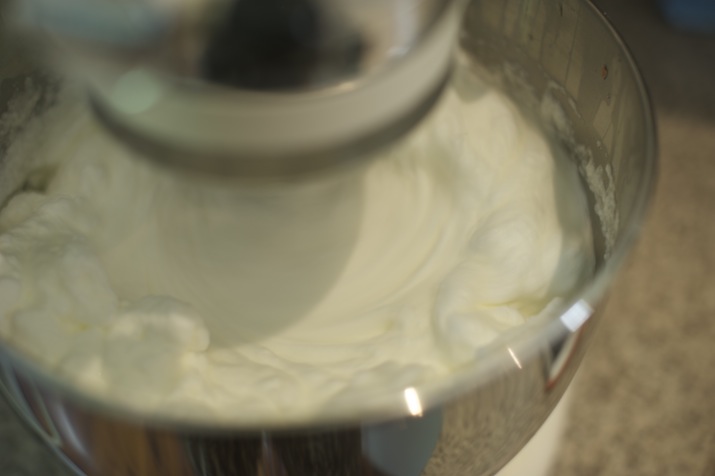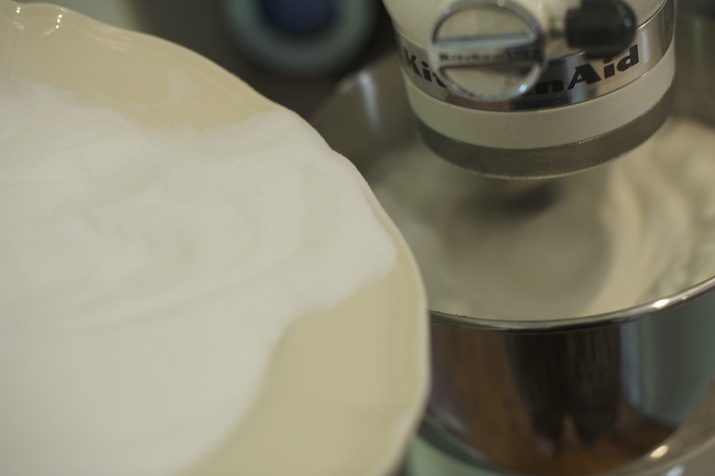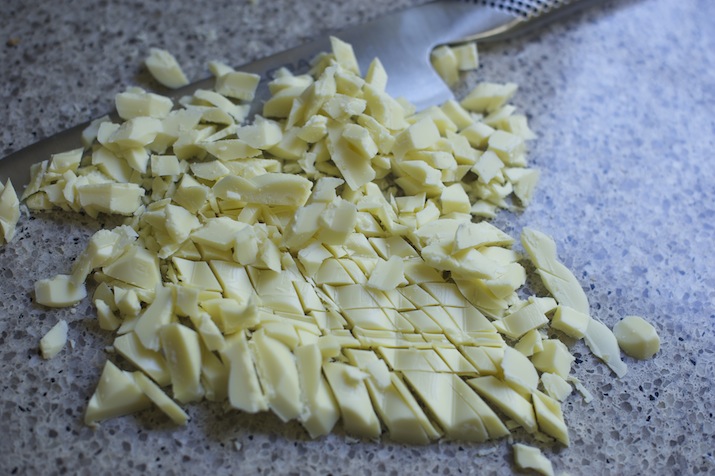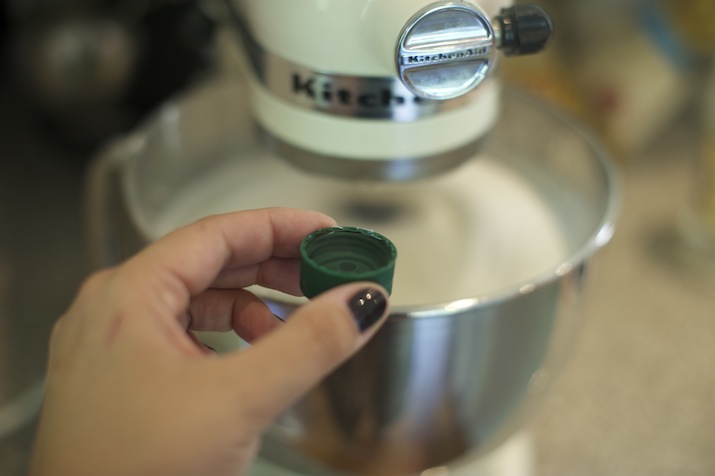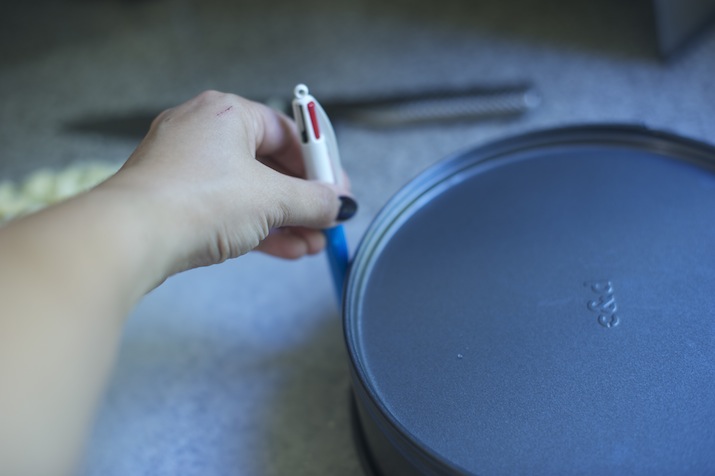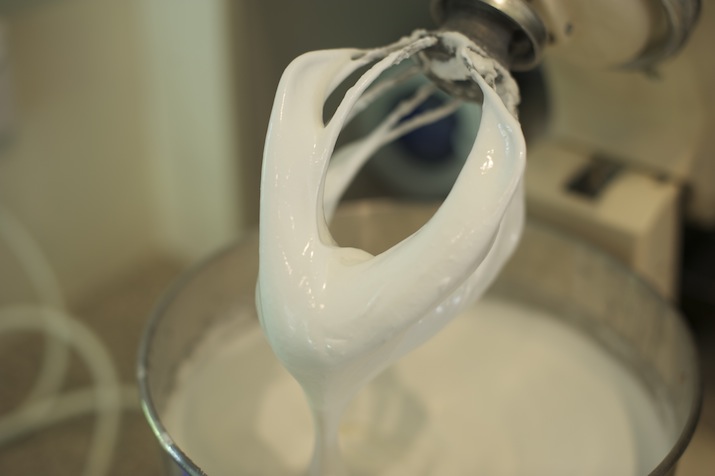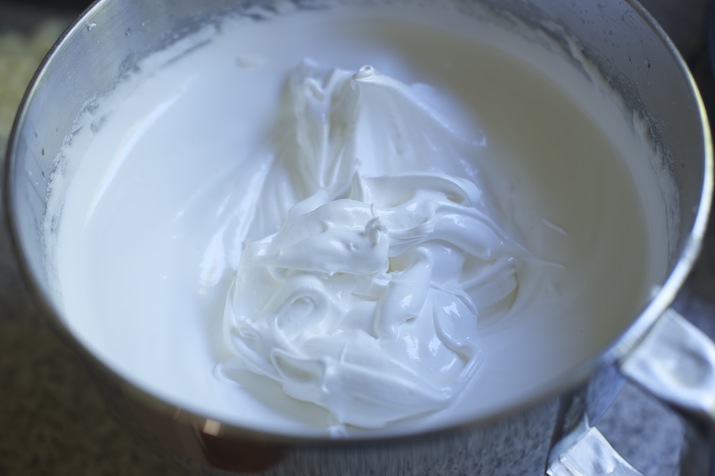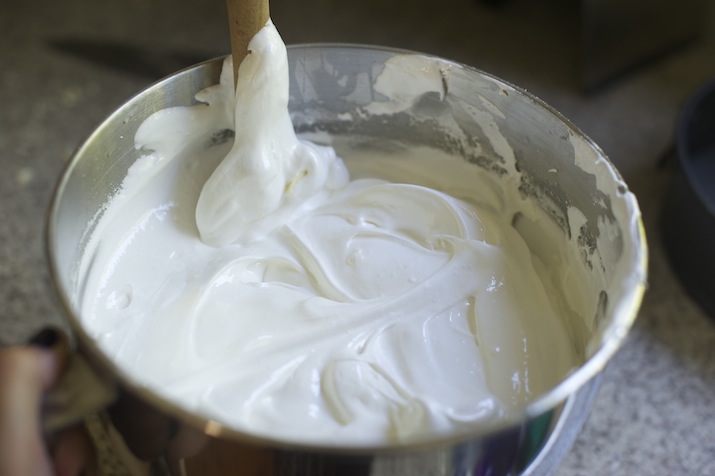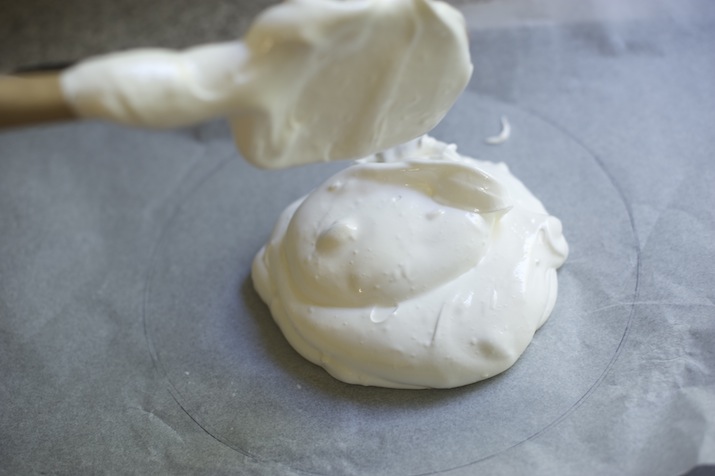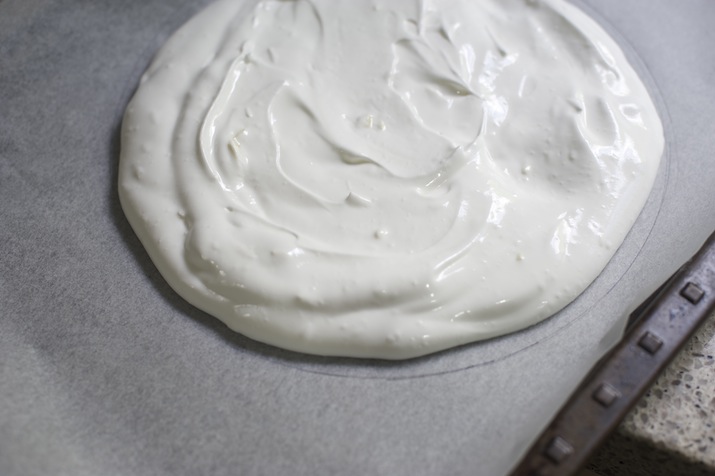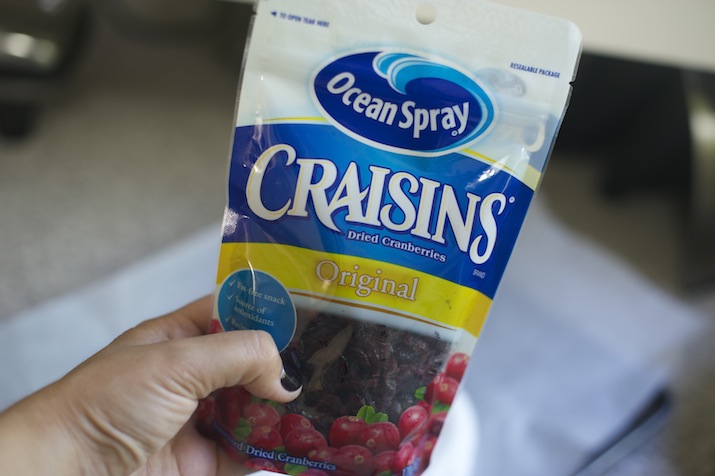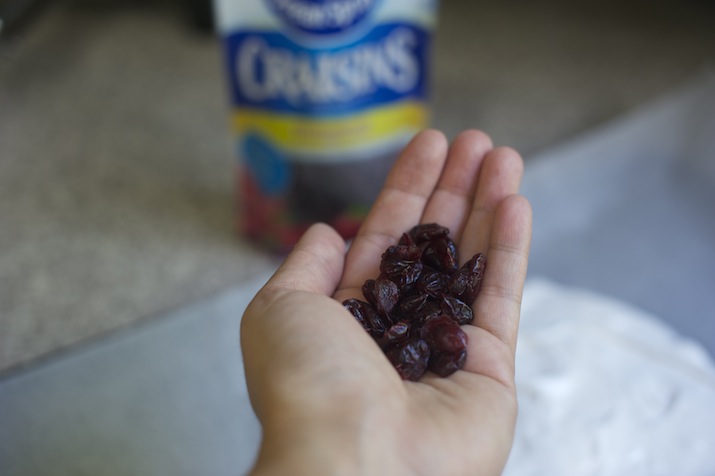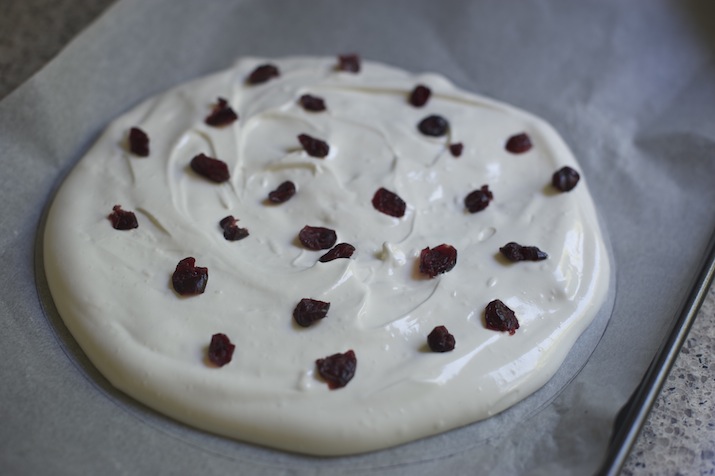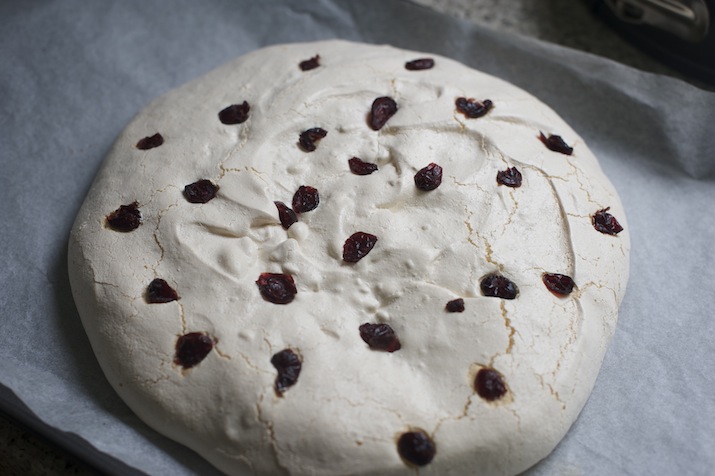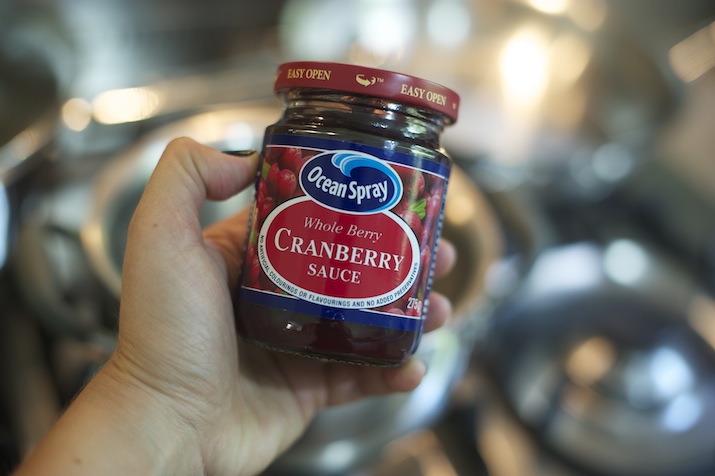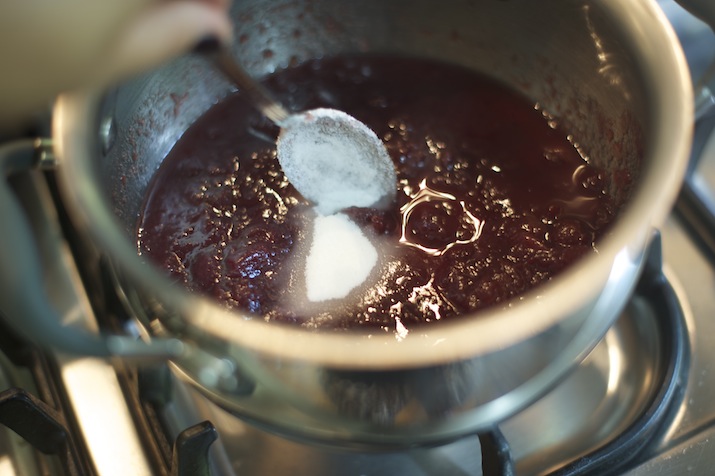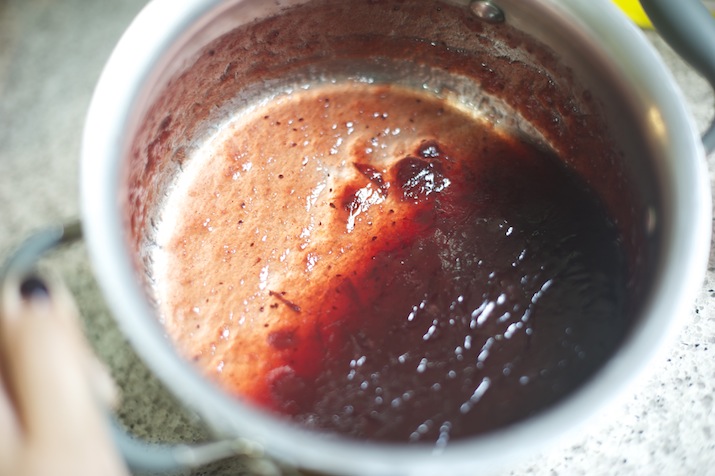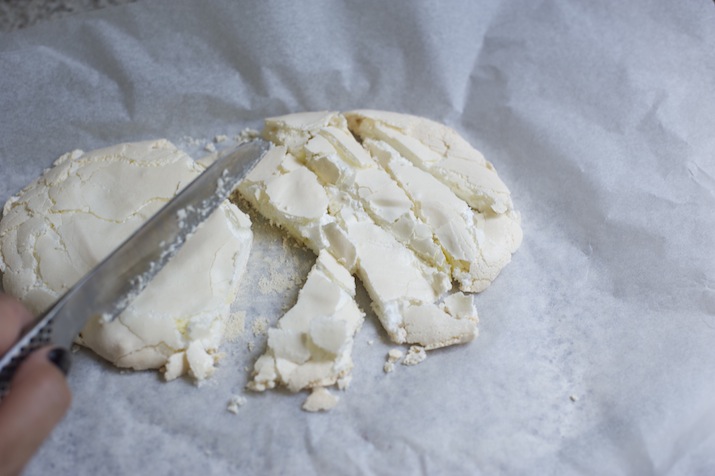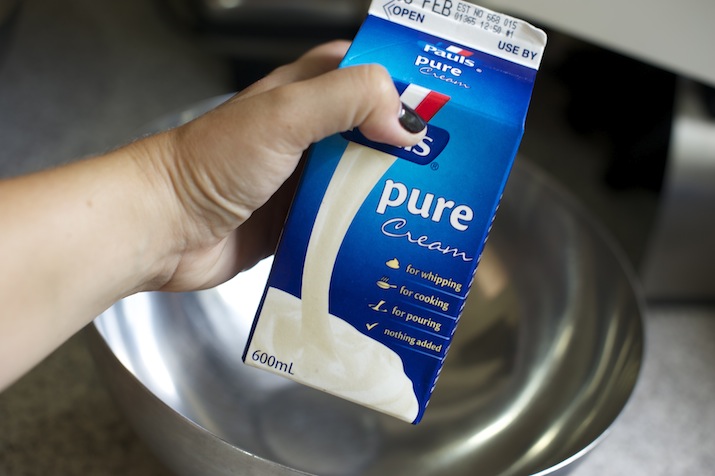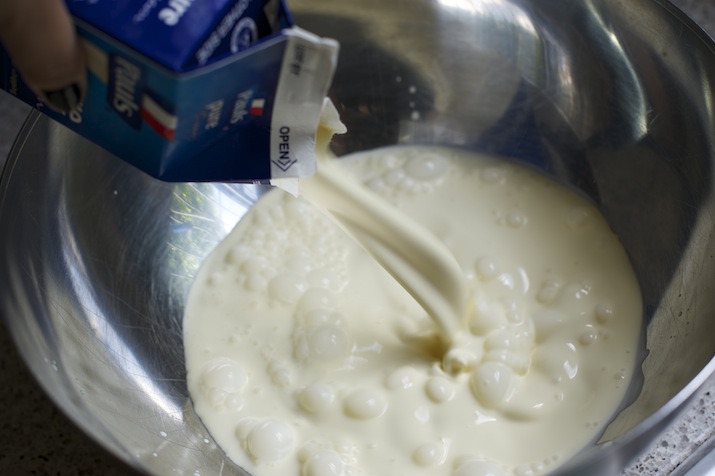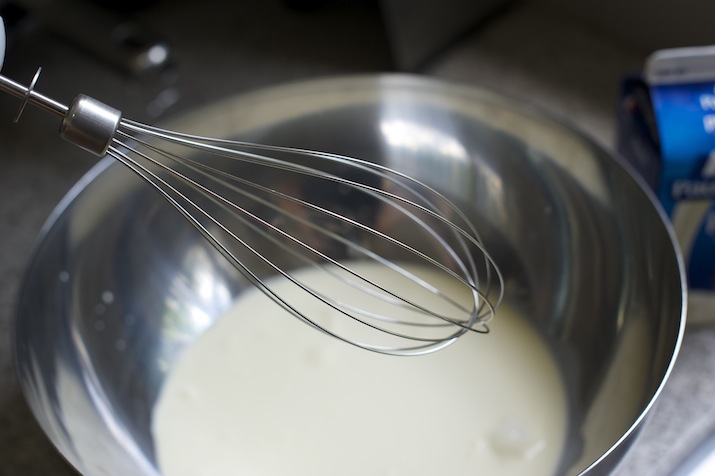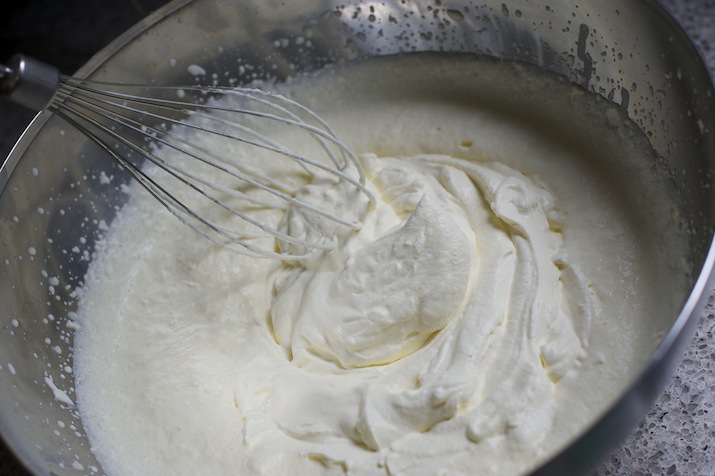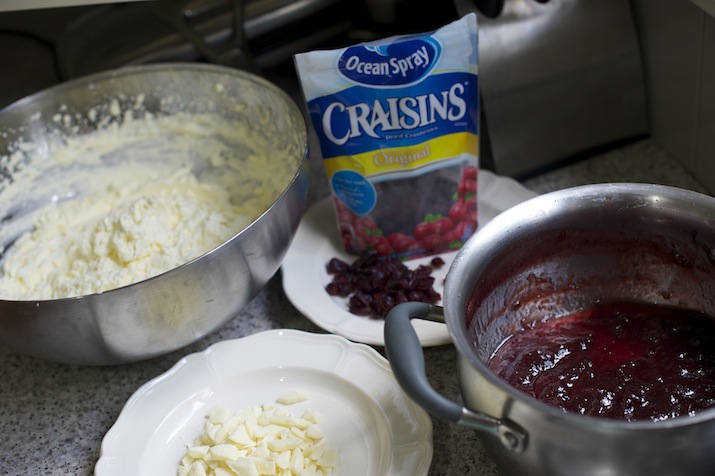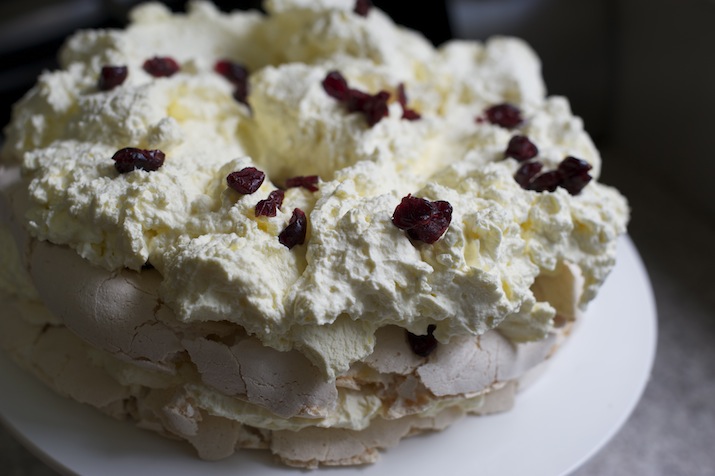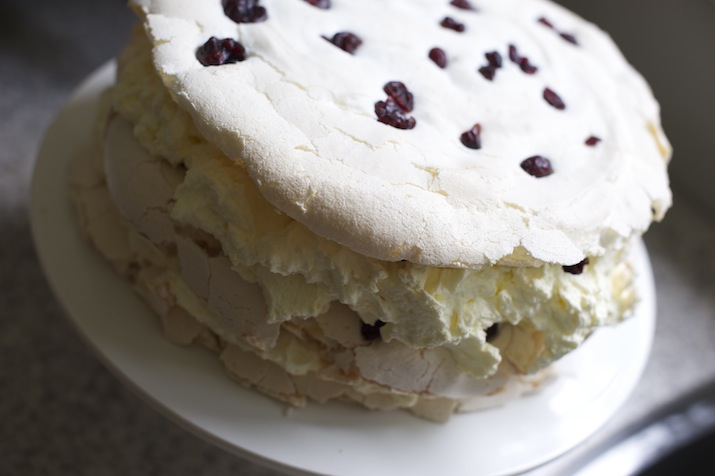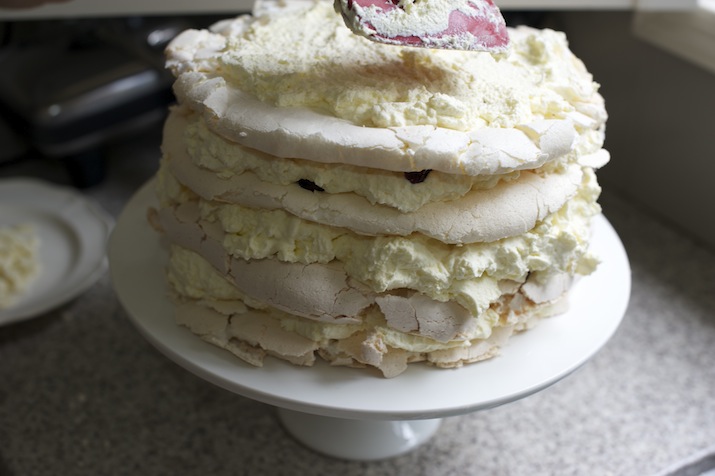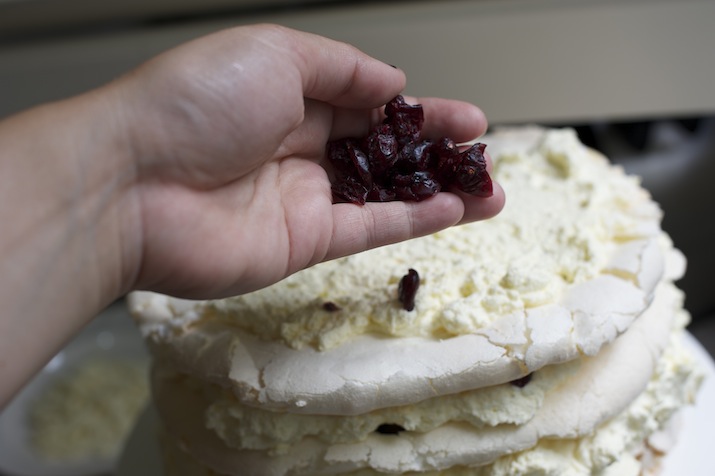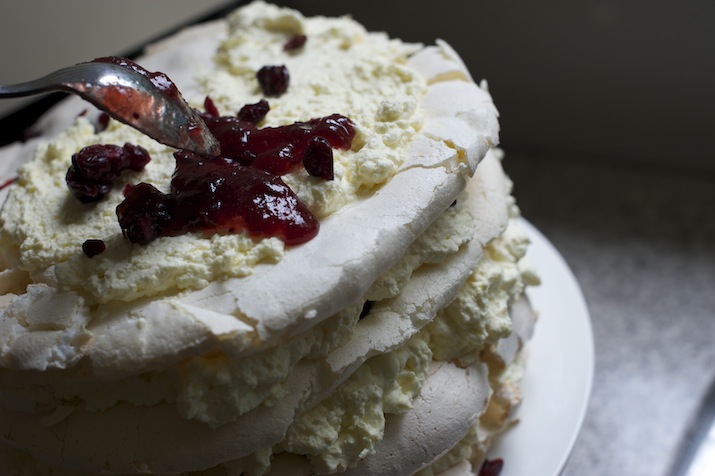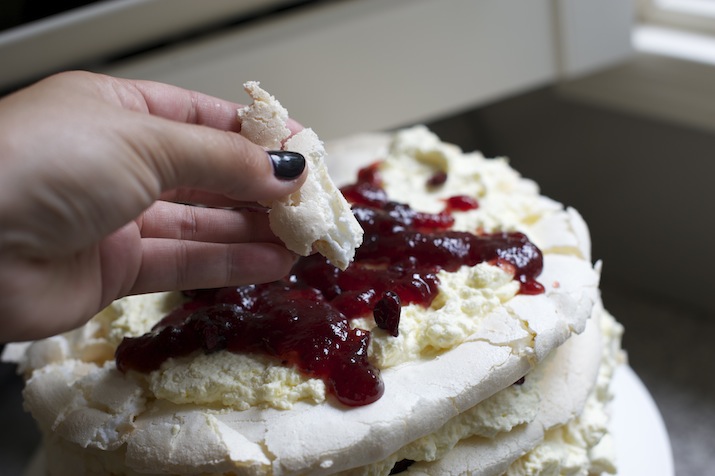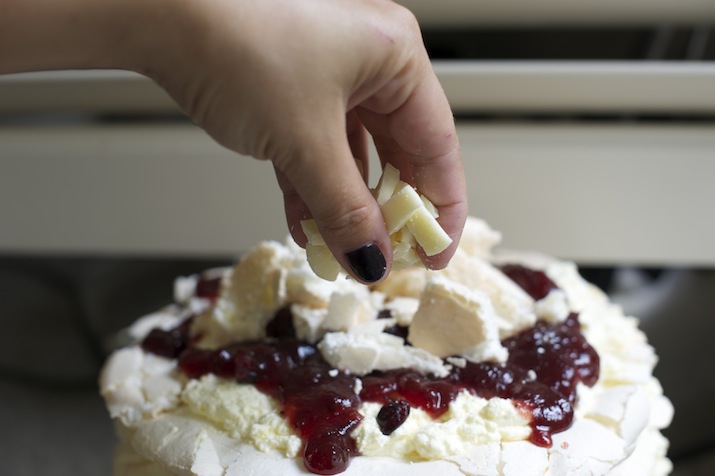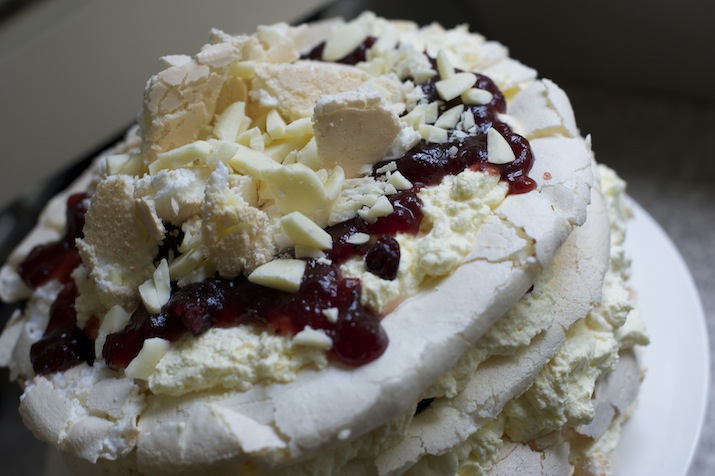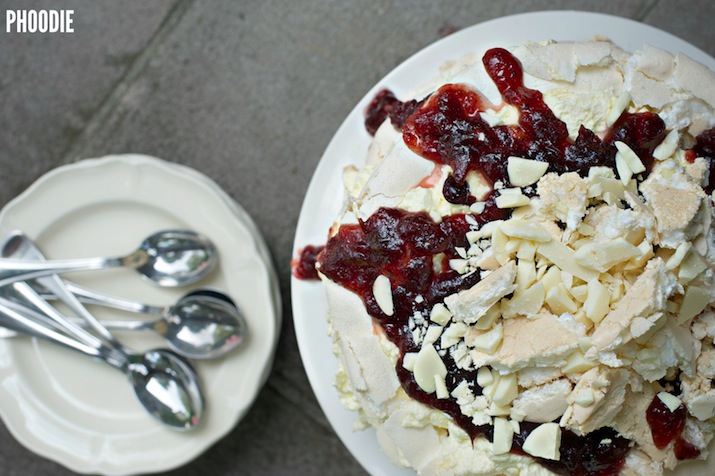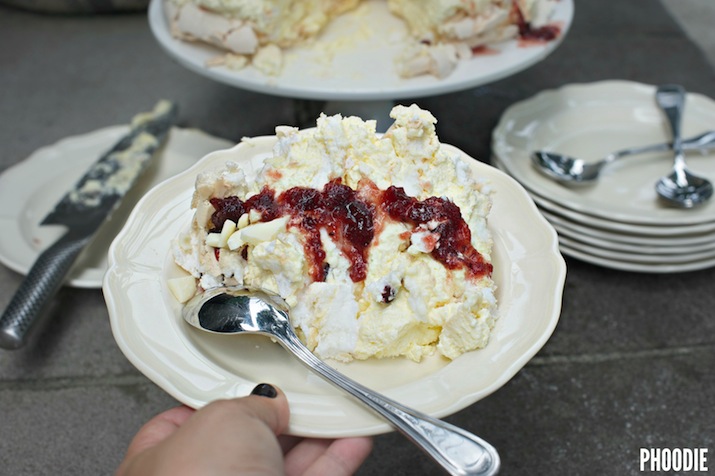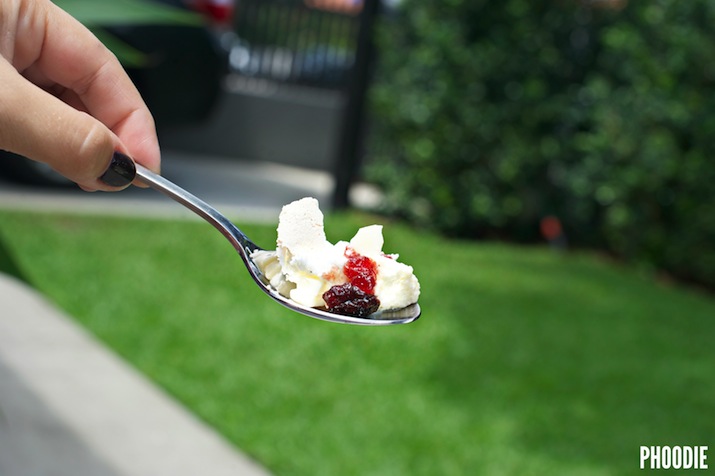 Posted in: BAKED GOODS, DESSERTS 0 Comments