PHOODIE'S HALLOWEEN 2013! 0
October 27, 2013
—————————————————————————————————————————————————————————————-
DON'T FORGET TO FOLLOW PHOODIE ON INSTAGRAM, (click here) FOR DAILY SNAPS OF FOOD AND MORE – ON FACEBOOK (click here) FOR GREAT GIVEAWAYS & ON TWITTER (click here)!
—————————————————————————————————————————————————————————————-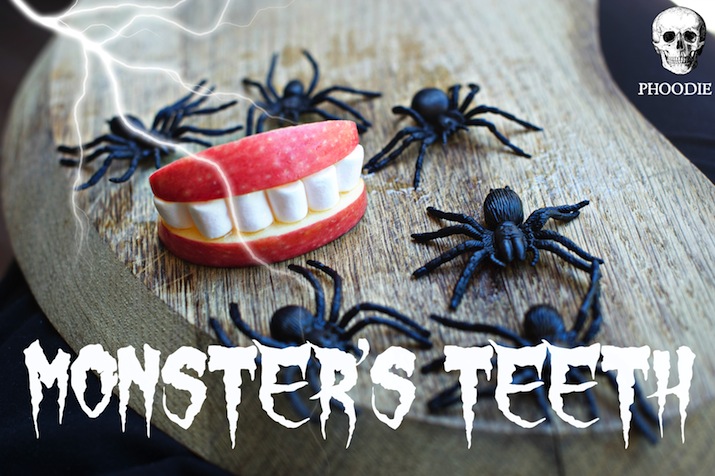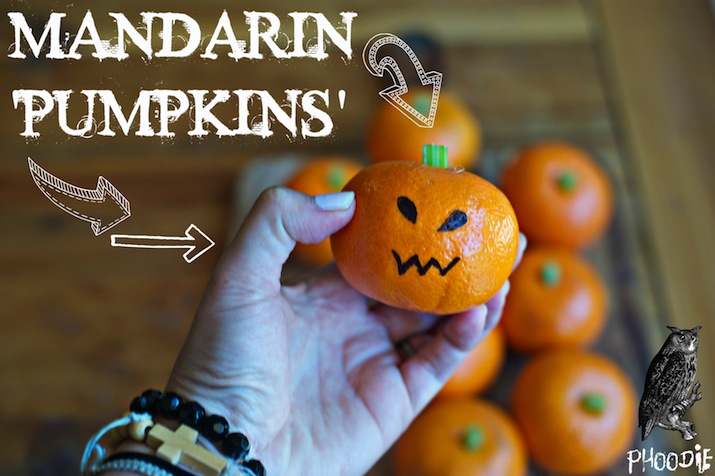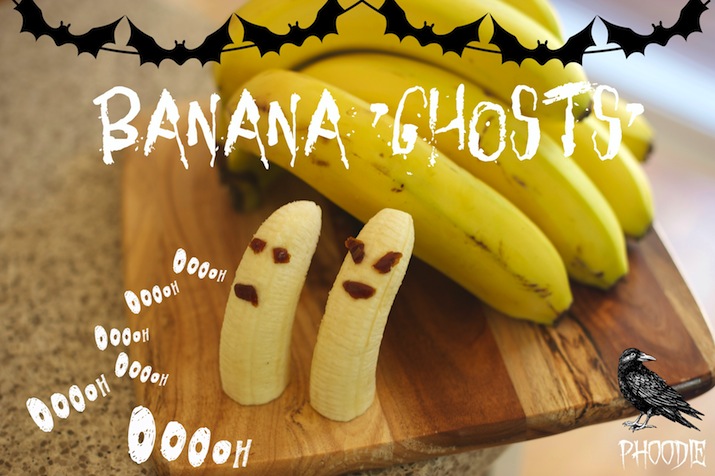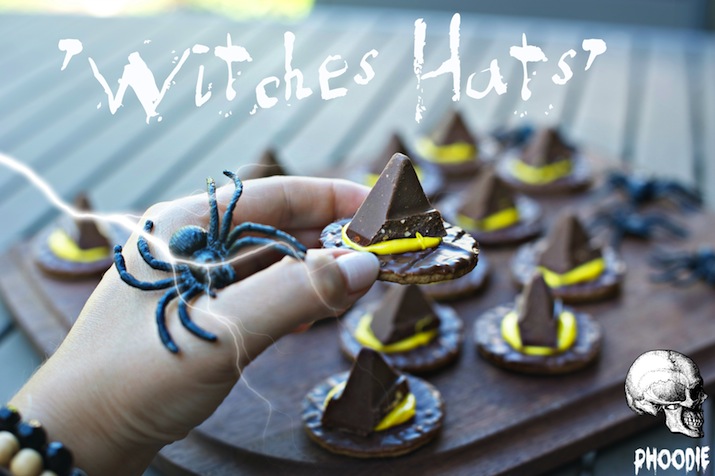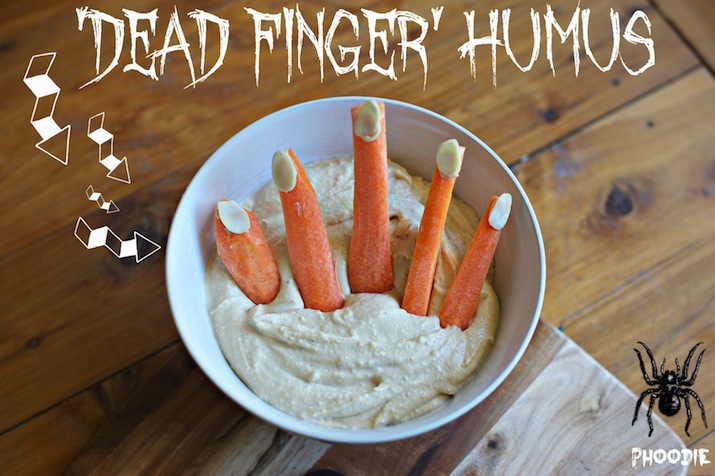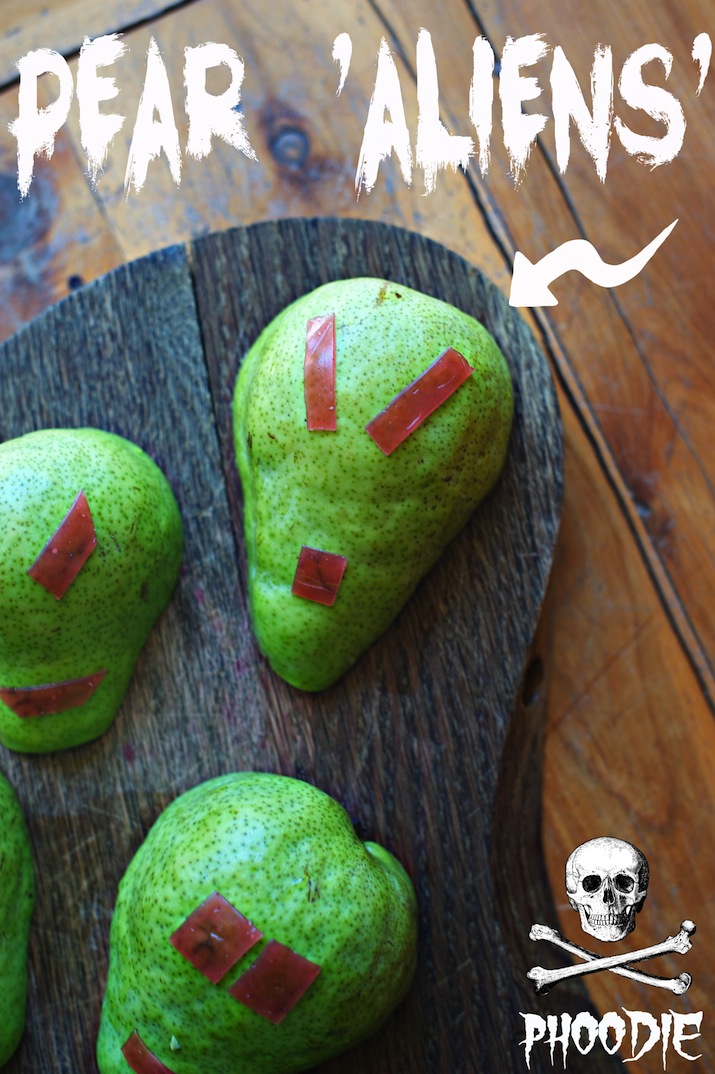 Here are some SUPER SIMPLE cute halloween snack ideas! Most of them are pretty healthy and they are all SO EASY to whack together with the kids! ENJOY!
Phoodie :)
1) "DEAD FINGER" HUMUS
INGREDIENTS
Carrot sticks – as many as you want (serve 5 at a time)
Flaked Almonds – 1 per carrot stick
Humus
450 g canned chickpeas, drained and rinsed
2 cloves garlic, crushed
3 tbs olive oil
3 tbs tahini
3 – 4 tbs lemon juice
3 tbs water
1 teaspoon Salt and ½ teaspoon Pepper
METHOD
For the hummus –
1) Place everything in a food processor and blitz until smooth. If too thick, slowly add more water until you are happy with the consistency.
For the hand –
1) Apply a drop of humus to the top of each carrot stick.
2) "Glue" on a flaked almond "nail"
3) Arrange in the hummus bowl like 5 fingers, keep replacing fingers as they get eaten or simply serve a platter of fingers alongside the bowl of humus.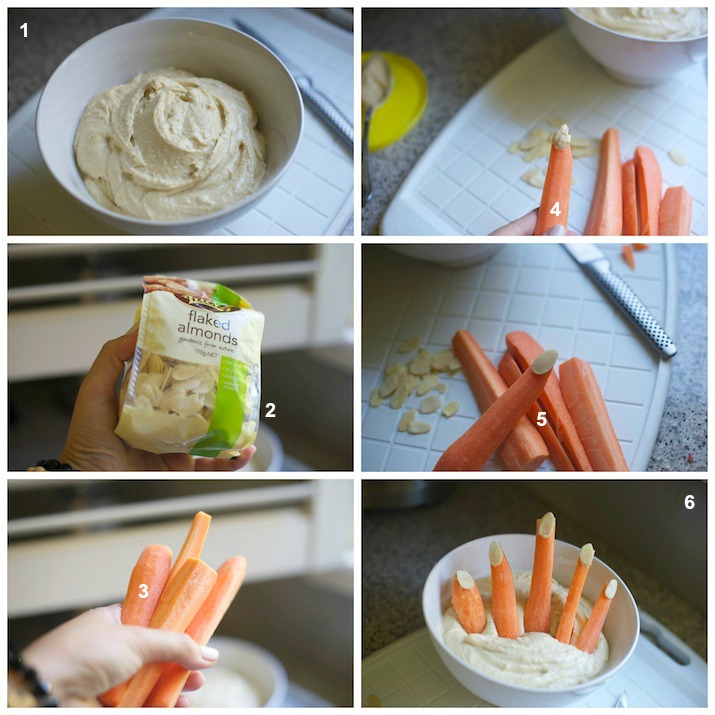 2) MONSTER'S TEETH
Makes 8 sets
INGREDIENTS
1 red apple
48 mini marshmallows (6 per set)
1/4 cup honey
METHOD
1) Cut the apple in half, then in half again, then in half again. This will give you 8 pieces of apple.
2) Cut each piece in half again, one piece will be the top "lip" and the other will be the bottom "lip."
3) Using a pastry brush, coat the bottom "lip" with honey and line the marshmallows in a row as teeth.
4) Coat the top "lip" with honey and place on top of the marshmallows.
5) Repeat with remaining ingredients.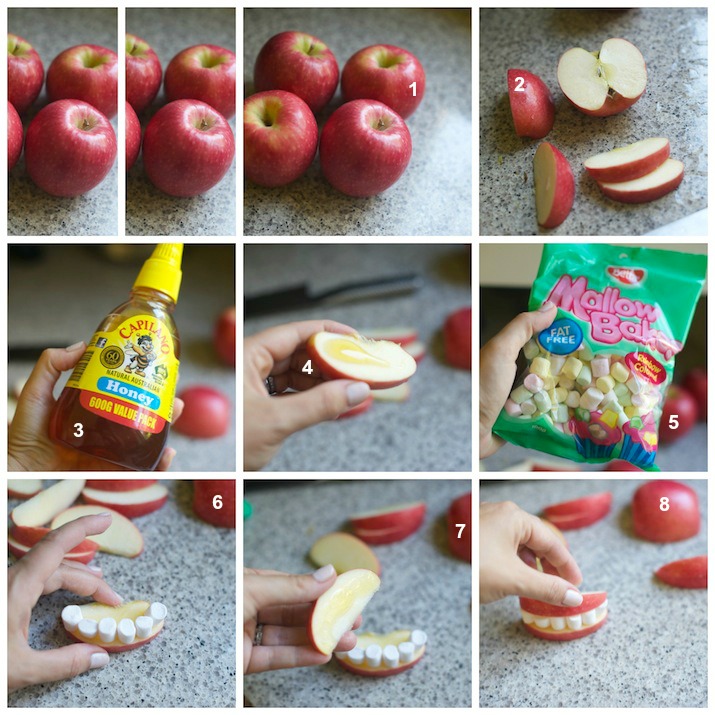 3) BANANA "GHOSTS"
INGREDIENTS
Bananas
Dates
METHOD
1) Peel bananas and cut in half.
2) Cut dates into small pieces and press into the pointy end of the banana so as to replicate eyes and a mouth.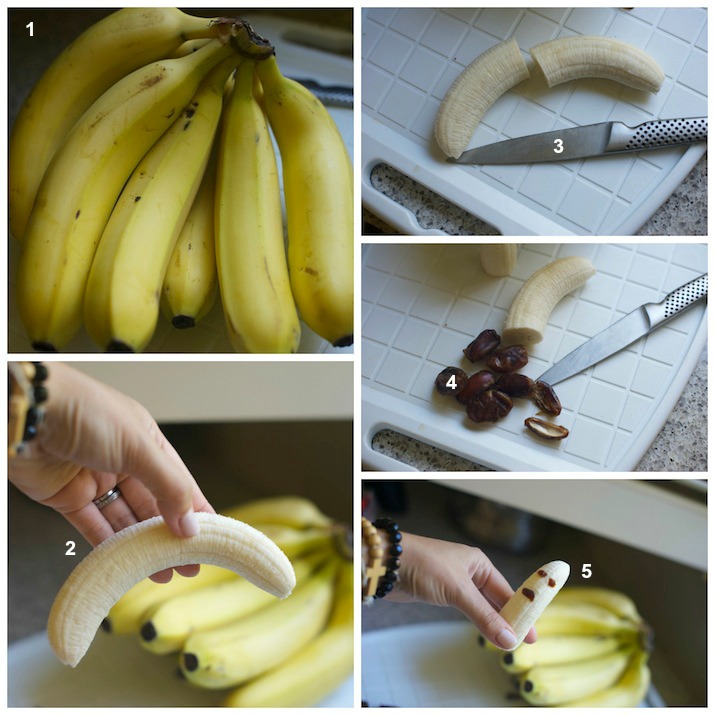 4) WITCHES HATS
Makes 20
INGREDIENTS
20 chocolate-coated wheat biscuits
20 triangles of Toblerone chocolate
1/2 cup buttercream icing (homemade or store bought)
Yellow food colouring
METHOD
1) Add the food colouring to the buttercream icing and mix until combined.
2) Spread 1/4 teaspoon of icing on to the bottom of a Toblerone triangle.
3) Stand the Triangle up in the centre of the choc-covered biscuit.
4) Repeat until all ingredients used.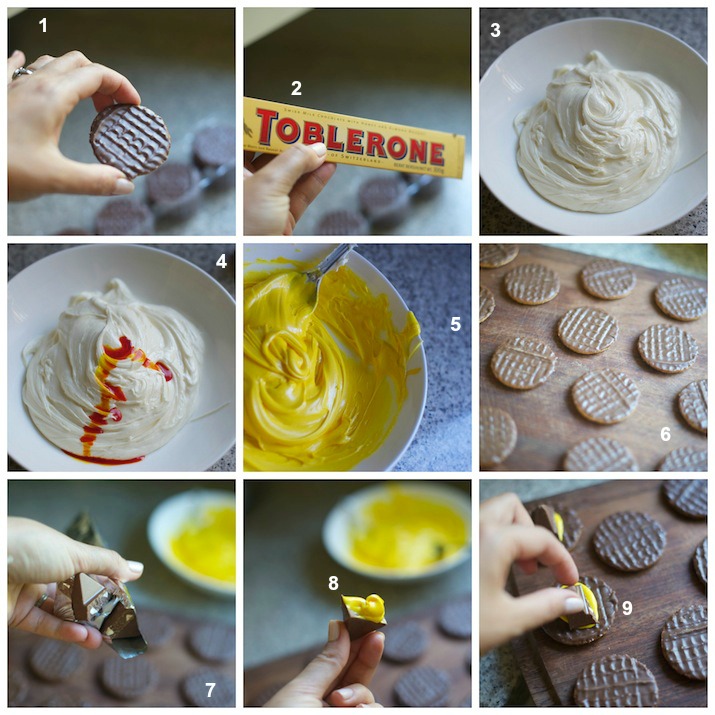 5)    PEAR "ALIENS"
(recipe idea from http://www.somedayilllearn.com)
Makes 8
INGREDIENTS
4 pears, cut in half through the stem
1 piece of fruit roll
METHOD
1) Wash pears and cut in half. Lay them on their flat side on baking paper.
2) Cut shapes for the aliens eyes and mouths out of the fruit roll. Use water to stick shapes onto the alien's "faces.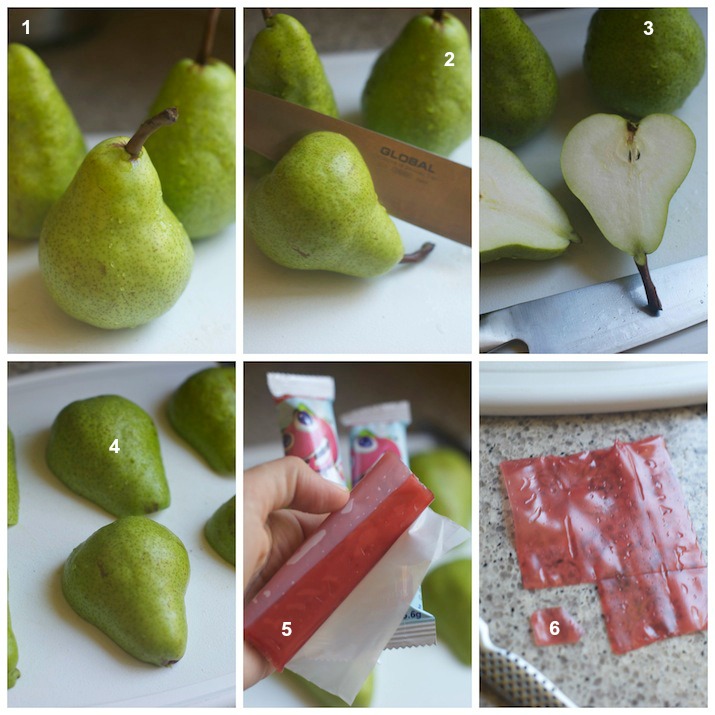 6) MANDARIN "PUMPKINS"
INGREDIENTS
Mandarins
Celery sticks (1 x 3cm long piece per mandarin)
METHOD
1) Cut the celery stalks into 3cm long, 1cm wide pieces.
2) Push celery into top centre point on mandarin to replicate a pumpkin stem.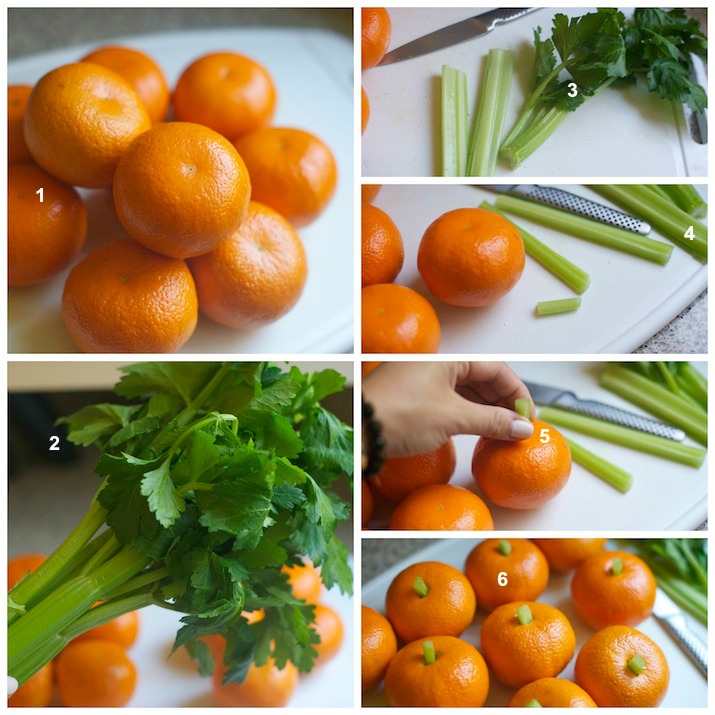 Related posts