PHOODIE GIVEAWAY TIME – DIM SUM & CO 9
November 10, 2013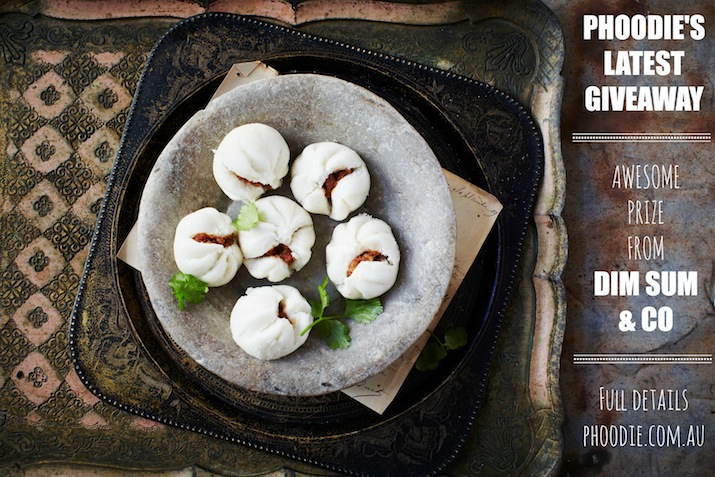 _____________________________________________________________________________________________________________________________
*** PLEASE NOTE BEFORE ENTERING: As the prize is frozen / perishable, this giveaway is limited to Sydney Metro delivery areas only (i.e. no more than 20kms from CDB) Feel free to enter on behalf of a friend, but the delivery of the prize can only be to Sydney Metro areas.
______________________________________________________________________________________________________________________________
Who doesn't love a soft, steaming pork bun, crunchy spring roll or a melt in your mouth dumpling? Now, thanks to Dim Sum & Co's readymade selections, you can enjoy the delights of Yum Cha at home with ease!
Dim Sum & Co have created a range of spring rolls, dumplings, buns and siu mei that is Australian owned and made, using fresh Australian ingredients. Best of all Dim Sum & Co products are quick frozen, meaning you can have them on hand for unexpected visitors or a healthy after school snack.
Dim Sum & Co are stocked nationally in Thomas Dux Grocers, David Jones Food Halls, selected gourmet butchers and delis, fine food stores and www.dimsumandco.com.au
NOW WHO WANTS TO WIN SOME?!
And when I say "SOME" I mean….. oh, only like, um, TWENTY BOXES of this goodness!!!!
That's right! A cool TWENTY BOXES of Dim Sum & Co product is up for grabs! All you have to do to enter is leave the name of the person you would share your Dim Sum winnings with in the comments section below. Alternatively, you can enter on FACEBOOK (by clicking here) and TAGGING the person you would share with in the comments section of the Dim Sum & Co status.
IMPORTANT: Feel free to ENTER AS MANY TIMES AS YOU LIKE, however, each entry must only contain ONE NAME and you cannot name / tag the same person twice.
Winner to be selected at random from all entries on phoodie.com.au and Facebook and to be announced on Wednesday 13/11/13.
GOOD LUCK!

Related posts