PHOODIE + Piñata Farms GIVEAWAY! 8
February 9, 2014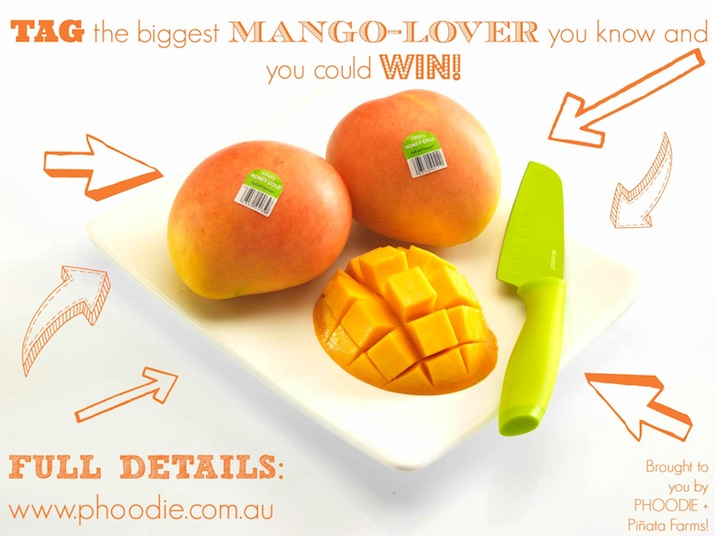 There are THREE DIFFERENT WAYS that you can enter this competition;
3) Below in the comments section of the blog
FULL DETAILS BELOW!
____________________________________________________________________________________________________
Note: To retain the freshness and integrity of the mangoes, this competition is only open to residents in metropolitan areas Australia-wide.
______________________________________________________________________________________________________
I get the same thrill running a giveaway as I do when posting a new recipe! I just LOVE the fact that sometimes in life, not often, but sometimes, you can totally get SOMETHING for NOTHING!
The folks from Piñata Farms Mangoes have given me a $150 Woolworths gift card, a tray of Honey Gold mangoes, a Honey Gold mangoes apron and a Honey Gold mangoes cap to pass on to a Phabulous PHOODIE Phollower!
And it could be YOU!
Over $230 worth of awesomeness is up for grabs and entering this competition could NOT BE EASIER!

Simply TAG a MANGO-LOVER on the PHOODIE Facebook Page  under the Competition Status!
YOU CAN ENTER AS MANY TIMES AS YOU LIKE, TAGGING A DIFFERENT INDIVIDUAL EACH TIME!
If you don't use Facebook, feel free to enter here on the blog by leaving the name of the biggest mango-lover you know in the comments below!
Alternatively, If you're an INSTAGRAM user, tag the biggest mango-lover you know over there, under my mango-competition picture!
So, not only will you WIN A $150 Woolworths gift-card, you'll win a delicious tray of Honey Gold mangoes (apron and cap!) as well! We know what the voucher, apron and cap are but here's a bit about the mangoes:
Grown exclusively by Piñata Farms' family farmers in every mainland state except South Australia, Honey Gold mangoes stand out for their bold, intense taste, fibre-free flesh and all-over golden apricot skin. When ripe, the skin has a natural, glossy appeal. An average of 500-600 grams each, Honey Gold mangoes remain firm when cut and are best eaten fresh.
Honey Gold mangoes were first bred by chance in Queensland's Rockhampton region in 1991 and are the natural result of a Kensington Pride off-type which was pollinated by another unknown variety. A seed was replanted and when the tree bore fruit, the grower – recognising its special taste and appearance attributes – named it Honey Gold. Piñata Farms bought the plant breeders' rights to the variety in 2002 and expanded the orchard for commercial production, sending the first fruit to market in 2009. The original Honey Gold tree still bears fruit in the Rockhampton orchard.
Piñata Honey Gold mangoes are available nationally until March. Look for them at Coles, Woolworths, Harris Farm Markets and independent retail outlets.
Piñata Farms is a proud Queensland family business with origins dating back to the 1960s in the state's south-east. Founded by pineapple farmer Geoff Scurr at Wamuran, Piñata Farms is now operated by Geoff's sons, Gavin and Stephen Scurr. Piñata Farms is the largest pineapple producer in Australia and one of the largest strawberry producers. It also grows specialty Honey Gold mangoes in every mainland state except South Australia
SO WHAT ARE YOU WAITING FOR!?
Competition Closes Midnight Wednesday 12th February 2014 with a winner selected at Random and announced on Facebook Thursday 13th February 2014. 

Related posts