PHOODIE'S CHEESE, HERB + OLIVE PULL-APART 4
May 13, 2014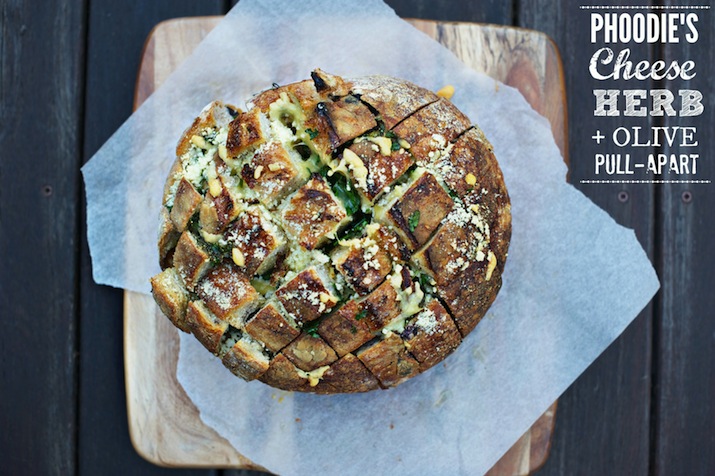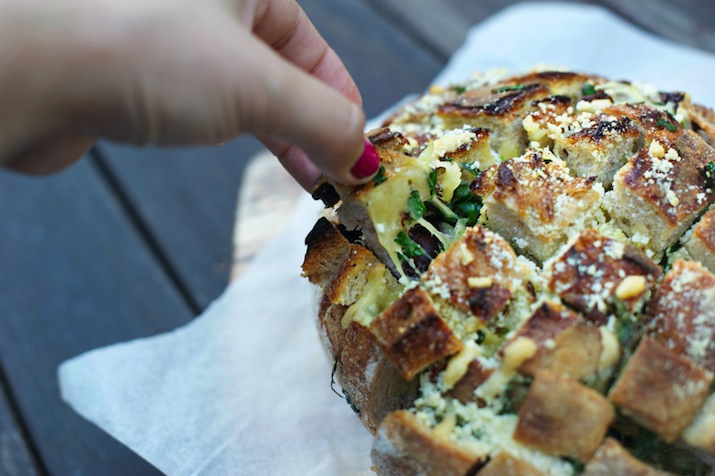 "The simple things in life are often the best."
                                                                                  – Someone
I don't know who said this originally.
Can't be bothered to google it.
All I DO know is that it's true.
This recipe calls for only a few ingredients. All you need to do is buy them and whack them on top of each other.
DONE.
And like MOST PHOODIE recipes, the best part about this is that it tastes SO delicious and looks SO impressive despite having taken you minus 3 and a half seconds to smash together.
You are most welcome! :)
INGREDIENTS
1 loaf / round /batard etc of bread – WHATEVER you fancy! I LOVEEEEEE Sonoma bread so I used a Sonoma White Olive Sourdough but you can use ANYTHING!
Cheese – again,  whatever type (or types) you like – I used a tasty and a parmesan. Keep in mind you want to use at least one cheese that melts well because that's the whole point!
Herbs – AGAIN, whatever you fancy! I used chives and parsley but oregano, rosemary, thyme would all work well…
Butter
Olive oil
METHOD 
1) Cut the bread both length and breadth ways to create a cross hatch pattern. Cut about an inch apart each way.
2) Use a long knife to lightly butter the inside parts of the bread and then place as much or as little chives / parsley etc as you wish on top of this butter, deep into the bread.
3) Scatter a generous amount of whatever cheese you are using in the crevices of the loaf of bread.
4) Drizzle the whole thing with olive oil and bake in the oven at 180 deg cel until cheese is melted (about 5-10 mins) WATCH IT LIKE A HAWK OR IT WILL BURN.
5) Serve IMMEDIATELY! (Note: this can be prepped ahead of time but must only be cooked JUST prior to service – melted cheese is the whole point!)
Kali Orexi!
ENJOY!