MAILLE + PHOODIE GIVEAWAY! 4
December 9, 2014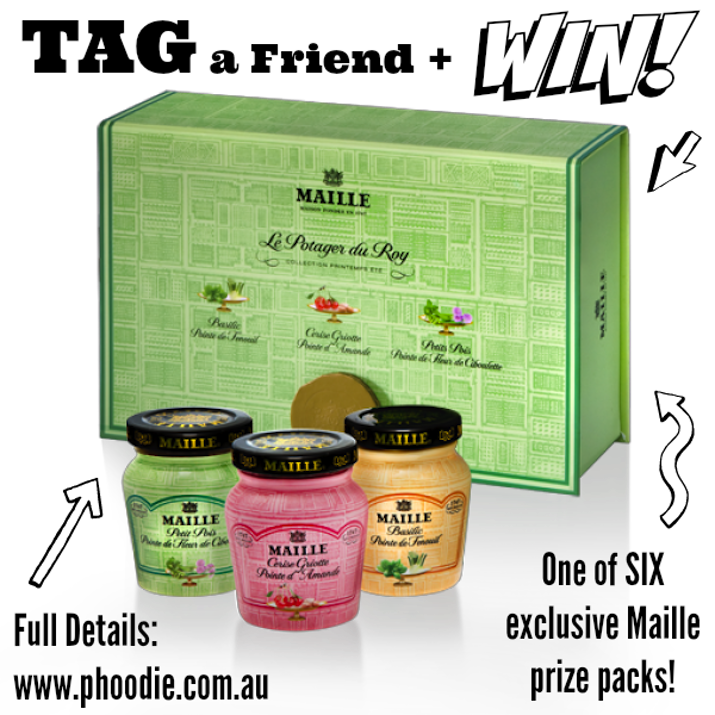 The first La Maison Maille Shop in Shop Boutique in the Southern Hemisphere opened its doors earlier this year, offering the world's most exclusive mustard to customers in Victoria's Mornington Peninsula. The Australian La Maison Maille Shop in Shop Boutique joined a line-up of the world's most famous food destinations including Paris, London and Dijon. Shortly afterwards, the second La Maison Maille Shop in Shop Boutique opened in Sydney's Mosman.
A complete mustard emporium and unlike anything else in Australia, the La Maison Maille boutiques are destinations for connoisseurs, complementing the existing gourmet food and wine offering within The Mornington Peninsula and in Sydney, with a set of 22 mustards, vinegar and vinaigrette varieties housed within the walls of La Maison Maille.
Both La Maison Maille Boutiques are in Ritchies IGA stores and offer an exclusive range of mustards, vinegars and cornichons, as well as mustard fresh from the pump. Yummo!
Each boutique also houses the world's most exclusive mustard,  'Maille Chablis white wine and black truffles', only produced for a five month period each year!
To celebrate La Maison Maille in Australia and the exclusive mustard range, PHOODIE + Maille are giving away 6 x Maille Seasonal Spring gift packs. Each pack contains three signature flavours. (See snaps below!)
The products are made in France and are only available for a limited time.
So…….
WHO WANTS TO TRY SOME!?
As I said above, the wonderful people at Maille have given me an extremely generous SIX prize packs to give away! What an awesome Christmas gift these prize packs would make!
Like all of my awesome giveaways, entering is super EASY and will take about 3 seconds!
Simply TAG (either on Facebook or Instagram) the PERSON / PEOPLE that you believe to be THE WORLD'S BIGGEST MUSTARD LOVER/S! It could be your Nana? Your Cousin? A workmate?! Your mother-in-law? Your BFF! It may even be YOU! Whoever it is, TAG 'em and you could WIN!
REMEMBER – you can enter AS MANY PEOPLE AS YOU LIKE just tag a different person per entry!
If you don't use Facebook or Insta, you can enter via the blog by leaving the name of THE WORLD'S BIGGEST MUSTARD LOVER/S in the comments section below this post.
GOOD LUCK EVERYONE!
Competition Open to All Australian Residents. Competition Closes Midnight Friday 12th December 2014 with a winner selected at Random and announced on Facebook (or Emailed via the Blog) Saturday 13th December 2014.

Related posts