WIN! A BREVILLE QUICK TOUCH™ CRISP MICROWAVE! 0
September 1, 2015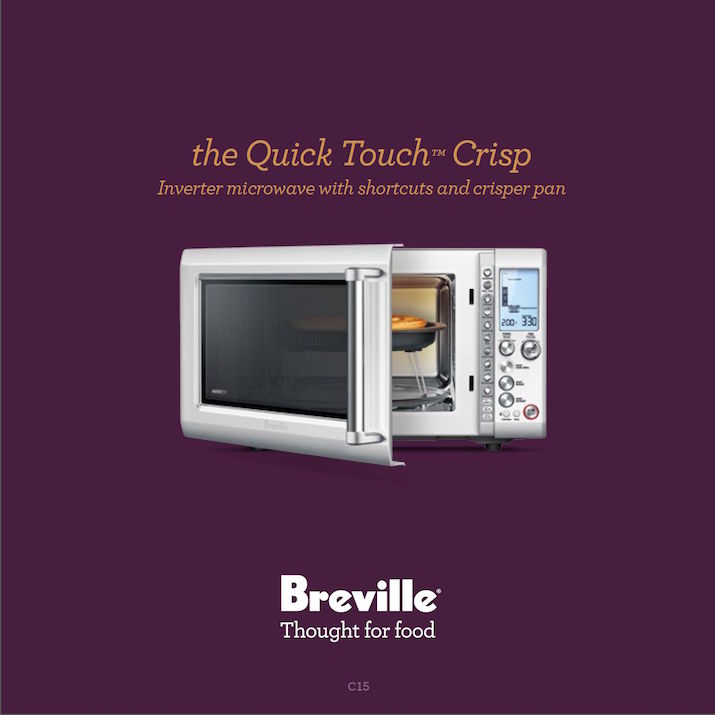 DO YOU WANT TO WIN AN AMAZING BREVILLE QUICK TOUCH™ CRISP MICROWAVE valued at $449.95?!
Head over to Instagram (@phoodiegram) and…
1) LIKE the competition photo
2) TAG a friend in the comments below the photo
AND
3) REGRAM / REPOST the photo
and you just might be the lucky one!!!!!
To be in the running to win you must do steps 1), 2) and 3) above!
I am currently recipe testing a bunch of stuff with my own Breville Quick Touch™ Crisp microwave and I can tell you, the results have been phenomenal…. lots of eating going down at PHOODIE HQ, but hey? Whats new!?
Read below for detailed info about this incredible new appliance!
The new QUICK TOUCH™ CRISP MICROWAVE from Breville can crisp and brown foods that normally become soggy from standard microwave reheating such as pies, quiches, pastries and pizza.  Isn't that awesome!?
When preheated to high temperatures, a crisper pan works in conjunction with the microwave and integrated grill to prevent soggy results and deliver brown and crispy food with added flavour and texture.
What's more, with over 3000 kitchen hours devoted to testing the Quick Touch Crisp to determine the right power levels, time and grilling combinations for different foods, the SMART Cook & Grill setting offers some unexpected, and extremely useful options such as toasting nuts and sandwiches, drying herbs, roasting vegetables and making caramel.
This easy to use, mid-size inverter microwave also heats more evenly than standard microwaves, and incorporates short cut buttons on the inside of the door, including the favourite Melt Chocolate and Soften Butter settings from the original Quick Touch. New Pizza, Baked Potato and Grilled Cheese settings bring microwave, grill and crisper pan features together for outstanding crispy results.
Packed with innovation, the unique interface takes all the guess work out of operating the microwave. Just like other smart and mobile devices, icons and visual prompters on the LCD make selection simple. Users can engage with the Quick Touch Crisp in similar ways to how they use their cooktop to control cooking with real-time power and time adjustments.
A 2015 Good Design Award winner, the Breville Quick Touch Crisp microwave knows the right power level and time to suit different food types, and switches to grill when it's needed. the Quick Touch™ Crisp microwave by Breville (BMO700BSS) $449.95 RRP Breville enquiries: 1300 139 798 or www.breville.com.au
Breville Quick Touch™ Crisp microwave – The secret to no more soggy microwaved food!
Competition closes Midnight Friday 4th September. Winner selected at random and announced Saturday 5th September via Instagram.

Related posts