'MAKE A MEAL' AT RONALD MCDONALD HOUSE – RANDWICK 0
March 21, 2016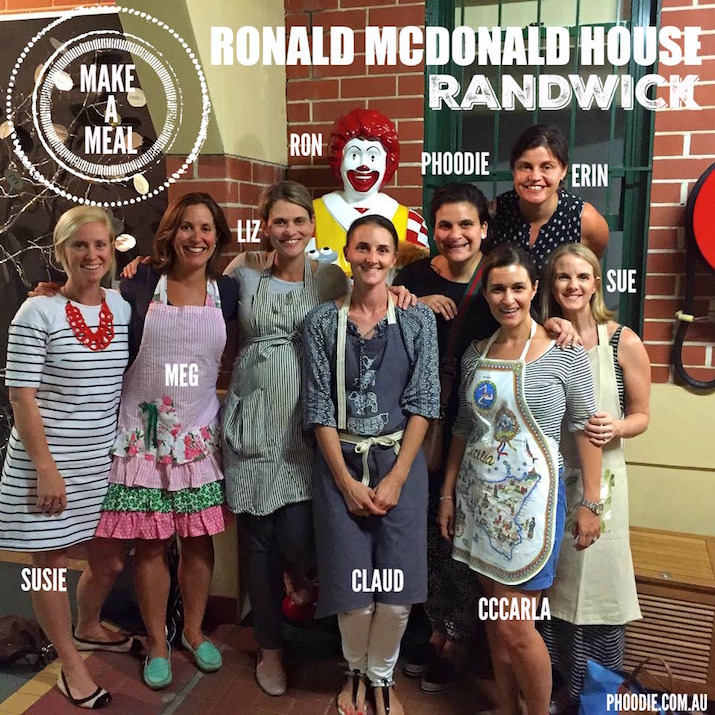 On Friday night myself and a group of old friends (pictured above!) made dinner for the families at Ronald McDonald House in Randwick, behind the Sydney Children's Hospital.
Claud's husband had done this before via his workplace and had said what a great experience he had had, so we decided to give it a go too!
If you're wanting to 'give back' or 'make a difference', I CANNOT recommend the '?MakeAMeal?' experience more highly. The beautiful families going through an extremely difficult time were SO appreciative that they didn't have to think about shopping for and preparing just that one meal. So many of them told us how grateful they were and how yummy they thought what we had cooked was! (An Italian Themed dinner with Nutella Brownies and Ice cream for dessert!)
On the flip side, every single one of us felt so grateful to just be there, catch up with each other and cook while we were at it! It's an absolute win-win situation because everybody gets something out of the experience. Sitting down to eat with the families was also really special. What a night.
If you think that yourself and a group of workmates or friends or family have one spare night (it's normally from about 4-8/9pm) and the means to take part, then please, PLEASE do! On the nights when groups (like us) aren't available to come in and cook (which is the majority of the time), these families have to shop and cook for themselves, and often, after a long day in the hospital with their kids, you can imagine that's really not what they feel like doing.
If anyone has any questions about the program or wants to lock in a date to cook and help out, please email one of the fabulous office staff (rmhc@rmhc.org.au) They would be super happy to hear from you. I am also available via the contact form on this blog or on any of my Social Media accounts to answer any specific questions you may have.
Click the link below and get a team together, lock in a date and JUST DO IT! We will definitely be going back!
https://www.rmhc.org.au/our-programs/houses/randwick
I would also like to thank the folks from Dani Lombard PR who spoke to an assortment of their clients (namely Yoobi, Marie Claire Australia, Pukka, Pure by Phytocare, Avene, Klorane, Cocolo) and arranged for beautiful goodie bags to be left for each of the families staying at RMH Randwick. I appeal to ANYONE out there who thinks they could make a product, appliance, food, beverage or monetary donation to please do so! It's for an amazing cause! :) Phoodie

Related posts