PUMPKIN AND CARAMELISED ONION SALAD [+1] EDGELL CHICKPEAS 2
April 13, 2016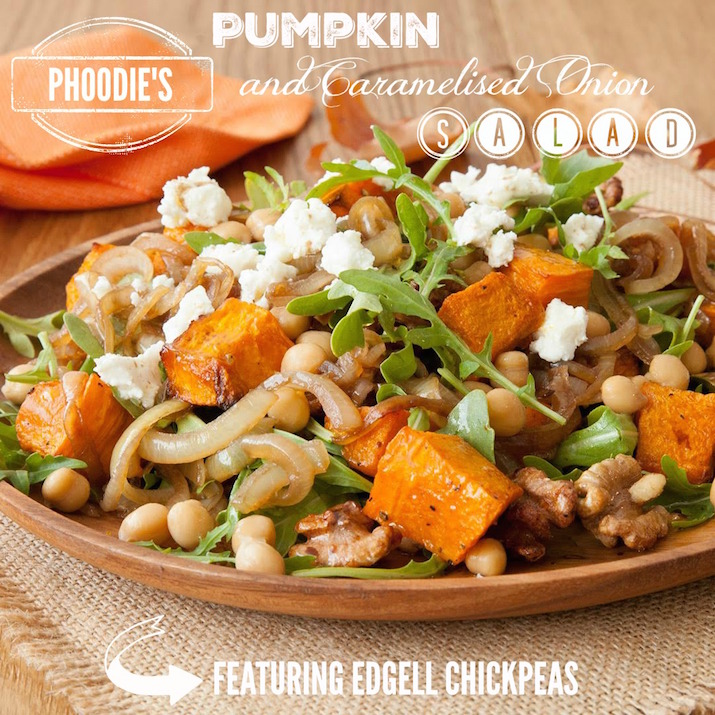 This recipe post is sponsored by Edgell
There's something about the combination of pumpkin, sweet caramelised onions and feta that is very moreish! Now add Edgell Chickpeas into the mix and we're really talking! SO simple to make, super delicious, and with those chickpeas throughout and on top, super duper nutritious!
I've loved working with Edgell to develop this recipe as part of their special Edgell + 1 project. The Edgell + 1 project was designed to show you just how simple it is to add an extra serve of veggies into each meal! As a Mum of two small kids, I was super excited to be involved with this and actually surprised at how easy it was to develop these recipes ensuring that the vegetables were included but the food remained a 10/10 on the taste scale!
FOR MORE AWESOME EDGELL [+1] RECIPES visit the Edgell website!
INGREDIENTS
+ [1] 300g can Edgell Chickpeas
2 cups walnuts
1 tablespoon honey
6 cups (1kg) pumpkin – cut into approx 3cm pieces
Olive oil and salt – to drizzle and sprinkle on pumpkin
6 large brown onions, thinly sliced
3 tablespoons olive oil
1 tablespoon Balsamic vinegar – for onions
3 cups rocket
150g fetta
Extra virgin olive oil and balsamic vinegar, to dress salad
METHOD
Preheat oven to 200°C.
Scatter walnuts on a baking paper lined tray, drizzle with honey and toss to coat well. Place into the preheated oven for about 10 minutes or until nuts are roasted. Be careful not to burn nuts.
Place pumpkin on a baking paper lined tray. Drizzle with olive oil and season with salt. Bake at 200°C until all pieces are cooked through. This should take approximately 40 minutes, but check it along the way. Set aside to cool.
Meanwhile, heat oil in a large frypan over a low heat. Add onions, stir regularly and until they become caramelised. This can take up to 30 minutes or more, so be patient and make sure they don't stick to the base of the pan. Stir in the tablespoon of balsamic vinegar. Set aside to cool.
Now it's time to assemble the salad. Get your serving bowl and place some rocket in the base, sprinkle some nuts, scatter some (cooled) pumpkin.
SPRINKLE OVER SOME DRAINED EDGELL CHICK PEAS.
Top with some of the onions. Repeat. Top the salad with the fetta (crumbled) and dress with a good splash of both the extra oil and balsamic.
Tips
You could add sweet potato to this salad for an extra vegie.
Healthy Tip: Season your pumpkin with pepper rather than salt and use reduced fat fetta.
For more great ideas on how to add vegetables to your meal using other Edgell ingredients HEAD TO THE EDGELL WEBSITE BY CLICKING HERE! 

Related posts