MIDDLE EASTERN BASMATI RICE SALAD – FEATURING TILDA PURE BASMATI 0
April 20, 2016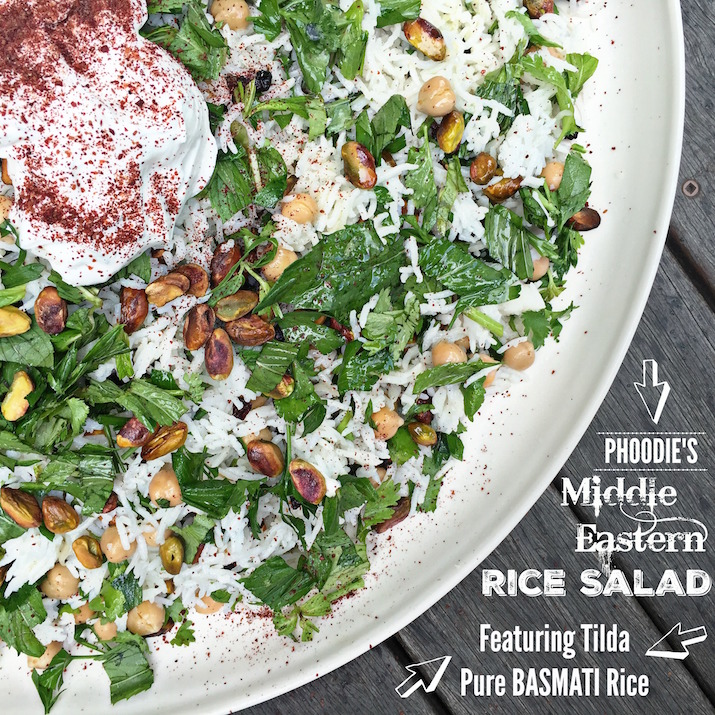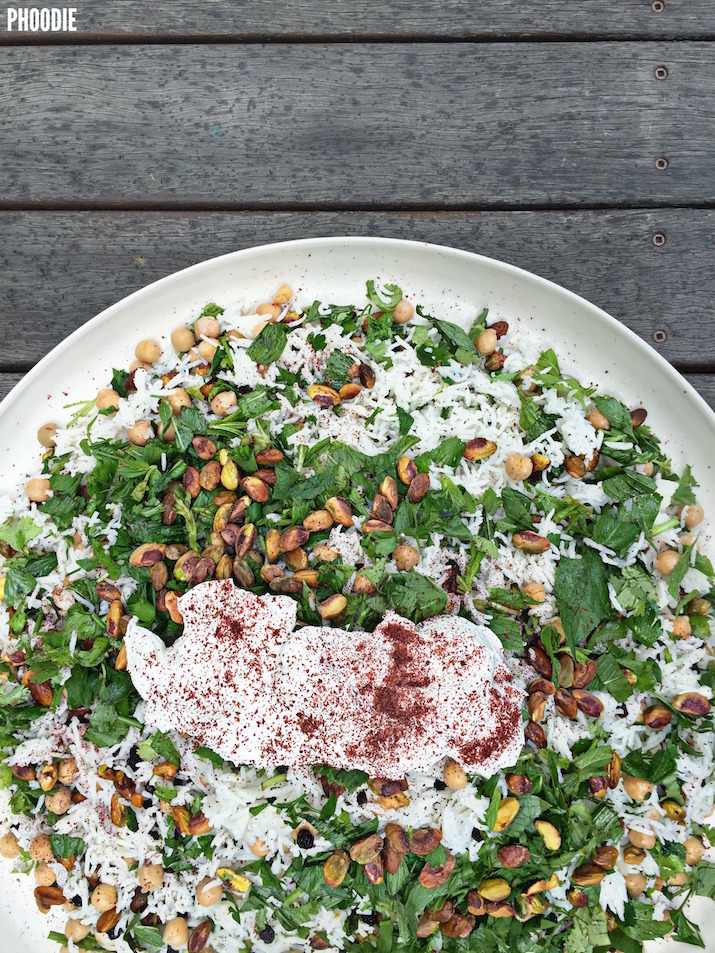 This post is sponsored by Tilda. Tilda products are available at Coles and Woolworths supermarkets nationally.
My desert island food is rice.
As in, if I was stuck on a dessert island and could only bring one food with me, it would be rice.
Rice, in particular Basmati rice, is awesome as it can be cooked in so many different ways and can feature in such a huge range of recipes.
From sweet to savoury, hot to cold. Rice can do it all.
RICE FOR PRESIDENT!
In fact, as loyal readers will know, I am rather partial to a good old fashioned buffet, and one of the best that I ever went to was at The Swiss Grand Hotel in Bondi Beach with my BFF Jacquelin…. Guess what it was called? 'Rice, Rice and more Rice!' That is no word of a lie! Goes to show how such a large number of dishes can be made around this one brilliant key ingredient.
Check out my DELICIOUS and HEALTHY Middle Eastern Rice Salad recipe below. If you double the quantity you will end up with a massive bowl / platter which would be the perfect side to bring along to a big BBQ or large get together with mates.
Some interesting info about Tilda® Pure Basmati…..
Tilda® Pure Basmati is the UK's number one Basmati brand, now available in Australia. All Tilda® Rice products are made of Basmati rice.
Basmati is known as 'the Prince of rice' and means 'the fragrant one' due to its unique fragrant aroma. The long, slender grains have an incredibly distinctive, unique and slightly 'nutty' flavour, and a light, fluffy texture
Basmati rice is gluten free and low in fat, making it ideal for cooking flavoursome, nutritious dishes
Tilda® Basmati rice is available in ready-to-heat pouches, making it even easier to prepare healthy, quick and nutritious meals at home
Similar to Champagne, Basmati can only be grown in one place on earth – the Himalayan foothills
Basmati rice is an extremely healthy grain. It is gluten free, low in fat, low in sodium with no cholesterol
To this day Basmati is harvested by hand to ensure none of the precious grains are lost
Nearly half the world's population eat rice as part of their staple diet
So go on ahead and whip up my delicious and healthy salad! If you do, please post to Social Media and tag Tilda (#tildarice @tildariceau) and myself (#phoodie @phoodiegram, @phoodietweets) so that we can see. I would also be keen to see your other Tilda inspired recipes! :) Phoodie
PHOODIE'S MIDDLE EASTERN BASMATI RICE SALAD
INGREDIENTS
Serves 6 – 8 as a side (I often double this recipe for large gatherings and BBQs)
1.5 cups Tilda Pure Basmati Rice
3 cups vegetable stock
400g chickpeas; rinsed and drained
1/2 cup currants (or chopped pitted dates)
1/2 bunch mint; roughly chopped
1/2 bunch coriander; roughly chopped
1/2 bunch parsley; roughly chopped
150g pistachio nuts, roasted
150g labneh / labne sprinkled with sumac and drizzled with olive oil
juice of 5 lemons
3/4 cup olive oil
salt and pepper to taste
METHOD
Preheat the oven to 180 deg. cel.
Cook the rice in vegetable stock according to the instructions on the packet. Once cooked, spread across a platter to allow to cool.
Mix the lemon juice, olive oil, salt and pepper together in a jar and pour evenly over the rice to absorb.
On a baking paper lined tray, spread the pistachios out into a single layer. Place in oven to roast for 5-8 minutes. Keep a close eye on them so that they don't burn. Remove and allow to cool
In a serving bowl place the currants, (cooled) pistachios, (rinsed and drained) chickpeas, and (roughly chopped) mint, coriander, and parsley. Mix gently with clean hands or a spoon. Note: Reserve a few nuts and some herbs to garnish the salad.
Cupful at a time, add the cooled rice to the rest of the ingredients until is is all combined.
Sprinkle the reserved nuts and herbs over the top of the salad to garnish.
Spoon the labneh over the top of the salad, in the centre, drizzle it with olive oil and sprinkle with sumac.
ENJOY!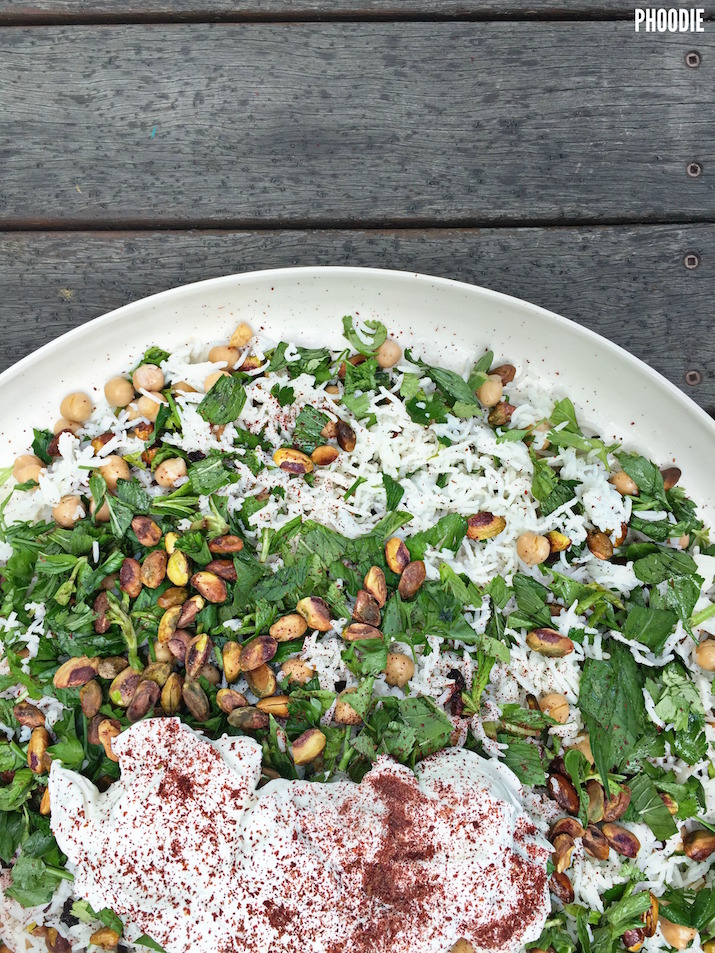 Related posts