CHEESE, HERB + OLIVE PULL-APART BY PHOODIE FOR EDGELL [+1] 0
May 13, 2016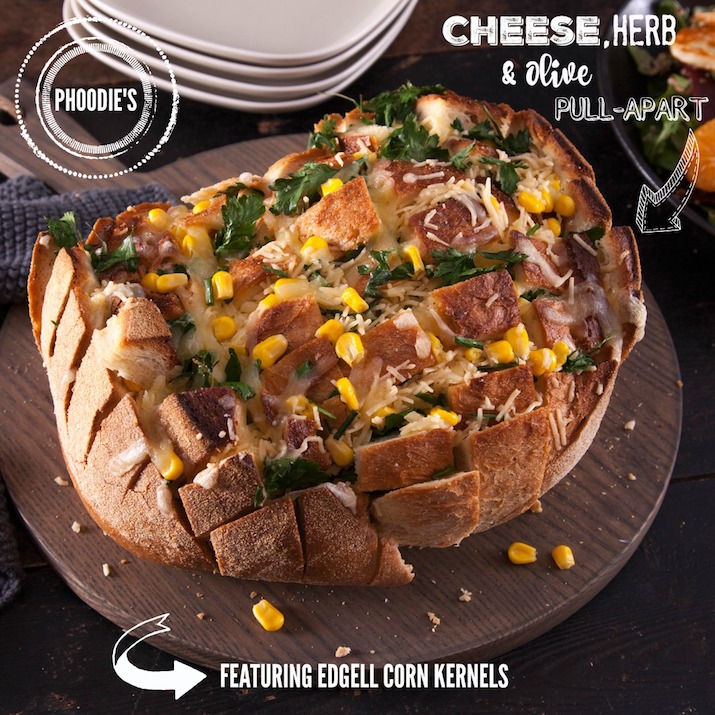 This recipe post is sponsored by Edgell
Cheese and bread.
I mean SERIOUSLY.
The simple things.
Now add freshly picked herbs and sweet, delicious Edgell Corn Kernels and you're onto a SERIOUS winner! SO simple to make, super delicious, and with that corn throughout, super duper nutritious!
I've loved working with Edgell to develop this recipe as part of their special Edgell + 1 project. The Edgell + 1 project was designed to show you just how simple it is to add an extra serve of veggies into each meal! As a Mum of two small kids, I was super excited to be involved with this and actually surprised at how easy it was to develop these recipes ensuring that the vegetables were included but the food remained a 10/10 on the taste scale!
FOR MORE AWESOME EDGELL [+1] RECIPES visit the Edgell website!
Watch the video below to see EXACTLY how my CHEESE, HERB + OLIVE PULL-APART With [+1] Edgell Corn is done!
INGREDIENTS
+ [1] 420g can Edgell Corn Kernels
1 loaf/round/batard etc of bread
1½ cups cheese – I use a tasty and a parmesan, but you can use anything.
½ bunch chives
½ bunch parsley
100g butter
2 tablespoons olive oil
Cut the bread lengthways about 2-3 cm apart and approximately halfway down. Lightly butter the inside parts of the bread. Turn loaf 90° and cut again to create a criss-cross pattern. Butter the insides parts of the bread
Place as much or as little chives and parsley in the crevices.
SCATTER DRAINED EDGELL CORN KERNELS AND PRESS INTO BREAD CREVICES [+1]
Scatter a generous amount of cheese you are using in the crevices of the loaf of bread.
Place loaf on a non stick baking tray and drizzle the whole thing with olive oil.
Bake in the oven at 180°C until cheese is melted (about 5-10 mins).
Serve IMMEDIATELY! (Note: this can be prepped ahead of time but must only be cooked JUST prior to service – melted cheese is the whole point!)
Tips
You can customise the fillings to suit your own tastes – try adding diced bacon, sliced salami or even a little chilli sauce.
For more great ideas on how to add vegetables to your meal using other Edgell ingredients HEAD TO THE EDGELL WEBSITE BY CLICKING HERE!

Related posts