DELICIOUS BEEF BURGER WITH BALSAMIC CARAMELISED ONIONS, WALNUT PESTO AND CASTELLO BURGER BLUE CHEESE BY PHOODIE 2
October 24, 2016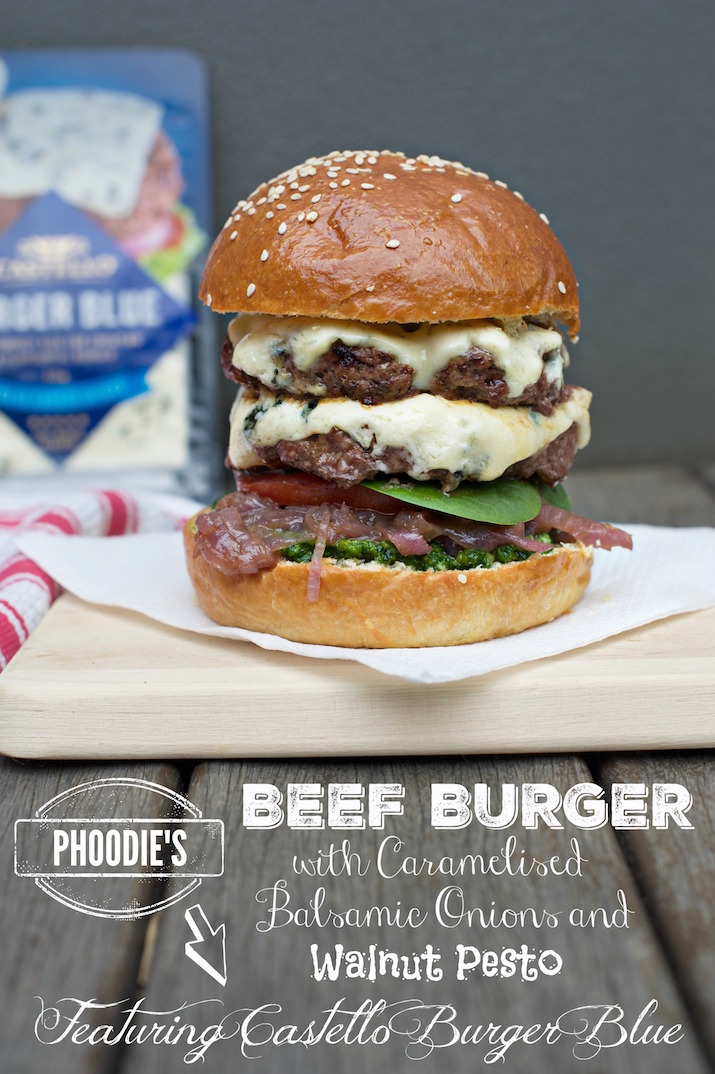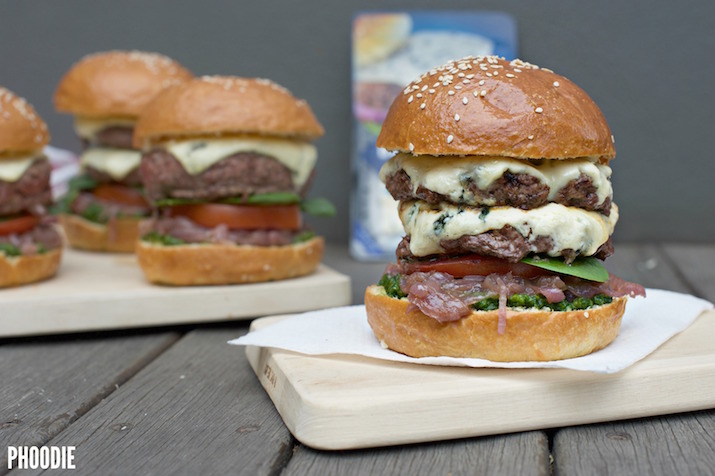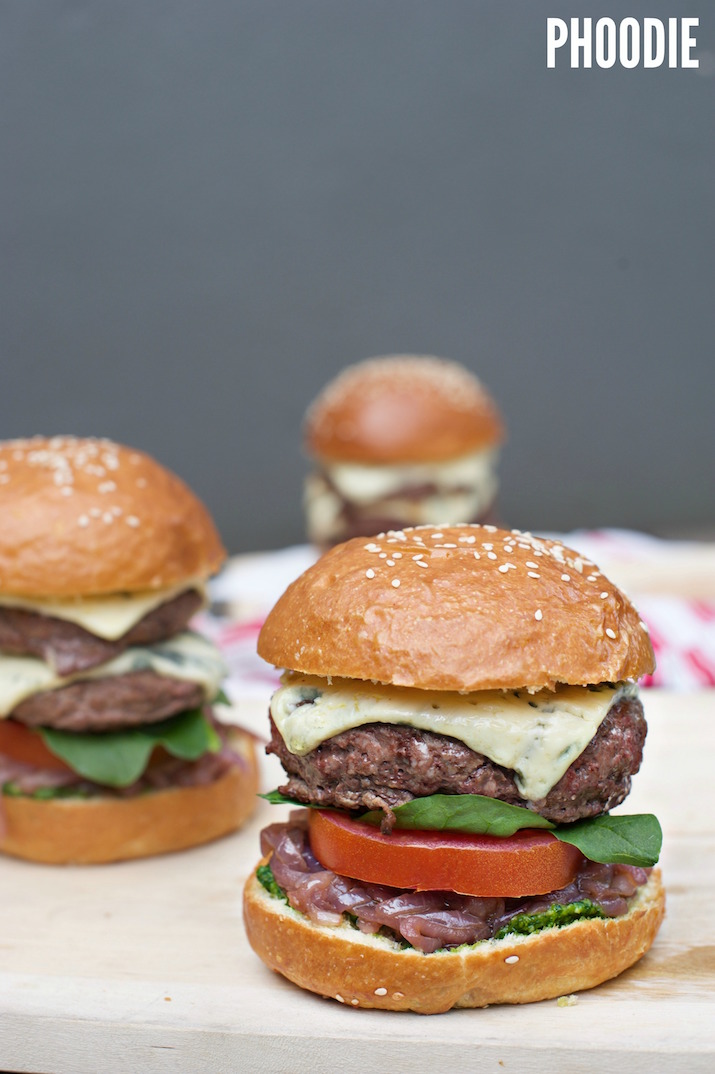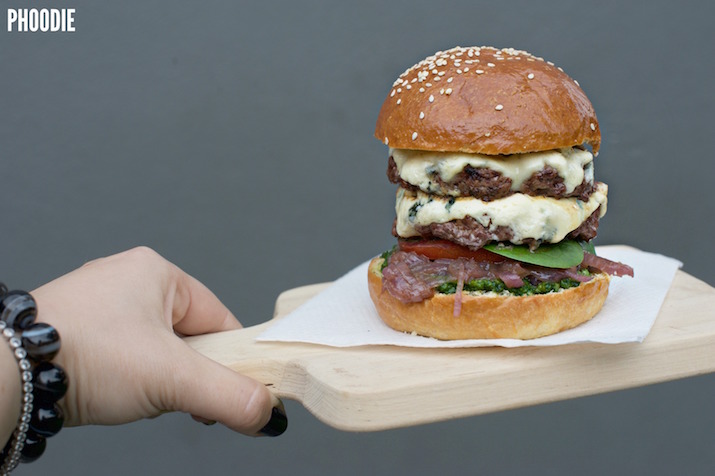 This post is brought to you by Castello Cheese.
Loyal PHOODIE readers will know that I have been a blue cheese fan from waaaaaaaay back. So when the opportunity to collaborate with cheese masters Castello came up, and when I found out it was blue cheese related, you can imagine my excitement….
Next. Level.
Let's start with a bit of history…
The Castello story began in 1893 when Rasmus Tholstrup embarked on a quest to creatively craft a range of great tasting cheeses to bring inspiration to cheese lovers around the world. This creativity and pioneering spirit, together with a passion for great cheese experiences still remains at the heart of Castello today.
This brings me to the exciting news….
Burger Blue is the first conveniently sliced blue cheese to hit the Aussie market! Made to a traditional blue cheese recipe, Burger Blue has a full flavour and a bold bite tempered by rich buttery notes on the finish. With a deliciously smooth texture, the Burger Blue recipe was specially designed to deliver a balanced blue cheese flavour when combined with other ingredients in a burger, and to also keep its shape when melted on a patty. Double win!
As we all know, over the last 12 months or so, Aussies are REALLY getting into burgers. I mean we've always eaten burgers, and enjoyed them, but I think by looking at the Instagram feed of any Foodie (or Phoodie) you'll notice the huge appreciation folks now have for burgers for breakfast, lunch and tea!
Burger Blue allows you to transform your ordinary burger into something fabulous. And the fact that it comes pre-sliced in a re-sealable package makes it the perfect product to keep on hand for when the urge hits!
So, moving on to my recipe, I wanted to create something special that I knew would be delicious when combined with this revolutionary product. The marriage of walnut pesto with balsamic caramelised onions, beef and of course Castello Burger Blue turned out to be magic – just like I knew it would! I really hope you give this recipe a try, and if beef's not your thing, these slices would work incredible well with Chicken and some smoky bacon or pork with an apple chutney!
Kali Orexi!
PHOODIE'S BEEF BURGER WITH BALSAMIC CARAMELISED ONIONS, WALNUT PESTO AND CASTELLO BURGER BLUE CHEESE
INGREDIENTS
To make 4 burgers
4 Brioche Buns
For the Balsamic Caramelised Onions
3 large red onions
2 tablespoons olive oil
1 tablespoon unsalted butter
1 tablespoon Balsamic vinegar
1 heaped teaspoon brown sugar
For the Walnut Pesto
1 cup fresh flat leaf parsley
¼ cup roasted walnuts
1 small garlic clove, crushed
½ cup extra virgin olive oil
¼ cup parmesan, finely grated
For the beef patties
800g beef mince (makes 8 x 100g patties or 4 x 200g patties)
¾ cup breadcrumbs
1 egg yolk
1 clove garlic, crushed
salt and pepper
1 cup spinach leaves (approx. 50g)
4 – 8 slices of tomato (you can use 1 or 2 per hamburger)
4 – 8 slices of Castello Burger Blue cheese slices (you can use 1 or 2 per hamburger)
Castello Burger Blue is available in the dairy aisle at selected supermarkets nationwide, with other products from the Castello range.
METHOD
Caramelised onions:
Use a mandolin to slice the onions.
Add olive oil and butter to a pan over low heat, add in onions and stir them through the oil and butter. Cook onions, stirring intermittently, until caramelisation takes place. This can take up to half an hour so make sure to keep an eye on them so that they don't stick to the pan.
Just prior to removing onions from the pan, add in balsamic vinegar and brown sugar, turn the heat up to medium and cook through for a further 3-4 minutes. Remove from heat and set aside.
Pesto:
Whilst the onions are cooking down, you can make the pesto. Place all of the ingredients into a food processor and blitz to reasonably smooth consistency. Taste the pesto and adjust accordingly. It might need a little more oil or parmesan depending on preferences for taste and texture. Set aside.
Beef patties:
1)    Combine all ingredients in a large bowl and knead gently. Depending on the size of the patties you are making, take 100-200g of the meat mixture and press into burger patty shapes.
Slice the tomatoes and rinse the spinach leaves.
Cook off the burger patties on the stove / grill over medium heat and add a slice of Castello Burger Blue to each one, once you have flipped each patty once. Allow the cheese to melt lightly over the edges of the patty and then remove and stand before serving.
Slice your brioche buns open, add pesto, onions, tomato, spinach and finally the beef and cheese patties. Finish with the top of the brioche bun. Repeat for all burgers. Note: brioche can be served toasted or fresh.