EGGPLANT, CHICKPEA AND GOAT'S CHEESE STACK 0
August 14, 2017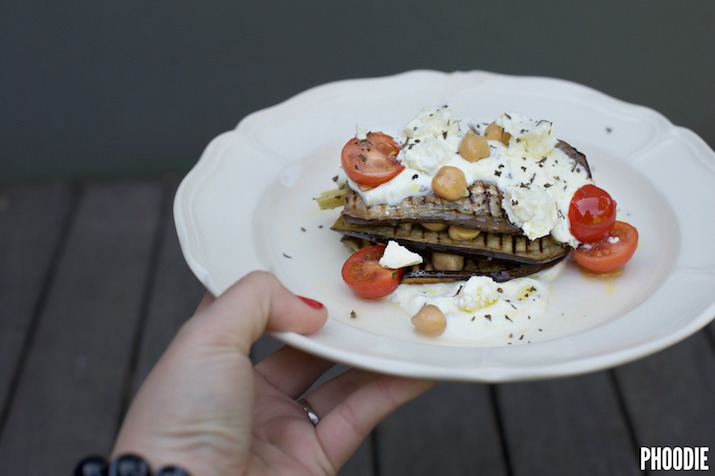 Although I am not a vegetarian, I absolutely adore vegetarian recipes!
I've made changes to a Donna Hay recipe to create this eggplant stack, and although hers is perfect as it is, I made this based on the ingredients that I would pretty much ALWAYS have in my fridge and pantry.
This works well as a mid week lunch for one, but it's also just as good for a light lunch with friends.
And the best part? There are loads of ways to cheat to make it super quick to whip up!
Kali Orexi!
Phoodie
INGREDIENTS (Serves 4)
2 cups greek yoghurt
juice from half a lemon
salt and pepper
mint flakes or chopped fresh mint
24 baby tomatoes (6 per serve)
1 cup chickpeas (1/4 cup per serve)
12 artichoke hearts – store bought (3 per serve)
20 slices grilled eggplant – store bought or homemade (5 per serve)
200g goat's cheese (50g per serve)
METHOD
1) Mix together the yoghurt, lemon juice, salt and pepper and mint flakes – set aside.
2) Chop the tomatoes in half and rinse and drain the chickpeas.
3) Spread a tablespoon of the yoghurt mix on each plate and then layer the eggplant, tomatoes, chickpeas, yoghurt and artichoke on each plate until all ingredients are used.
4) Top with remaining yoghurt and the goats cheese.
5) Season with salt and pepper and serve.