ROCKY ROAD CHRISTMAS WREATH by PHOODIE 22
December 18, 2013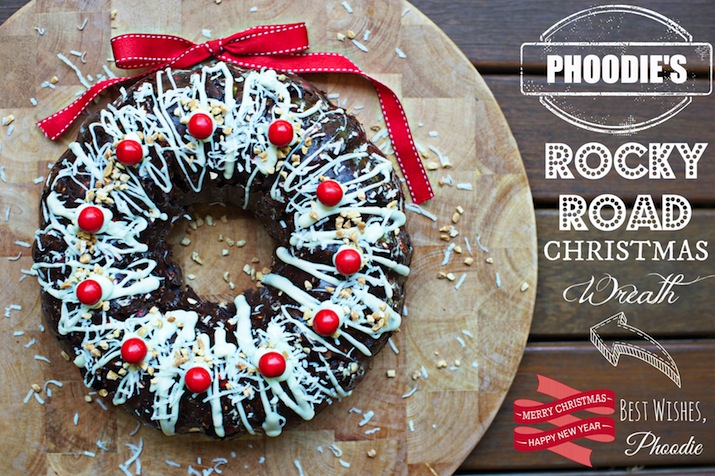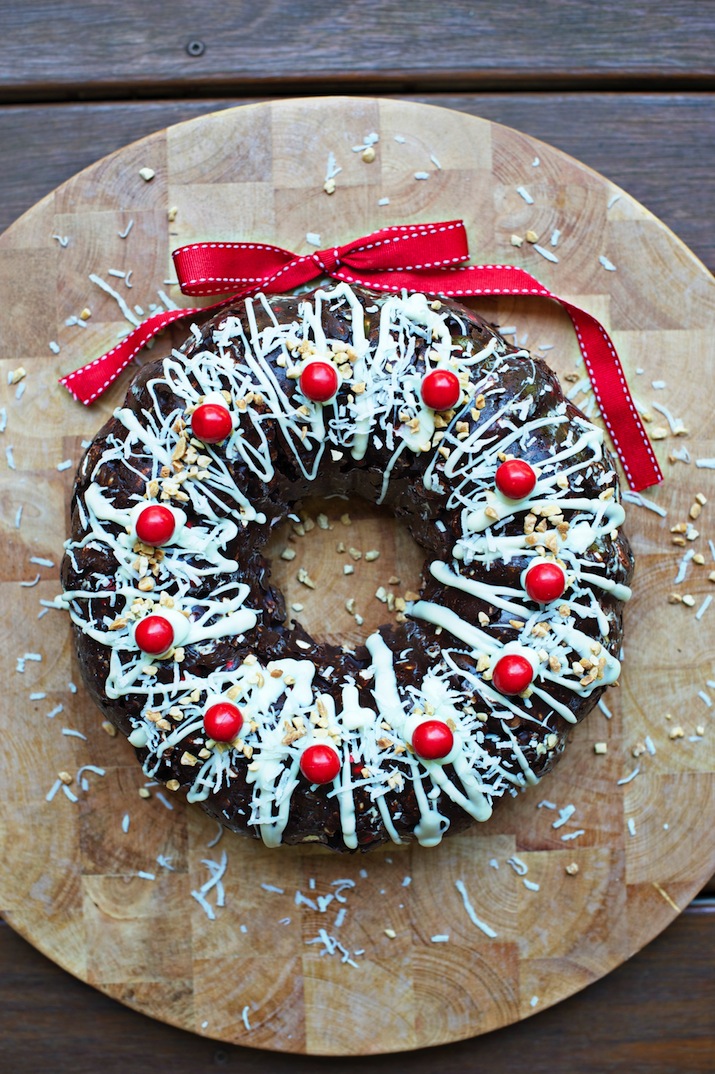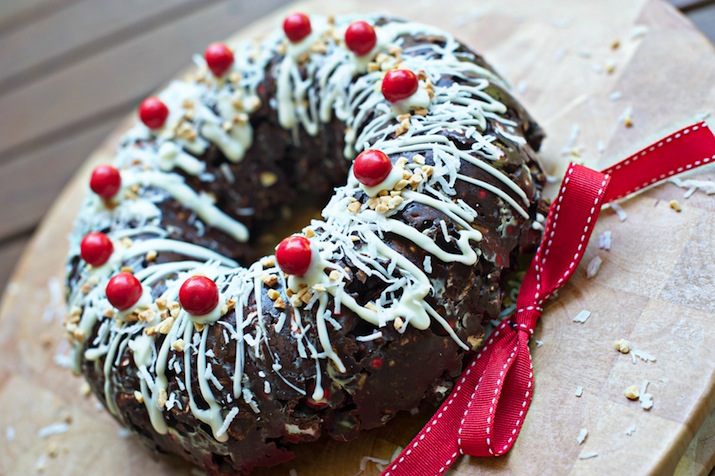 _________________________________________________________________________
FOLLOW ME ON INSTAGRAM AS I WILL BE POSTING A TONNE OF YUMMY FOOD SNAPS OVER THE HOLIDAYS – CLICK HERE TO FIND ME (@PHOODIEGRAM)
_________________________________________________________________________
I love a bit of Christmas Tack.
Sparkles. Glitter. Tinsel.
Rocky Road in the shape of a Christmas Wreath!
Why T. H. not!?
This is a TRUE Phoodie recipe. Fun. Simple. Impressive. Delicious.
If you are celebrating Christmas with a special lunch or dinner, this NEEDS to feature on your table of deliciousness!
GIVE IT A GO!
Annnnnnnnd if you do PLEASE send me a pic! You can do this on Facebook, Twitter or Instagram or You can Email it through!
MERRY CHRISTMAS!
If you like Rocky Road you may also like THIS recipe and THIS recipe!
INGREDIENTS
180g Mini Marshmallows
1 cup Crushed Peanuts (reserve a tablespoon for decorating)
1 cup Coconut (reserve a tablespoon for decorating)
1/2 cup Jaffas (and 11 additional to decorate)
1/2 cup Chocolate Coated peanuts
750g Dark Chocolate melts
100g White Chocolate melts
Butter – to grease the bundt tin
METHOD
Butter up your bundt tin in preparation for step # 3 – be generous with the butter! The last thing you want is for the wreath to get stuck!
1) In a large bowl, place the marshmallows, peanuts, coconut, jaffas and chocolate coated peanuts. Mix with a wooden spoon.
2) Melt the dark chocolate either over a double boiler or in the microwave (if doing it in the microwave be careful not to burn it!)
3) Wait for melted chocolate to cool slightly and then pour over all other ingredients. Stir together immediately and transfer to a butter lined 24 cm bundt tin.
4) Place in fridge to set for a few hours.
5) Remove from fridge and allow to come to room temp (not melt if it's hot where you are!) Remove from bundt tin. DON'T FREAK OUT if it doesn't come straight away, if you have used enough butter it will come!
6) Melt the white chocolate and drizzle over the top of the wreath with backwards and forwards motions to create a rough zig zag (see pics) Sprinkle over additional coconut and crushed peanuts and use white chocolate to 'glue' the jaffas around the wreath, evenly spaced.
7) To present, lay on a flat board and place bright red or green ribbon tied in a bow at the top-centre.
MERRY MERRY MERRY CHRISTMAS!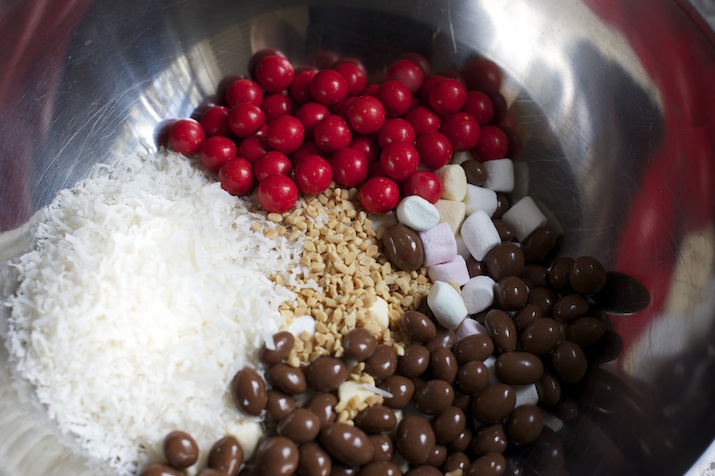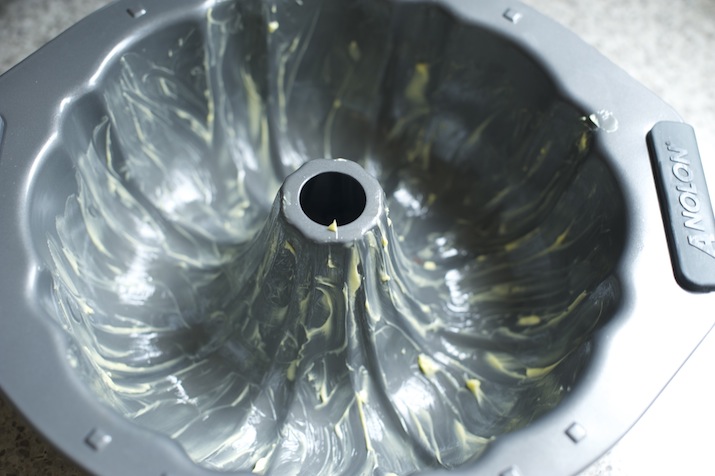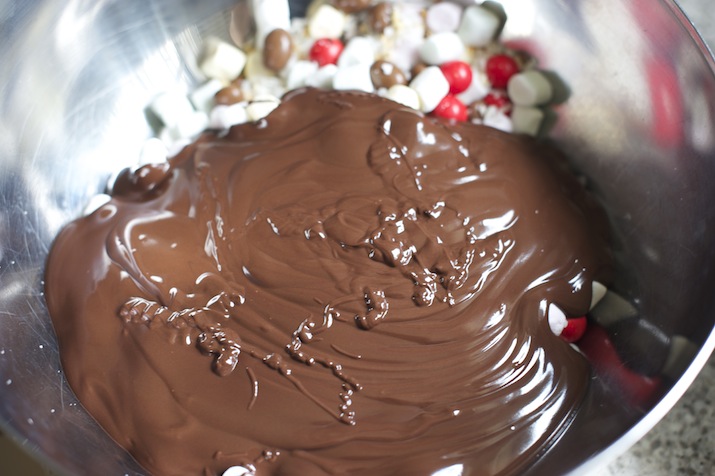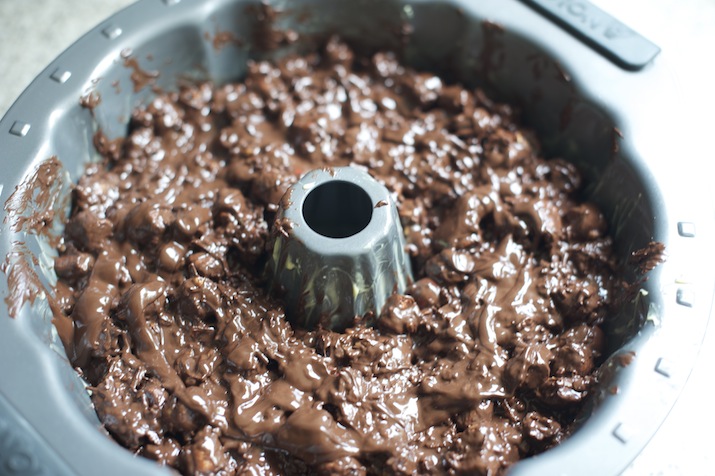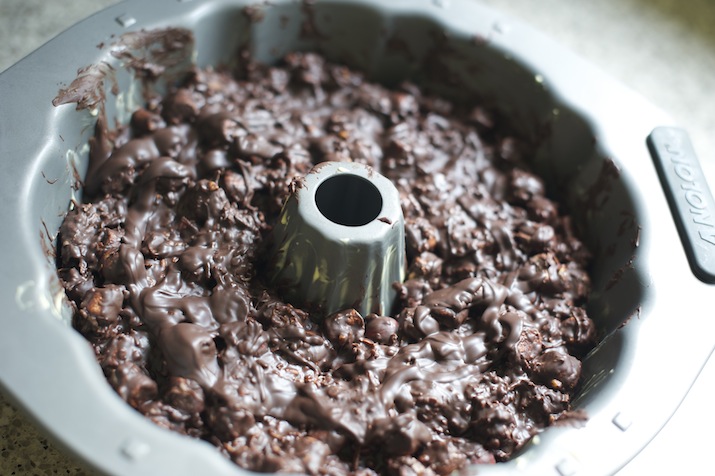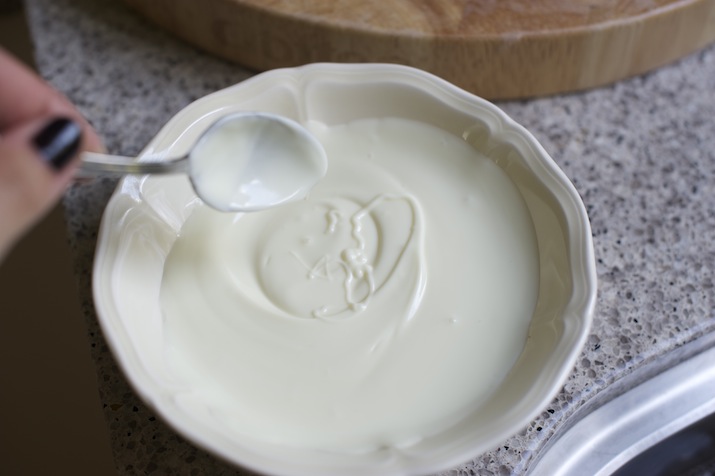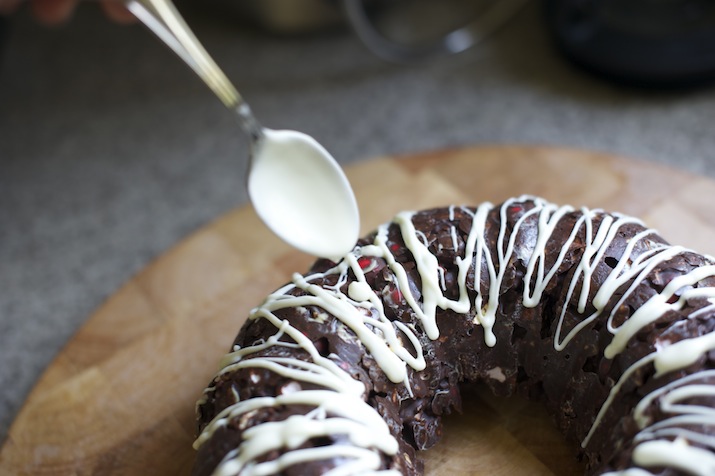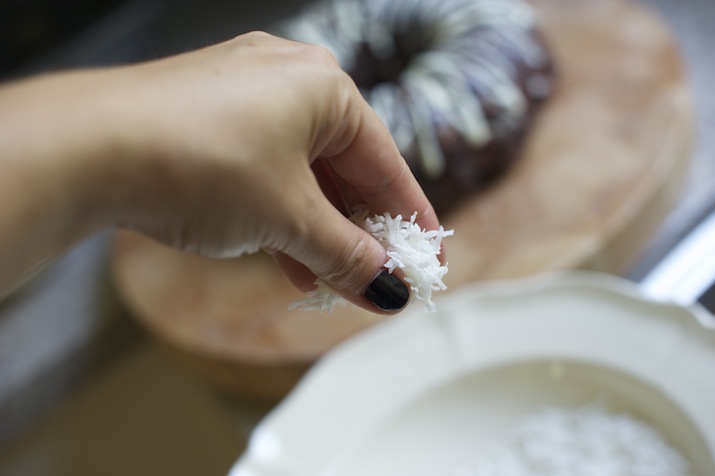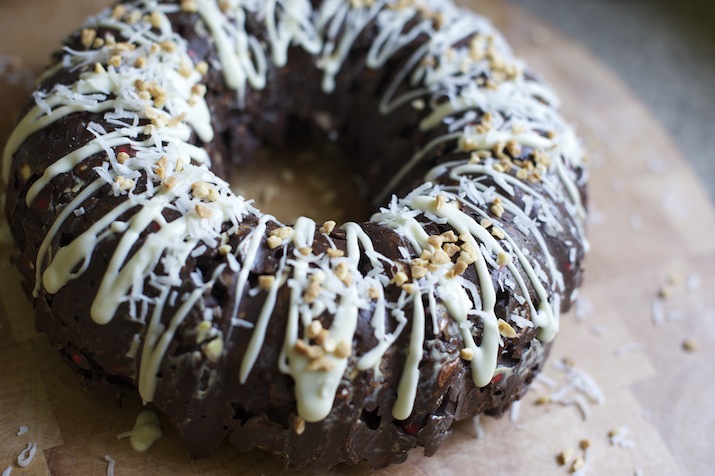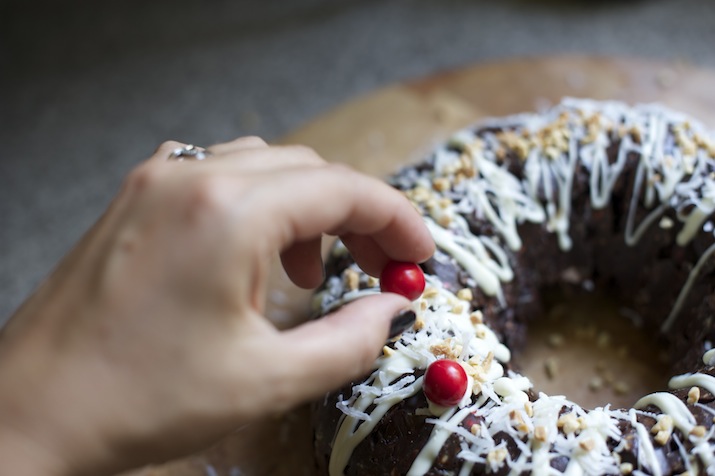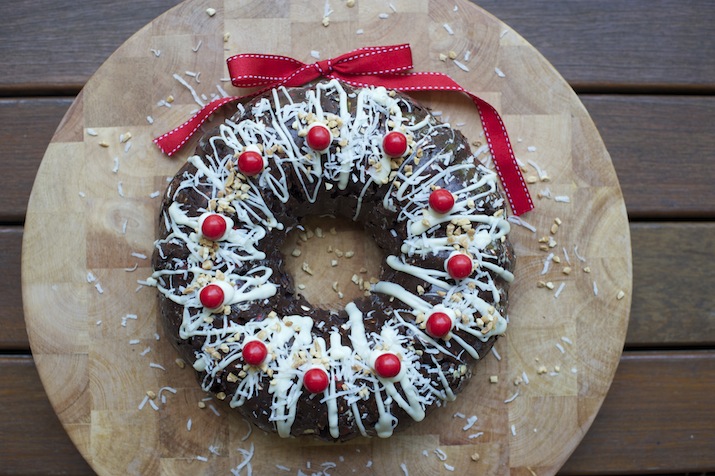 INSIDE THE WREATH!!!!! My snap from Instagram :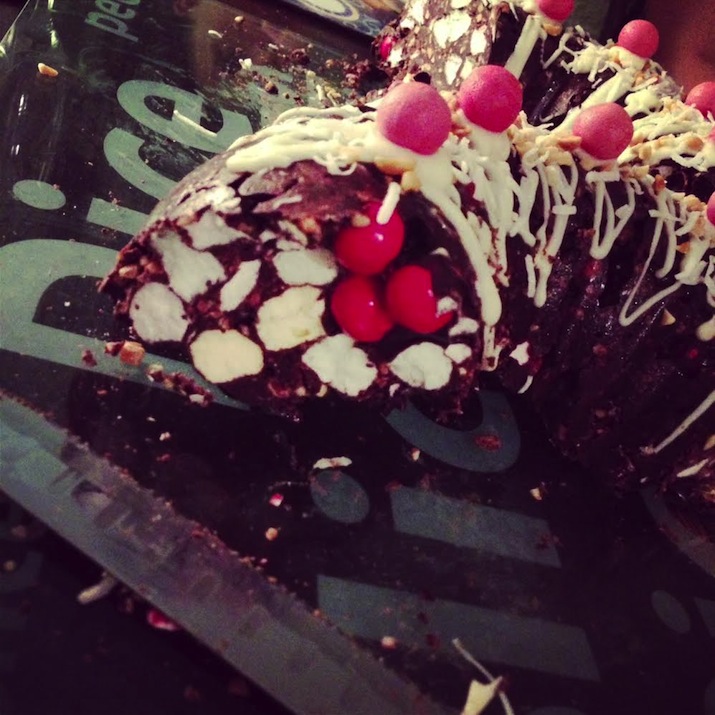 Related posts