HOMEMADE MUESLI BARS WITH CHOCOLATE DRIZZLE 6
February 7, 2014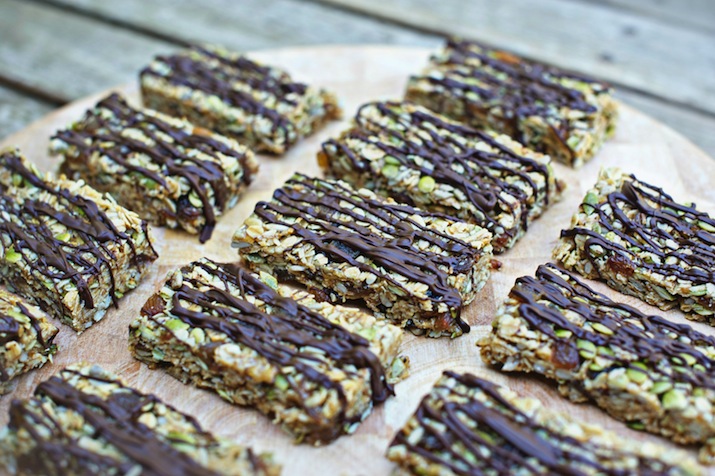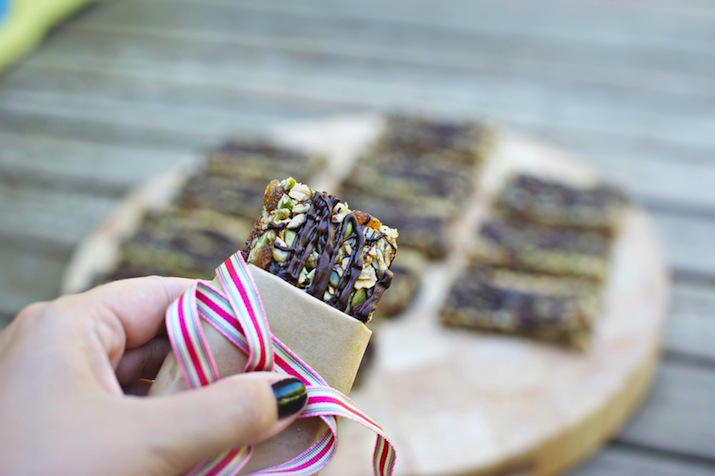 The minute I bite into a muesli bar I am IMMEDIATELY transported back to 1989.
I am 9 years old and sitting in the back of Mrs Cable's station wagon with my sister and the Cable kids. We're on the way to Tennis lessons with Denise.
Good times.
I don't know WHAT has taken me so long to whack a Muesli Bar recipe onto PHOODIE?!
Well, actually, I do.
I hadn't come across one / written one myself that I loved enough to post.
Until now.
This recipe from taste.com.au is FLAWLESS. You hear me, FLAWLESS. And it is for that reason that I am going to share it with y'all.
I have made a couple of adjustments (like replacing wheat germ with hazelnut meal, replacing the sesame seeds with extra pepitas and sunflower seeds, and dousing the little buggers in dark chocolate) but the beauty of this recipe is that you can REALLY adjust it to suit your own tastes! As long as you keep the mix in quantities the same as the original recipe, you will be FINE. For example, if you don't like sultanas, replace them with dried apricots (but keep the quantity of apricots the same as what the recipe says for sultanas – geddit!?)
If you make them, please send me your snaps! Either email them through or tag me on INSTAGRAM (@phoodiegram), TWITTER (@phoodietweets) or post them on the PHOODIE Facebook page!
NOTE: Whilst these are DEFINITELY a gorgeous idea for a lunchbox treat, PLEASE BE SURE TO MAKE A NUT FREE VERSION IF SENDING TO SCHOOL with a no-nuts policy!)
INGREDIENTS
1 cup rolled oats
1 cup desiccated coconut
1/2 cup hazelnut meal (or wheatgerm)
1/2 cup sesame seeds
1/2 cup sunflower kernels
1/2 cup pumpkin seeds (pepitas)
1 cup sultanas
125g butter
1/2 cup honey
1/3 cup brown sugar
3/4 cup dark chocolate melts
METHOD
Grease and line a 3cm deep, 16cm x 28cm (base) baking pan with baking paper. Cook oats, coconut, wheatgerm, sesame seeds, sunflower kernels and pumpkin seeds in a frying pan over medium heat, stirring, for 8 to 10 minutes or until golden. Transfer to a bowl. Set aside to cool. Stir in sultanas.
Cook butter, honey and sugar in a small saucepan over medium heat, stirring, for 3 to 4 minutes or until sugar dissolves. Bring to the boil. Reduce heat to low. Simmer, without stirring, for 7 minutes or until mixture forms a soft ball when a little is dropped into ice-cold water. Add to dry ingredients. Stir until combined.
Spoon mixture into pan. Use a large metal spoon to press down firmly. Allow to cool. Cut into squares (or muesli bar shapes.)
Melt dark chocolate in the microwave. Use a fork in a back-forth flicking motion to top the bars.
Store in a foil-lined airtight container for up to 7 days.