Phoodie's Healthy 'Fish and Chips' Featuring Jamie Oliver by Findus Brilliant Fish Fillet Fingers 2
May 27, 2015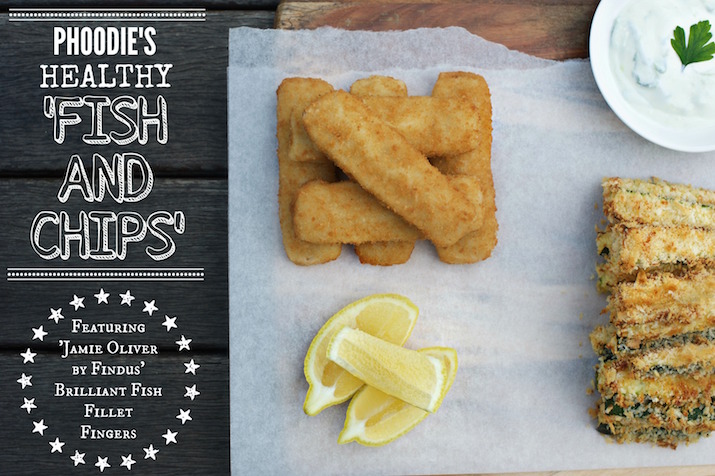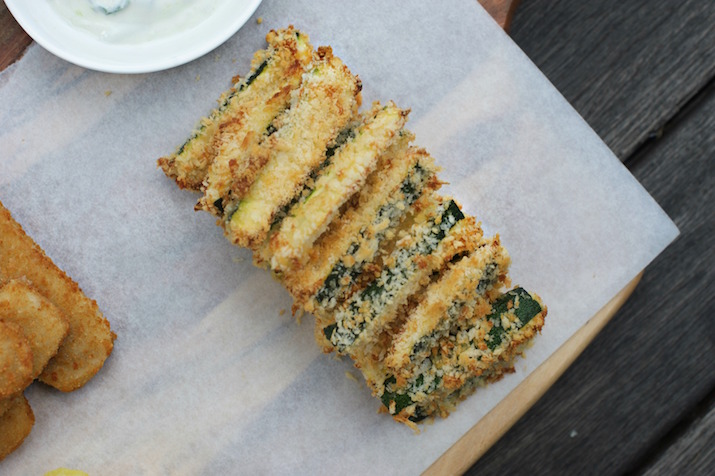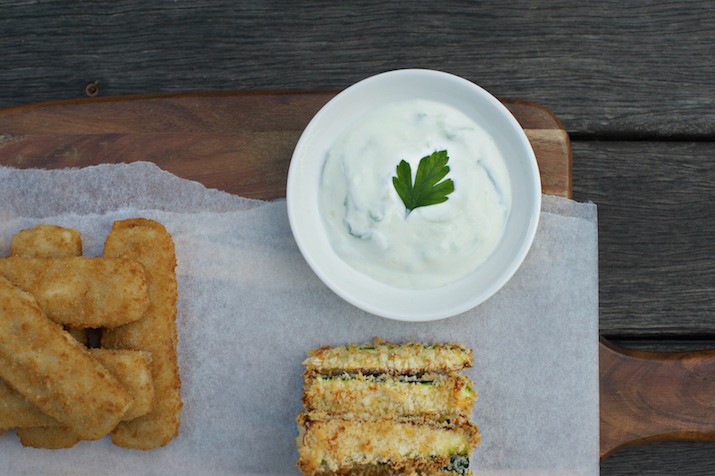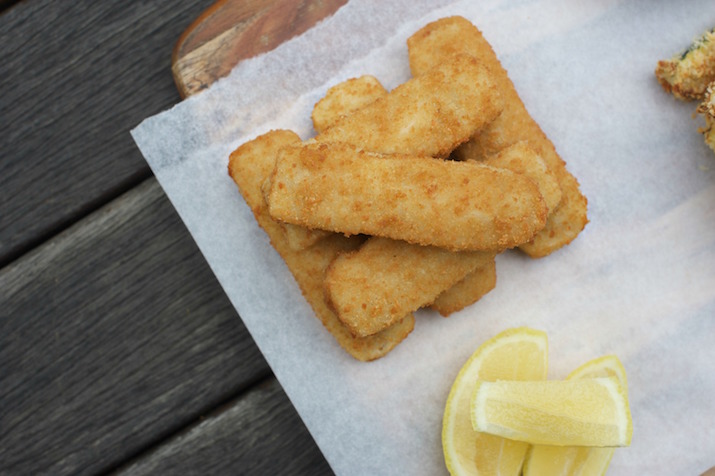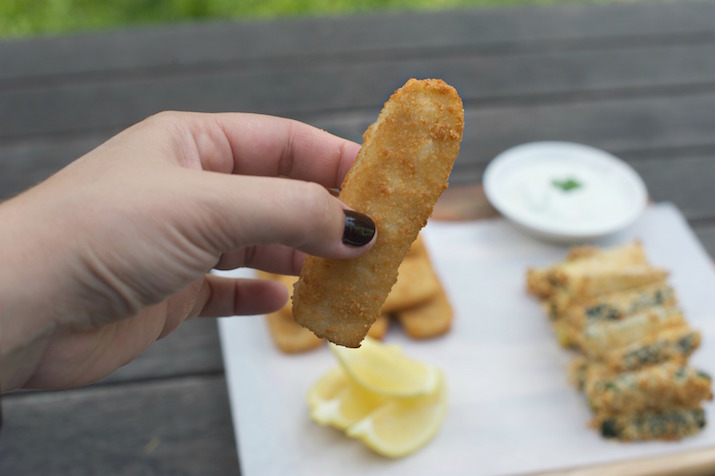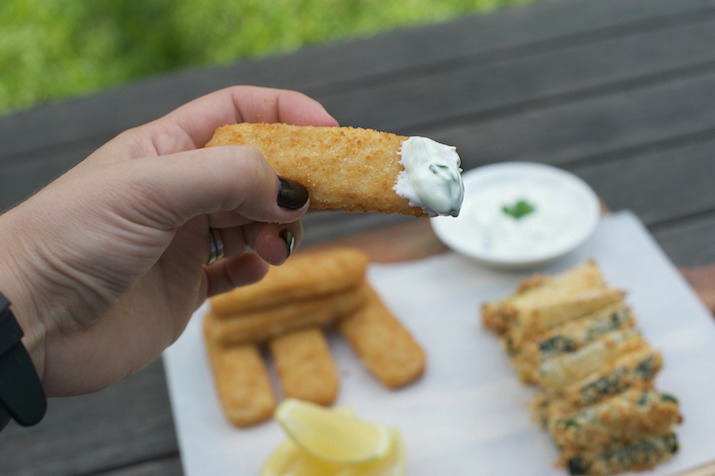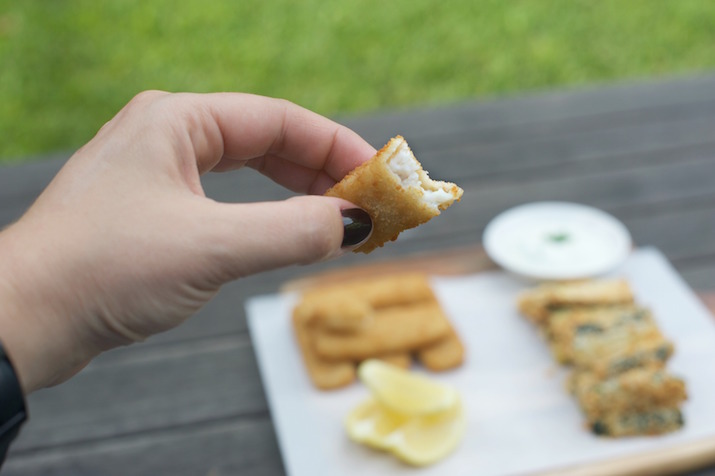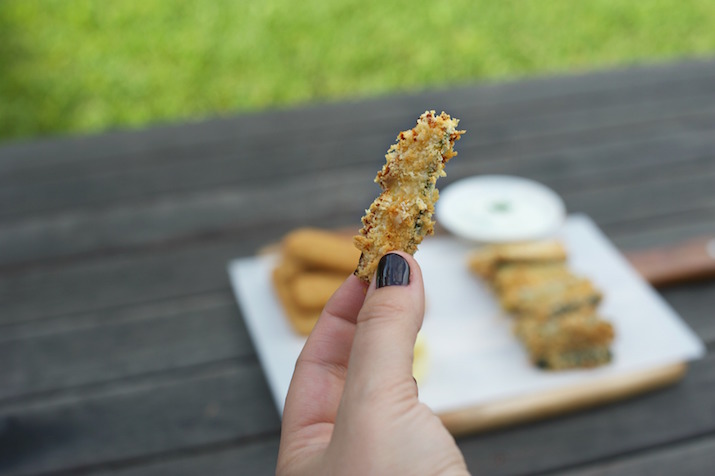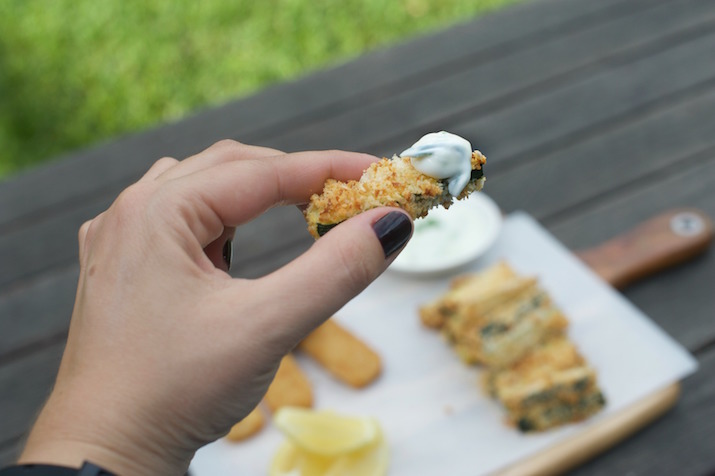 This post is sponsored by Findus
___________________________________________________________
Fish and Chips.
Or Fush and Chups if you're reading this from New Zealand *waves to my second cousins in Auckland.*
Who doesn't love good old Fish and Chips?!
Crunchy fish. Well-seasoned chips. Creamy dipping sauce.
Sound familiar!?
YUM dot com dot au!
Like most Aussies, my kids have grown up eating this delicious meal since they were teeny tiny. As a family, we mostly enjoy fish and chips in summer, on the beach. It's normally wrapped in butcher's paper and sometimes there is more crunchy batter per piece of fish than fish itself! But who cares? It's a treat after all….
Well that's what I used to think! But it doesn't have to be "just a treat" anymore!
Since developing this delicious recipe and discovering these SERIOUSLY yummy Jamie Oliver by Findus Brilliant Fish Fillet Fingers we have been enjoying the old 'Fish and Chips' at home a lot more frequently. And when I say we, I don't just mean the children. I mean hubby and I as well!
The Jamie Oliver by Findus range, features 100% Alaska Pollock and breadcrumbs, and champions high quality food and sustainable alternatives to species like cod and haddock.
Jamie Oliver says, "I am proud to be working with Findus, not only because they've been making frozen seafood products for decades, but, more importantly, because I share their commitment to sustainable fishing. We want to encourage people to try different types of fish and, together, we've sourced some tasty varieties without damaging the environment or fish stocks for the future. The fish are frozen at their freshest, locking in all that fantastic flavour, which means my range is not only good for the sea, it's also good for you."
The 'chips' in this dish are actually zucchini fingers. They're lightly coated in good quality parmesan and Japanese panko crumbs and then baked until golden. My creamy dipping sauce isn't tartare, it's organic yoghurt and cucumber dip, similar to Greek Tzatziki but minus the massive garlic hit!
The Jamie Oliver by Findus range (available nationwide from Woolworths) is designed to be suitable for everyday cooking. With Jamie playing a huge part in recipe development, the affordable range offers top-quality ingredients and comes in 5 tasty flavours including fish fingers and fish cakes. According to Jamie, fish is an area where people feel nervous when it comes to the 'cooking part';
"They are either over cooking it or under cooking it, and don't even mention the word bones! Frozen fish is quick and easy to cook, it's unbelievably tasty and its great value for money as it rarely gets wasted. My frozen fish range includes fishcakes and fish fingers which are packed with nutrition as the freezing process seals in all the goodness like vitamins and Omega 3," Jamie says.
Findus are huge supporters of Jamie Oliver's global campaign to put compulsory practical food education on the school curriculum. For more info about this and about 'Food Revolution Day', check out this awesome video below!
Jamie Oliver by Findus Core Product List:
300g Fish fingers (10 pack)
720g Fish fingers (exactly same product but bigger pack – 24 pack)
4 Fish cakes with Sweetcorn 200g
4 Fish cakes with parsley 200g
The Jamie Oliver by Findus range is available nationwide at Woolworths. Click here to find out more. 
INGREDIENTS
Serves 4
16 Jamie Oliver by Findus Brilliant Fish Fillet Fingers 
Phoodie's Zucchini Chips
makes 32 chips
2 large zucchini
2 eggs, whisked
1 and ½ cups panko crumbs
¾ cup parmesan, grated finely
1 teaspoon salt
½ teaspoon pepper
olive oil spray
Phoodie's Yoghurt and Cucumber Dipping Sauce
can be stored in fridge for up to 1 week
500g full fat Greek style yoghurt
1 cucumber, grated, sprinkled in salt to drain
¼ teaspoon pepper
½ teaspoon salt
½ lemon, juice only
1 small clove garlic, crushed
1 tablespoon olive oil
METHOD
Preheat the oven to 180 degrees Celsius.
The first step is to prepare the cucumber for the dipping sauce as this needs time to drain. Grate the cucumber onto paper towel, spread it into a single layer and sprinkle with 1 teaspoon salt. Set aside whilst you prepare the zucchini chips.
Cut each zucchini in half and then each half into 8 fingers, as per the images below.
Whisk the egg in a bowl and set aside.
Combine the panko crumbs and the parmesan, along with the salt and pepper in a bowl and set aside.
Generously spray a baking paper lined oven tray with olive oil spray.
One by one dip each zucchini finger into the egg, then into the panko mix and then place on the tray.
Lightly spray the tops of the chips before placing into the oven for approximately 25 minutes or until dark golden. Note: you may need to change your oven setting to 'grill' for the last 5 minutes of cooking to ensure good, even colour.
Whilst the chips are cooking, make the yoghurt dipping sauce. Start by giving the grated cucumber a good squeeze to rid it of excess water. Once this is done, place all of the ingredients together in a bowl and mix well. Set aside.
Cook the Jamie Oliver by Findus Brilliant fish fillet fingers as per the instructions on the packet.
Serve each person 4 fish fillet fingers, 8 zucchini chips and a good dollop of yoghurt dipping sauce on the side.
ENJOY!