THE BEST PORK BELLY RASHERS – SWEET + STICKY BY PHOODIE 27
June 23, 2015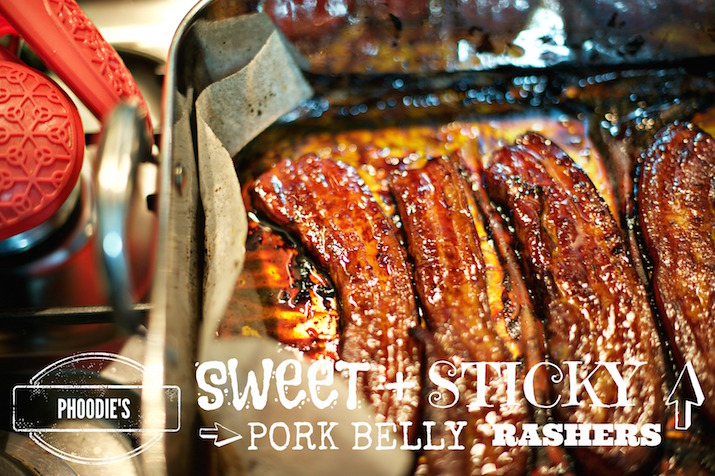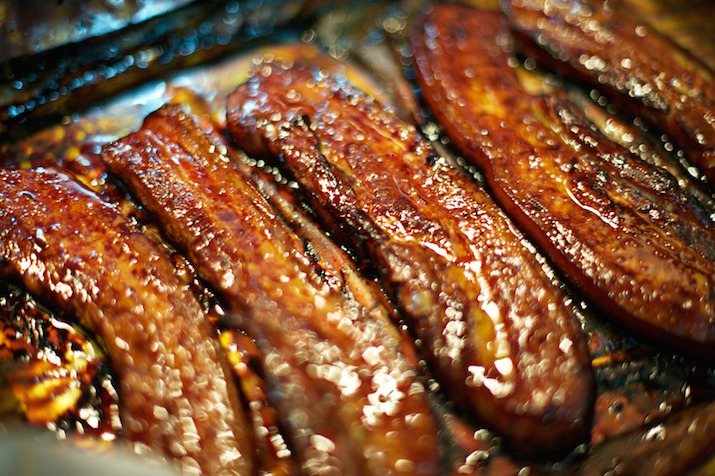 It feels like I am CONSTANTLY saying that things are on the list of  "my top 3 favourite foods ever."
Maybe I need to change the number from 3 to 333,333,333!
I can't help it.
If you hadn't yet worked it out….
I LOVEEEEEEEEEEEEEE FOOD.
And not just because it tastes AMAZING. There are SO many reasons to love it… but I digress… This is not a post about why I love food. I don't feel like getting emotional today. Well MORE emotional!
Pork bloody rocks.
And these sticky, sweet, DELICIOUS pork belly rashers are no exception. This isn't my grandmother's recipe, but pork reminds me of Yaya because I think my love for it came directly from the blood pumping through her veins.
These take minus 4 seconds to bang together and are SUCH a treat! Serve with noodles (I like Udon) or even just steamed Jasmine rice and some Asian greens and you've got yourself the yummiest dinner (lunch or breakfast!) EVER!
Phoodie :)
INGREDIENTS
Serves 4 (with rice and greens!) – or Serves 2 if you are a member of my family!
1.1 kilos Pork Belly (Rashers)
4 tablespoons Maple Syrup
4 tablespoons Soy Sauce
2 tablespoons Honey
3 tablespoons BBQ sauce
2 tablespoons Extra Virgin Olive Oil
Enough water (from the tap / cooled in kettle) to ensure sauce doesn't burn  – I never measure! I just make sure throughout the cooking process there is always some liquid in the base of the pan. So to start off you may want to pour in enough to have about 1cm depth of liquid in the pan, as it evaporates and the meat cooks you can top it up little by little, you always want to make sure the base of the pan is not dry *** BE VERY CAREFUL WHEN POURING WATER IN THE PAN DURING THE COOKING PROCESS AS WHEN THE WATER HITS FAT / OIL IT CAN SPIT ***
METHOD
1) Preheat oven to 180 deg cel.
2) Pat all of the rashers dry with paper towel and then place in a single layer into a baking paper lined oven dish.
3) You have two options in terms of adding the marinade – people who don't like to get their hands dirty can simply combine all ingredients in a jug and whisk with a fork and then pour over. I don't mind getting my (cleanly washed) hands dirty and I also like to rub my marinade into the meat for a while by hand, so I add each ingredient one by one directly on top of the pork and then rub it in for a few minutes by hand.
4) Ensure that the base of the pan has water in it i.e. the rashers are to be sitting directly on the liquid (marinade/water mix) and place into the oven. Cook for about 1 hour, adding water as it evaporates. Once the top side of the rasher looks sticky and coloured you can flip them over and cook for about another hour on the other side.
5) Remove from oven and serve immediately with noodles/rice and green vege.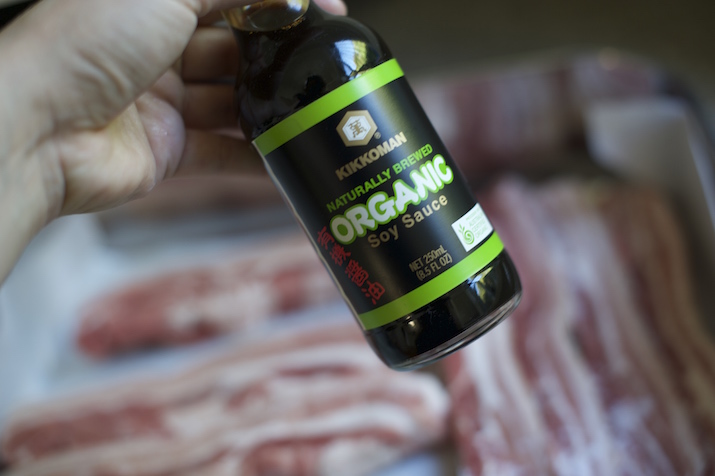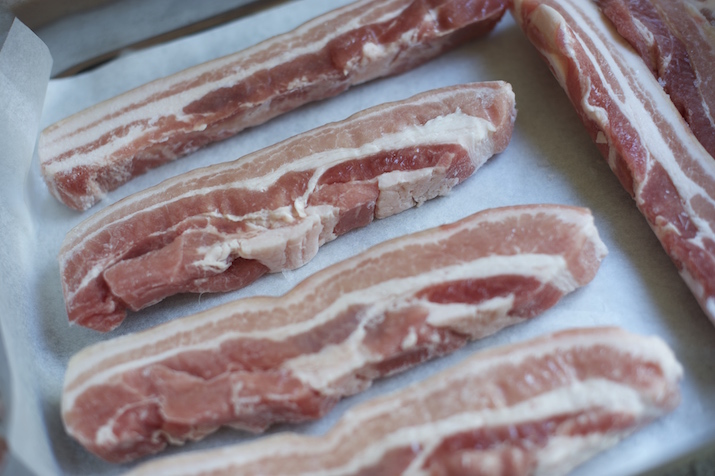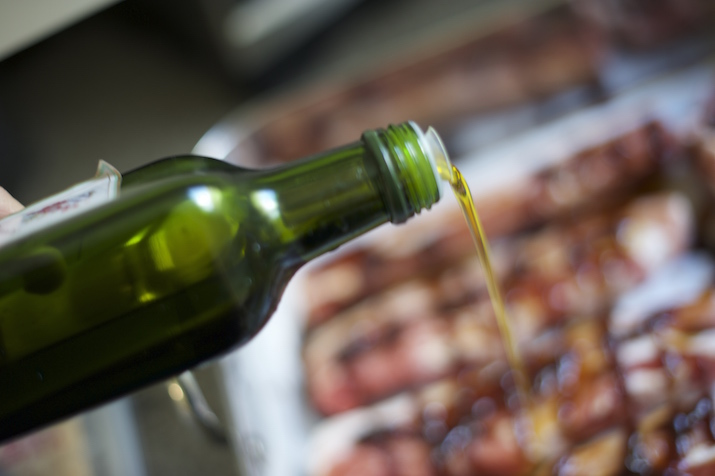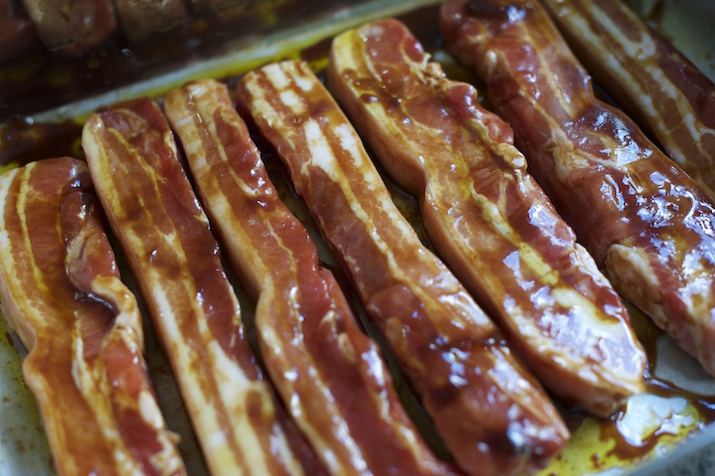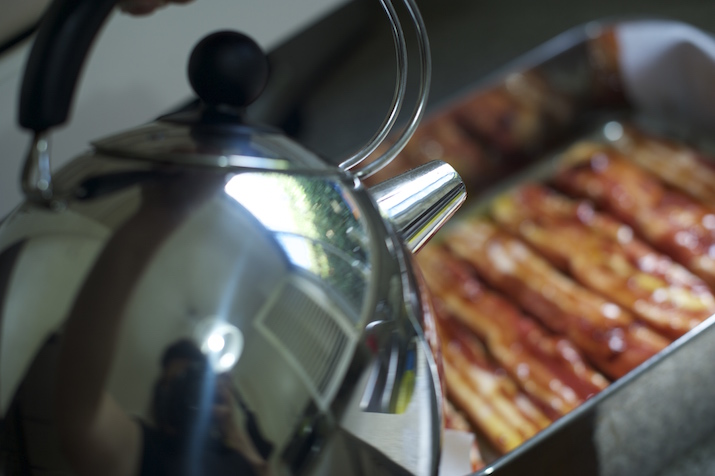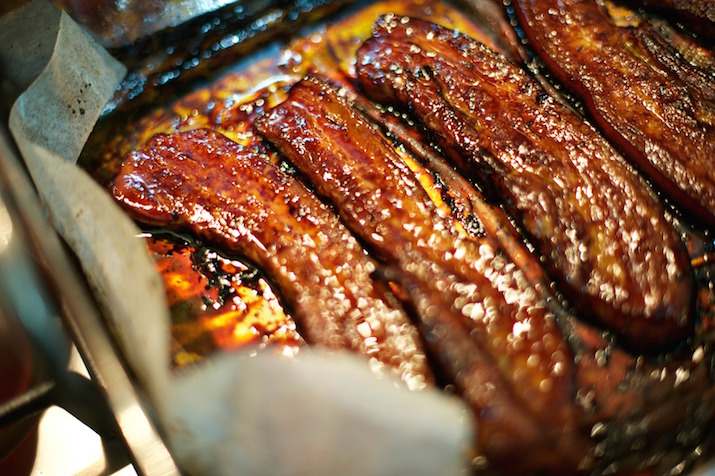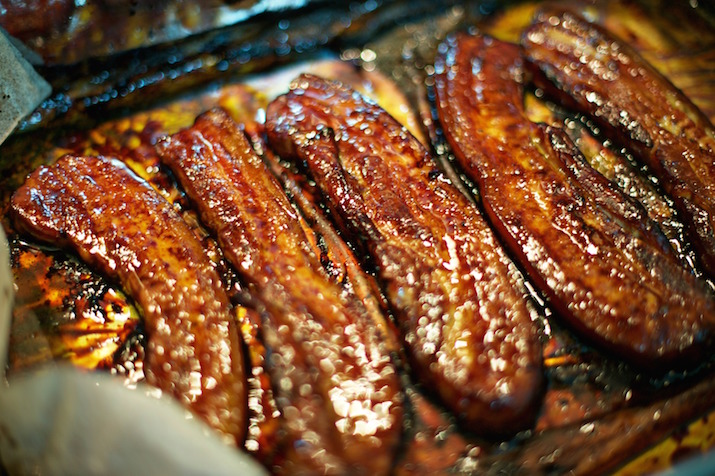 Related posts