NOT JUST ANY NORMAL MACCA'S BURGER…… Featuring 'The PHOODIE' thanks to McDonald's new and delicious 'Create Your Taste' 2
August 5, 2015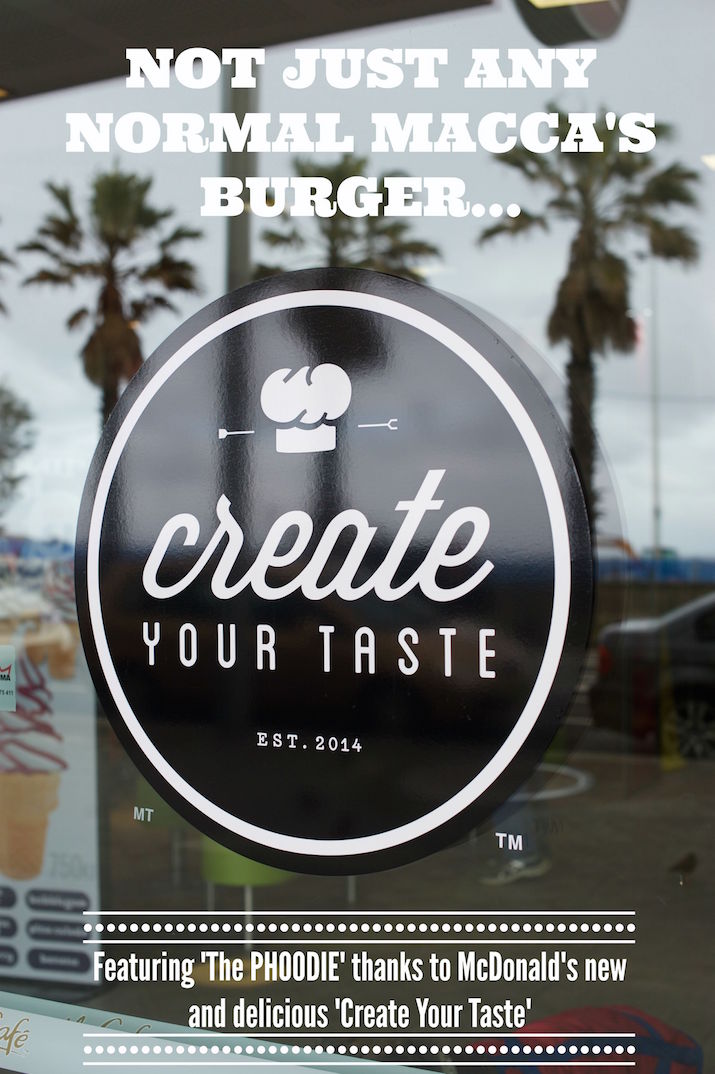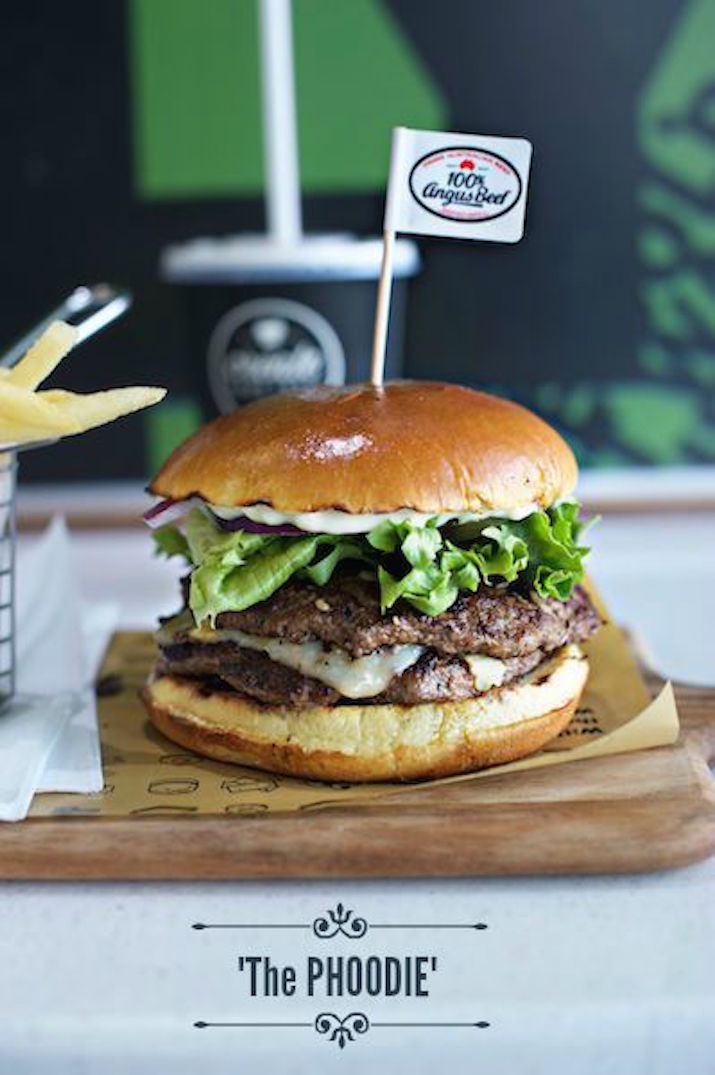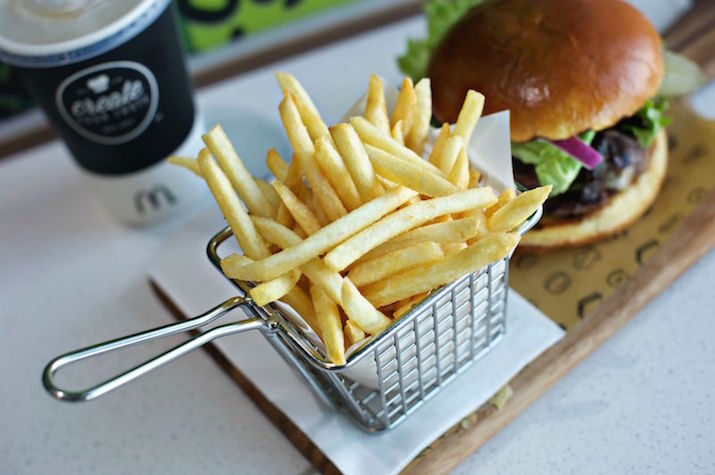 This review has been produced in partnership with McDonald's 
___________________________________________________________
So people who know me well, and of course long time readers of this blog (and long time followers on Social Media), know that I love burgers.
Actually, that's not true.
I don't "love burgers"….
I LUUUUUUUURVE BURGERS!!!!
So, as you can understand, the concept of being able to head into Macca's and 'CREATE', had me at "hello".
When it comes to burgers, despite the fact that I am pretty much willing to give anything a go, I definitely have my own ideas about what works well on one. I was therefore thrilled to be invited to pop down to my local Macca's restaurant and design, step by step, what I thought would be an awesome burger, and then have it made up and served to me alongside a wire basket of crispy fries on a wooden chopping board! You guys KNOW how I feel about serving food on wooden boards! (Oh, and if you don't, just check out pretty much every recipe post I have done EVER!)
But the good news is, it's not just ME that gets to do this!
Create Your Taste is McDonald's way of allowing customers to design their own burger masterpiece from a selection of 30 gourmet ingredients using the 'burger builder' kiosks. It is unlike ANY Macca's offering in the whole world. It looks different, it tastes different and it honestly needs to be experienced to be believed!
Upon entering Macca's I was 'greeted' by several tall, modern, fancy-looking kiosks. I'm not usually this forward, but I was so intrigued by what I saw that I decided to make a bee-line for the one at the front and introduce myself :)
Ok, jokes aside, using the kiosk could not be easier. My 5 year old who is in Kindergarten and is learning to read, could have a pretty good go at it on her own! First up you need to decide if you want to eat in or take away. I decided to eat in. You then decide if you want to pay at the counter or at the kiosk. I chose to pay at the kiosk. After that you are given a choice to create your own burger or have a flick through some recommended creations. I, of course, tapped 'I want to build my own' as visions of what 'The PHOODIE' was going to be, came flying across my mind thick and fast.
First up you must 'CHOOSE YOUR BUN' (which, if you are paleo / a bread-hater / vegan / etc, can be a lettuce wrap!) I chose a brioche bun. Then you move on to add cheese (or not!) I decided to 'MAKE IT CHEESY' by adding both Swiss and Parmesan! After this you 'TURN UP THE TASTE' with a huge offering of extras such as bacon, pineapple, egg and more. I chose an extra Angus beef patty, grilled mushrooms and guacamole.
The second last step is to 'FRESH'N IT UP' and I did this with lettuce, pickles and red onion. Finally you 'GET SAUCY' and I opted for the aioli.
Before you send your order through you get to cross check and review your selections and add fries, drinks, salad or whatever else you would like from the extensive extras menu. I added a Ginger Beer sparkling soda and fries.
Once you are happy that your order is correct, you send it off to the kitchen to be custom made for you, you pay, take your receipt and buzzer and choose a comfy spot to sit down!
Within minutes my meal was brought to my table by a very happy chap who wished me 'bon appetit' and I jumped straight in….
Wow.
Seriously WOW.
I cannot express to you the gastronomic sensation that is 'The PHOODIE'. The perfect balance of texture and taste. It really is a memorable and scrumptious burger. To sum it up for you again; 'The PHOODIE' is a toasted brioche bun with Swiss and parmesan cheese, two Angus beef patties, lettuce, red onion, guacamole, grilled mushrooms, pickles and aioli.
Yup. The bomb.
BOOM. BOOM. BOOM.
So how did I come up with this perfect creation?!
SIMPLE.
I thought about the 4 members of my family. I thought about the ingredients that we ALL love. Not ingredients that two of the four of us love, or three of the four of us, but FOUR of the FOUR of us. Ingredients that we ALL love. I selected those and I formed my burger. Like seriously, I could go to Macca's today and order 4 of 'The PHOODIE', one for me, one for hubby, one for Master 3 and one for Miss 5 and I guarantee you within minutes of having them placed on our table not a crumb would be left. I'm trying to think of another restaurant meal or even a meal that I make with that outcome…..mmmmmm….. give me a minute….
The point is, the flexibility inherent in Macca's Create Your Taste means that there truly is something for everyone. Don't like cheese? Don't have any! Vegetarian? No problem. No meat on your burger. Love Mexican food? Chuck on some crunchy tortilla strips! Have the best taste in burgers ever? Knock yourself together 'The PHOODIE!' :)
Make sure to check out my drool-worthy snaps below, and also, I would LOVE to know if any of you try 'The PHOODIE!' Be sure to send me a pic on social media if you do, tagging me and hashtagging #createyourtaste! Alternatively, please tag me in your photos if you Create Your Taste in a different way! I'd love to compare masterpieces and give yours a try…. If I think it's worthy! *wink*
For more information on Create Your Taste click HERE