Phoodie's Quinoa Salad with Roasted Almonds, Persian Feta and Crunchy Topping! 7
September 14, 2015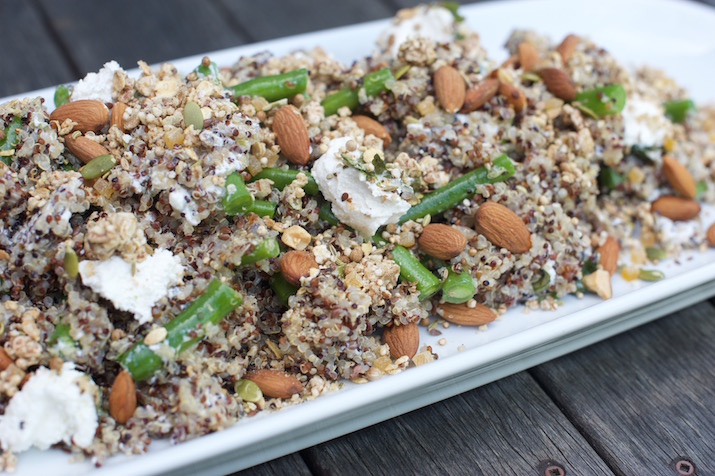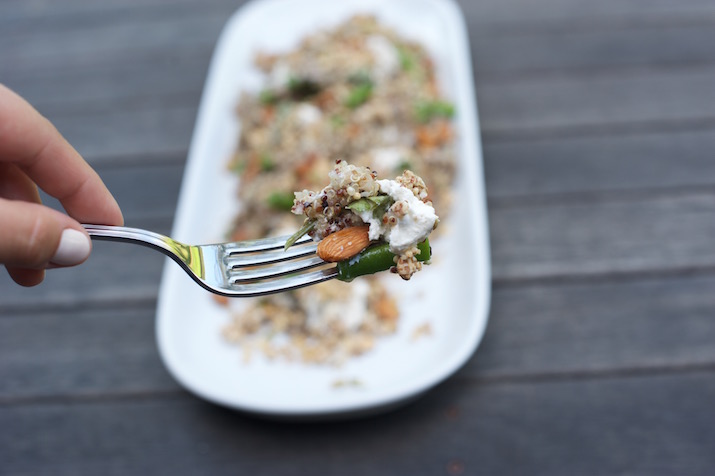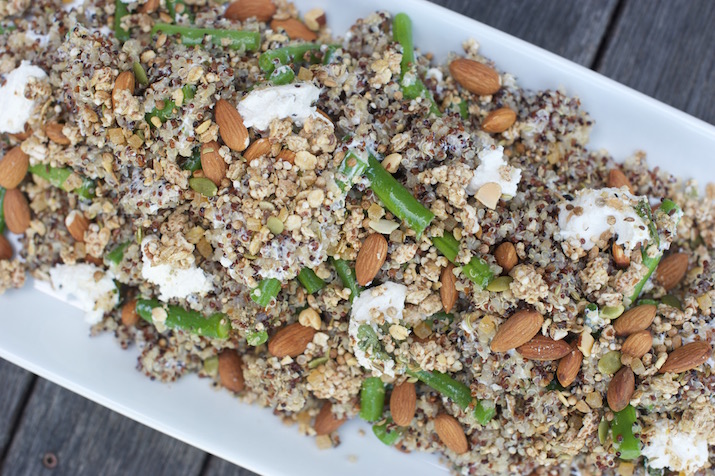 People often ask what inspires me when writing recipes for PHOODIE and the answer is simple….
EVERYTHING and ANYTHING!
I attended an awesome event the other week thanks to Kelloggs. They were celebrating the launch of a heap of great, new products and I was lucky enough to chat with several of the different team members who had worked on these products. Whilst I personally found everything I ate super yummy, one product in particular stood out to me, and literally as I was chomping on it, I started getting flashes of this salad in my head! A blog post had been born and I hadn't even been TRYING!
Now, before you start thinking "cereal and salad?! She's bonkers!"
STOP.
Yes, I might be bonkers, but that's got nothing to do with this recipe! ;)
Trust me, this salad is tear-worthy delicious and the flavours combine perfectly to make each mouthful dance on your tongue!
So whilst this post and recipe is not in any way sponsored by Kellogg's, it was most certainly inspired by them!
Be sure to give it a go, I have a feeling this recipe is going to give my famous Cauliflower salad one a run for its money!
Phoodie :)
INGREDIENTS
To make a large family salad as pictured
2 cups tri colour quinoa
4 cups vegetable or chicken stock (to cook quinoa) Note: you can cook it in water but stock makes it so much more delicious!
1 cup roasted almonds
2 handfuls of green beans
275g Persian Feta ( I buy 'The cheeseboard' brand but any is fine!)
Kellogg's 'Breakfast Toppers' (Sweet Dukkah flavour) – 2 sachets
Dressing – combine in a jar and shake – 1/2 cup lemon juice, the zest from 1/2 lemon, 1/2 cup Extra Virgin Olive Oil, 2 teaspoons salt, 1 teaspoon pepper and an optional crushed clove of garlic
METHOD
1) Cook the quinoa according to the instructions on the packet (as mentioned above, cooking it in stock adds heaps more flavour, but water is fine.) Once cooked – spread it on a large plate to cool to room temp.
2) Roast almonds in a 180 deg cel oven by placing them on a baking paper lined tray until golden brown – don't burn!
3) Blanch the green beans in boiling water for about 2 minutes – once done transfer to an ice bucket/bowl to keep them crisp – be sure not to overcook them! Cut each bean in 1/3 or 1/2 – set aside.
4) Combine cooled quinoa, beans and half the feta (which has been broken into pieces as per image below) in a bowl.
5) Gently pour a generous amount of the dressing over the quinoa, bean, feta mix and toss carefully.
6) Transfer the salad to a serving dish – scatter almonds on top of salad, scatter remaining feta pieces on top and then gently scatter Kellogg's 'Breakfast Toppers' Sweet Dukkah on top of that.
7) Serve remaining dressing alongside the salad. This salad works well with grilled meat, chicken or fish.
ENJOY!