PHOODIE'S SUMMER ROLL SLICE 0
February 10, 2016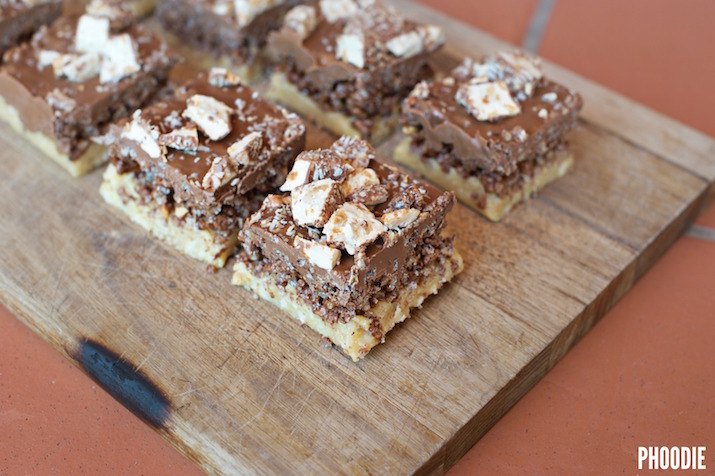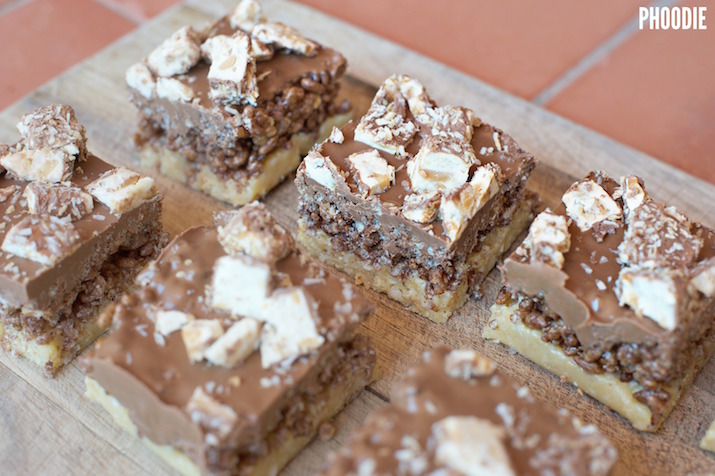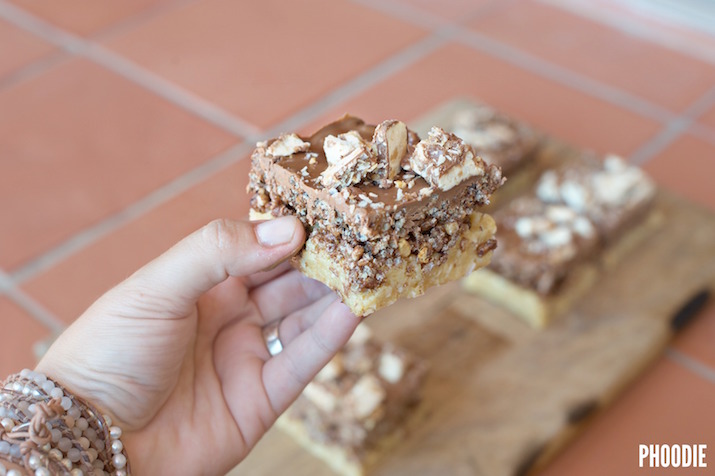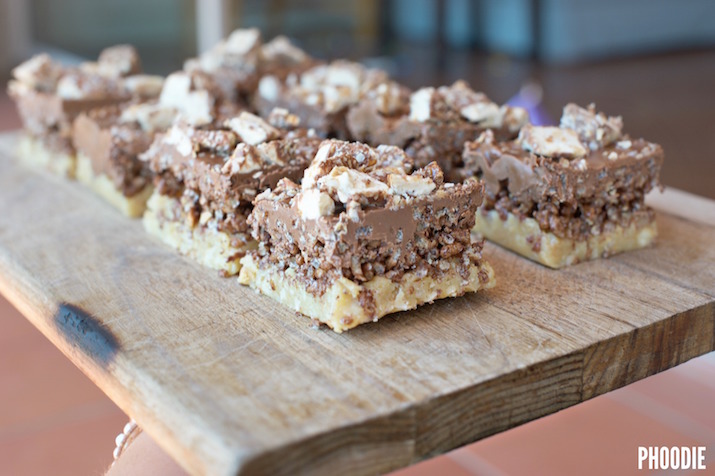 FIND ME ON FACEBOOK – CLICK HERE
FIND ME ON INSTAGRAM – CLICK HERE
FIND ME ON TWITTER – CLICK HERE
FIND ME ON PINTEREST – CLICK HERE
Summer Roll.
Nougat.
Chocolate.
Coconut.
Chewy chewy.
I love you.
1986.
Happiness is.
Ok, sorry about that…. Random ramblings….. I guess you could call it poetry… Poetry is how it feeeeeels…..
There really is just nothing better on a February (or Jan, or March, or April, you get the picture..) day than sitting on the deck with an ice cold beverage and a Summer Roll…. Well maybe there is SOMETHING better and that would be replacing the plain Summer Roll with this, the Phoodie Slice version!
If you are a SR fan, I strongly recommend that you make this – it is tear-worthy good.
A few words of 'warning', the base is VERY buttery, my sister in law and I (butter fans) LOVED this, but my sister (not a butter fan) didn't like it. The slice is also very thick and 'intense' (can't think of another word!) so if you are the kind of person that finds foods 'too rich' or 'too chocolatey' I suggest that you either cut smaller pieces than the ones you see pictured or STAY AWAY (and leave more for us!!!)
ENJOY!
Phoodie :)
INGREDIENTS
(Makes a 28cm x 35 cm tray of slice)
BASE
1 cup condensed milk
220g butter
450g Arnott's Scotch Finger biscuits (or any other plain sweet bikkie)
2 cups desiccated coconut
MIDDLE LAYER
6 Summer Rolls
140g butter
4 cups Coco Pops
TOPPING
500g Milk Chocolate
5 Summer Rolls
METHOD
1) Blitz the Scotch fingers to a fine crumb and mix in a large bowl with the coconut.
2) Over a medium heat, melt to combine the butter and the condensed milk.
3) Once melted, pour over the biscuit / coconut mixture and combine with wooden spoon. Transfer to a baking paper lined tray. Flatten with a spatula or your (clean) hands.
4) Place in fridge to set.
5) Melt the (roughly chopped) 6 Summer Rolls over a medium heat with the 140g butter. Stir CONTINUOUSLY to ensure this doesn't burn / stick to the bottom of the pan.
6) Once combined, pour this mixture over the Coco Pops and stir with wooden spoon.
7) Transfer this mixture on top of the biscuit base and flatten with a spatula or your (clean) hands.
8) Place back in fridge.
9) Melt the Milk chocolate in the microwave in 15 second bursts, stirring in between. Pour evenly over Coco Pops layer of the slice and top with roughly chopped remaining 5 Summer Rolls.
10) Place in fridge to set for at least 2 hours but preferably 4 or more. Slice with VERY SHARP chef's knife into 2 inch squares, or whatever size pieces you desire! Tip: take out of fridge 10 minutes (or more) before you want to slice.