'WONDERLAND' CHOCOLATE BARK BY PHOODIE 0
September 9, 2016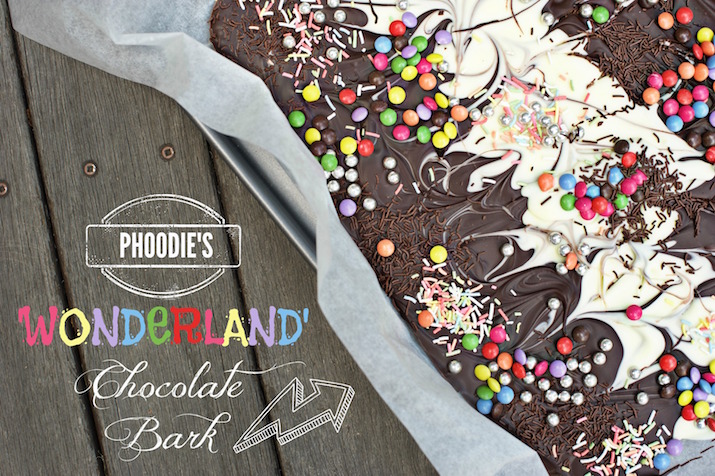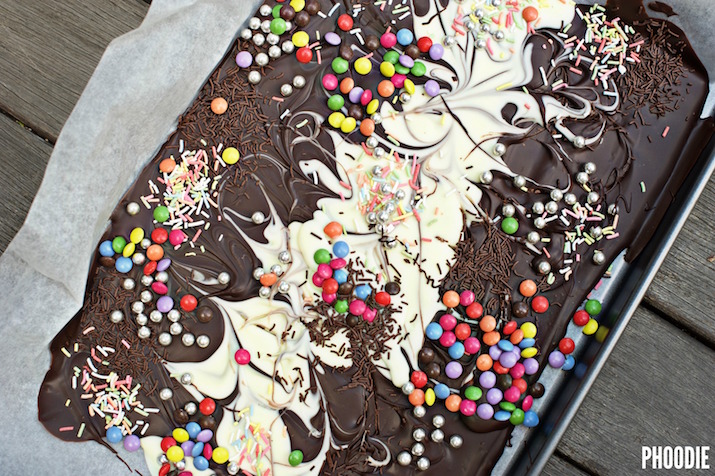 Chocolate. Sprinkles. Colour. Rainbows. Silver balls and a partridge in a pear tree.
What's NOT to love?!
This Chocolate Bark DOES have a recipe (see below) but understand that it's just a suggestion and you can use 1) whatever type / colour of chocolate you like 2) whatever you want to decorate it and 3) whatever pattern you want to make with your skewer.
You can also make it in whatever quantity you like, you kinda can't go wrong!
That said, here are my tips:
Make sure to use chocolate that melts and sets well. The chocolate melts you can get from any supermarket are always good.
I love using Dark and White chocolate as the contrast always looks great, but you can use milk or any colour of the rainbow that you can get your hands on.
Try to decorate in 'clusters' e.g. if using sprinkles, don't randomly just shake them over the entire rectangle of chocolate, rather do a bunch of sprinkles here and then move to the other side and do a bunch of sprinkles there etc (check my pictures for clarity.)
I can't believe I didn't take any snaps of the bark broken up, but to do this you simply (either with your hands or a knife) snap random pieces of the bark off from the main piece. I like to snap different sized pieces off so that guests can have a choice as to whether they inhale a small, medium or (in my case) large slab of goodness!
KALI OREXI!
INGREDIENTS
150g white chocolate melts
300g dark chocolate melts
Rainbow Sprinkles
Chocolate Sprinkles
Mini M and Ms
Cashous (edible silver balls)
Popping Candy
METHOD
1) Melt your white and dark chocolate in seperate bowls in the microwave in 20 seconds bursts, stirring in between.
2) As per the pictures, pour the chocolate (in alternate stripes) onto a baking paper lined tray. You can create as many stripes as you  like, I did one white and 2 dark.
3) Using the pointy end of a wooden skewer, swirl patters through the chocolate to create a marbling effect.
4) Swiftly, before the chocolate sets, add clusters of your decorations to the top of the chocolate.
5) Place in fridge to set properly (about an hour) and then snap random sized pieces of 'bark' off the main piece. Serve on a wooden chopping board or any other cake platter that you like.
ENJOY!