GREEK STYLE CANNOLI; PHOODIE'S GREEK KITCHEN – RECIPE 5 0
September 20, 2016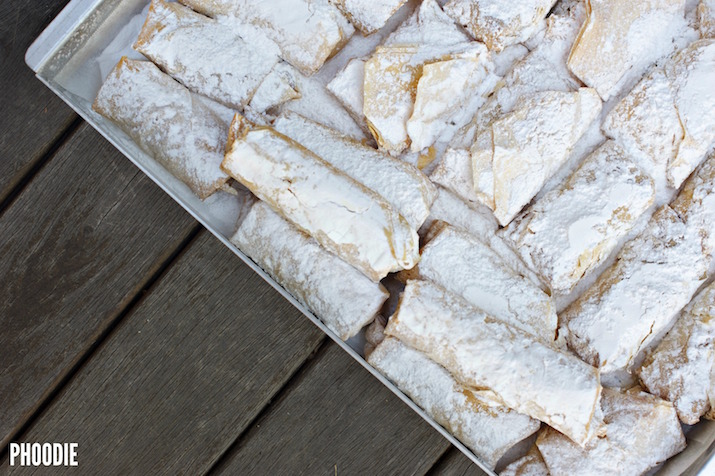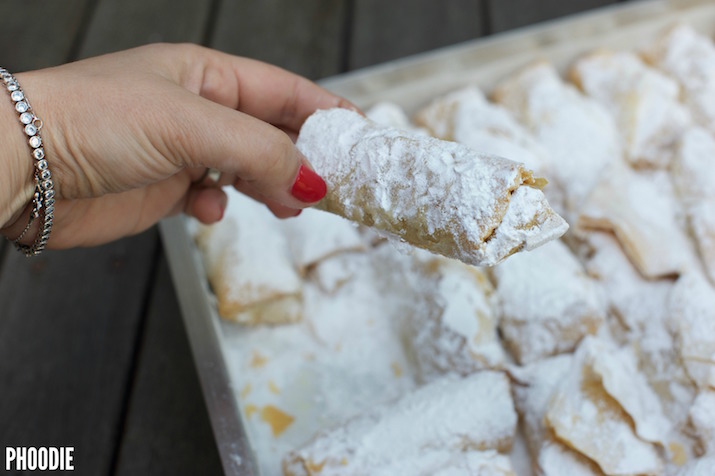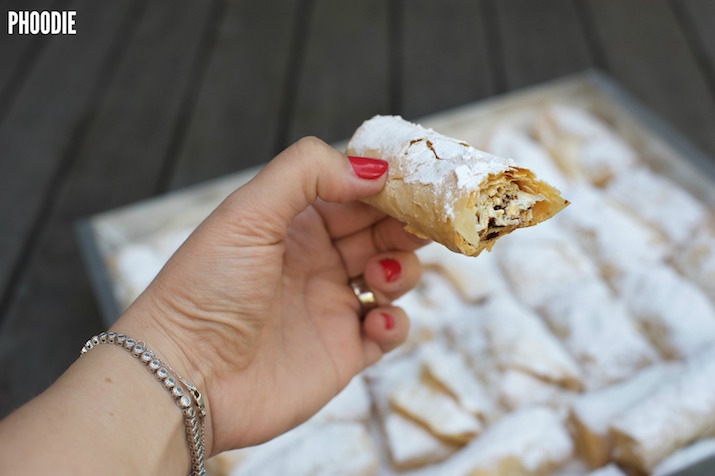 Icing sugar for president I say.
Wait, no, Filo pastry for president.
No, no, sweet ricotta filling for president.
Hold on a moment, ALL of the above for president!
ANYTHING BUT TRUMP…. But I digress….
In this instalment of 'Phoodie's Greek Kitchen,' I introduce you to HEAVEN. The combination of all of the above (minus Trump) makes for the perfect, crispy, creamy, sweet treat! Give them a go! And be brave! Experiment with fillings.
Kali Orexi!
Phoodie :)
INGREDIENTS
Makes 30 – 35 individual pastries
2 eggs
125g unsalted butter (melted)
1/2 cup caster sugar
150g dark chocolate chips / roughly chopped dark chocolate
500g ricotta cheese
1 tablespoon Tia Maria
1 teaspoon vanilla extract
3 tablespoons mixed orange / lemon rind
2 x 375g packs filo pastry
approx 100g melted butter to brush pastry
approx 150g icing sugar for dusting
METHOD
1) Whisk the eggs with the sugar by hand.
2) Whisk in the melted butter, chocolate, Tia Maria, vanilla and rind. Once mixed, whisk in the ricotta.
3) Butter an entire sheet of filo and place another sheet on top. Butter that top sheet as well.
4) Fold this double-layered filo in half by folding horizontally i.e. the bottom over the top. You are then left with a 4 layers thick filo rectangle. Cut this rectangle into 3 even squares (see image 1 below)
5) Place a tablespoon of mixture on the square / diamond of pastry and fold as per image 2 below.
6) Brush the top of the pastry with butter and place on a baking paper lined tray. Repeat until all filo and mixture is used up.
7) Bake in a 180 deg cel oven for approx half an hour or until pastry is dark golden.
8) Allow to cool and when just warm, dust generously with icing sugar.
IMAGE ONE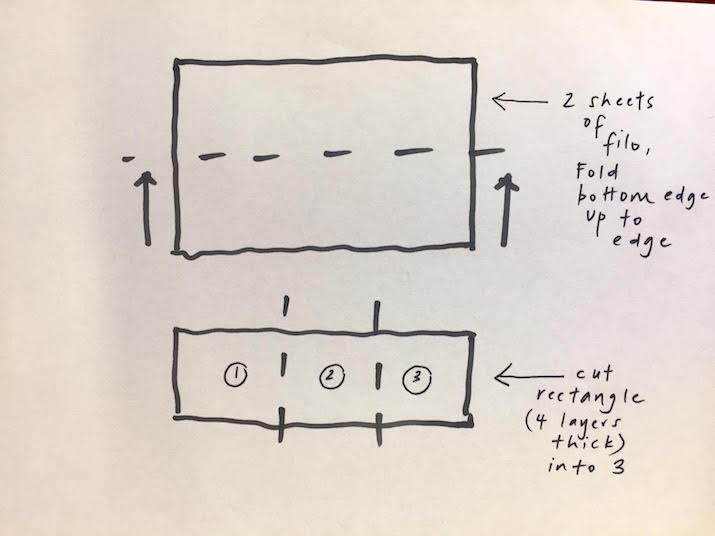 IMAGE TWO