PHOODIE'S HOMEMADE MEAT AND VEGETABLE PIES 6
July 7, 2013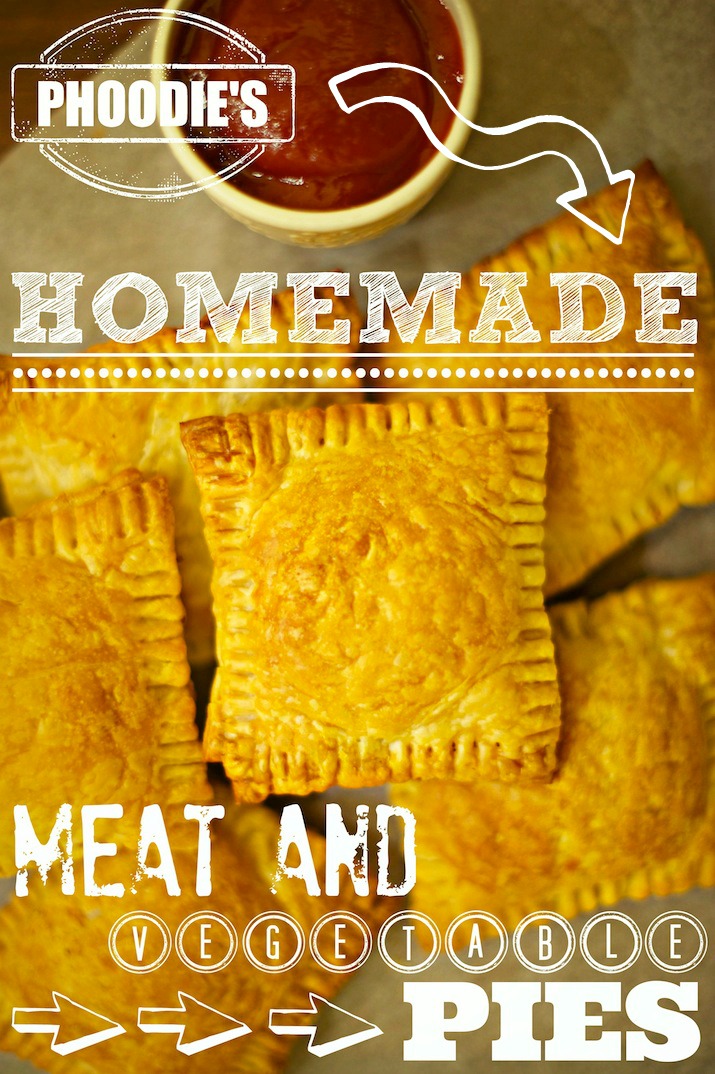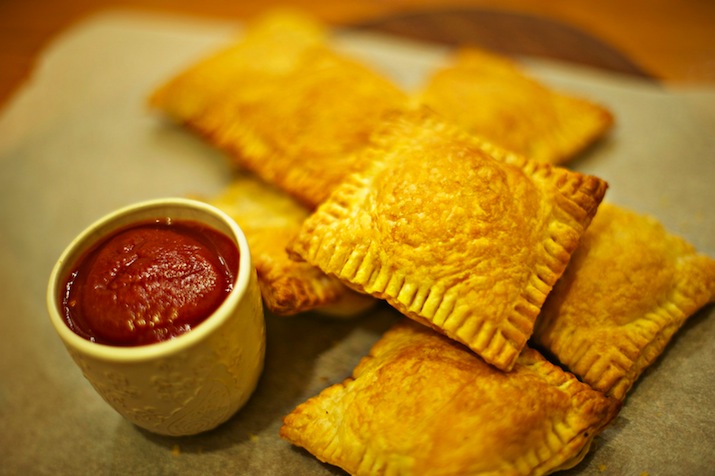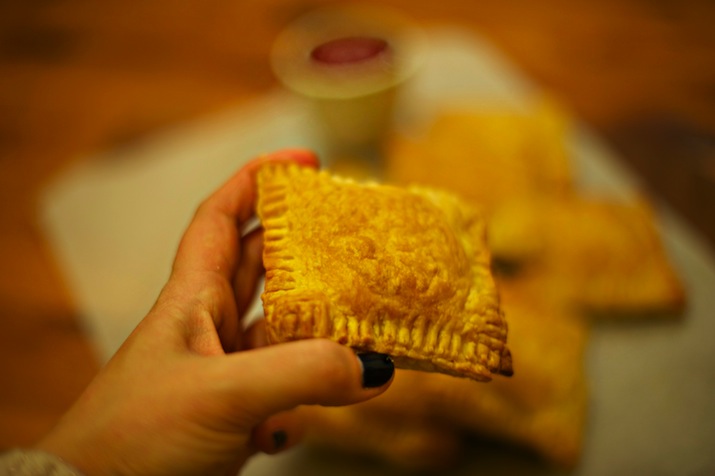 This is a great recipe for a TRILLION reasons, but for me the main two are that 1) my kids (ALL kids…..well MOST kids) love them and 2) they are the best "vege disguisers" in the land.
People have different opinions about whether or not we should "disguise" vegetables for kids. Persoanlly, I say go for it. Those on the opposing team say that it breeds distrust etc later on. NMP. Not My Probelm. I think us parents work SO hard to make sure our kids eat well and it is SO frustrating to have meal after meal turned down and wasted. If the kids enjoy the flavour but can't see there are 3700 different types of veges tucked in there, I say "WELL DONE, PARENT OF THE CENTURY!"
Whilst they are a little time consuming to make, (even though the pastry is store bought),  the effort is WELL worth it. The filling freezes super duper well (for up to 3 months) making it so easy to pull a portion out plus a sheet or two of pastry, on those nights when you are late home from work or when it's been an exhausting day with the kids and you cant be bothered to cook but want something yummo!
PHOODIES HOMEMADE MEAT AND VEGIE PIES
Makes APPROXIMATELY 24 (12 cm x 12 cm) pies
INGREDIENTS
3 large carrots, roughly chopped into 1cm pieces
1 large head broccoli, roughly chopped into 1cm pieces
1 large eggplant, roughly chopped into 1cm pieces
1 large sweet potato, roughly chopped into 1cm pieces
1 large red capsicum, roughly chopped into 1cm pieces
3 tablespoons olive oil
1 brown onion, diced
2 large cloves garlic, minced
800 grams lean beef mince
700 grams tomato passata
5 cups of water
75 grams butter
75 grams flour
900ml full cream milk
1 tablespoon salt
2 teaspoons pepper (can leave this out if kids don't like pepper)
3/4 cup tasty cheese, grated
48 (12 cm  x 12 cm) store bought puff pastry squares – NOTE: 2 squares per pie.
You can make the pies WHATEVER size you like, I actually made a few of them as large rectangles for Hubby and I. As I said above, the meat and vegetable filling freezes REALLY well so what I normally do is make a massive batch of the  filling and then freeze it in individual one cup portions. This allows me to make the pies easily on the night I will be eating them. I simply defrost a portion of filing and a pastry sheet, slap the pie together and cook when I want to eat one, or give one to the kids. 
METHOD
1) Cut all your vegetables up and chuck them into a bowl. Feel free to swap one vege on my list for something else you prefer, just try to keep the quantities approximately the same.
2) In the olive oil, over a medium heat, fry off your onion and garlic. You want them translucent with no colour.
3) Once done, add in the mince to brown. Use a wooden spoon to make sure all of the meat becomes browned.
4) Add in the bowl of vegetables and mix through.
5) Add in the passata and mix through.
6) Add in the water, place a lid loosely over the pot and cook for 30 mins, checking regularly
7) After half an hour you will see there is lots of liquid, remove this using a soup ladle, you don't have to take it all out, just the majority of it (see pics below.)
8) In the half hour that the meat mix is cooking away you want to make your white sauce. Start by making a 'roux.' Melt the butter over a medium heat, once melted add the flour and continuously stir until you get a thick paste. Cook this for about 3 minutes to get rid of the flour flavour.
9) Start to whisk in the milk slowly, several tablespoons at a time. Whisk as you pour, Whisk whisk whisk to save your life. Do not stop. If you stop you will get lumps, if you add too much milk at the one time you will get lumps. WHISK. You will notice the sauce starts to thicken, keep whisking. When it has thickened considerably, and is like toffee consistency, add in the salt and cheese, WHILST WHISKING. When done, take off the heat and set aside.
10) Allow the sauce to cool for maybe 15 minutes and then add it to your drained meat and vegetable mix. You have your pie filling!
11) If you are making the same quantity as I did, it's a lot, and you aren't going to eat all the pies today I STRONGLY suggest you freeze 1 cup portions of this mixture for future pie making days/nights. In any case, cut the pastry into 12cm squares, add a tablespoon or so of mixture to the centre of each square. Top with another pastry square and press the edges securely down using your fingertips.
12) Grab a fork and prod the edges for a pretty frilly pattern and also to secure all sides of the pie.
13) Drizzle with olive oil and whack onto a baking paper lined tray and into a 200 deg cel oven for aboutttttttt 15 minutes or until puffy and dark golden.
DONE!
THE VEGETABLES
THE MEAT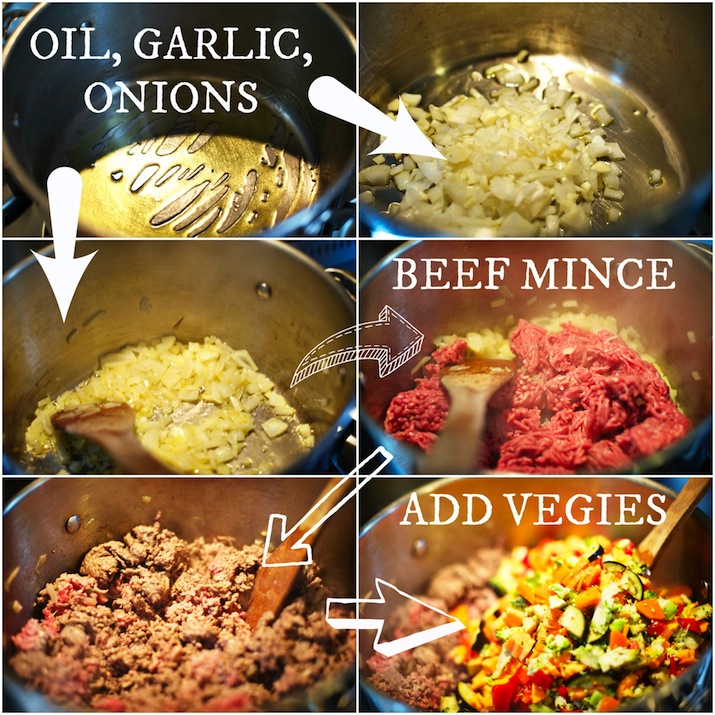 TOMATO PASSATA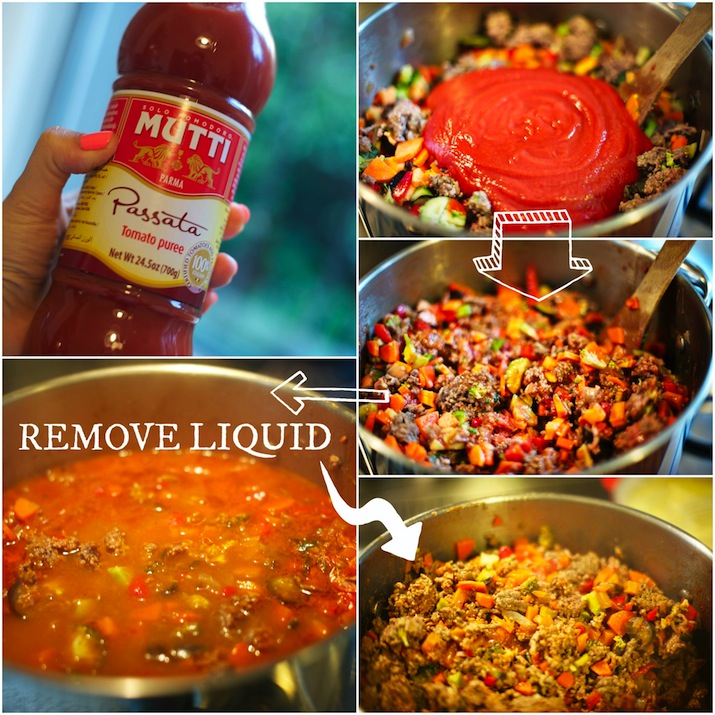 THE WHITE SAUCE
FINAL STEPS + PASTRY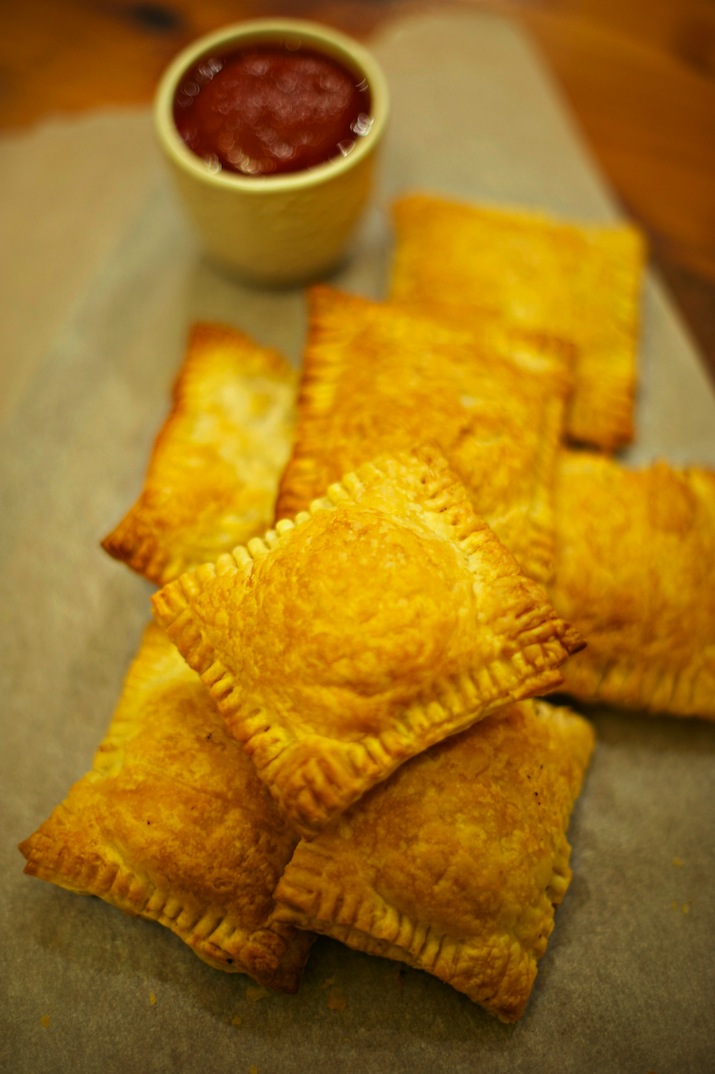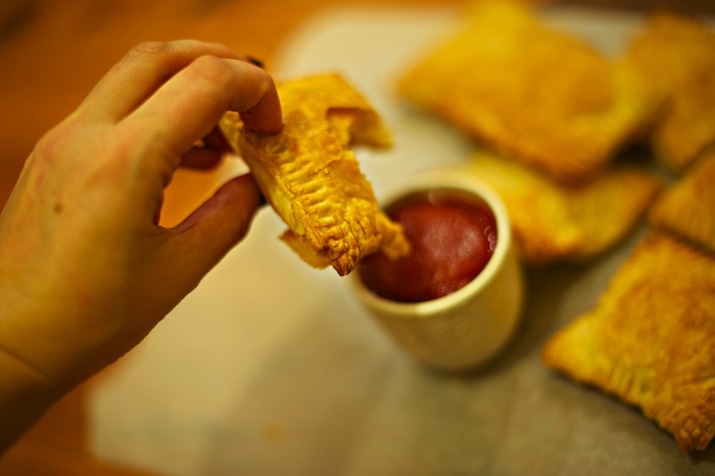 Related posts