PHOODIE'S CHERRY RIPE CHOCOLATE SLICE 8
January 24, 2014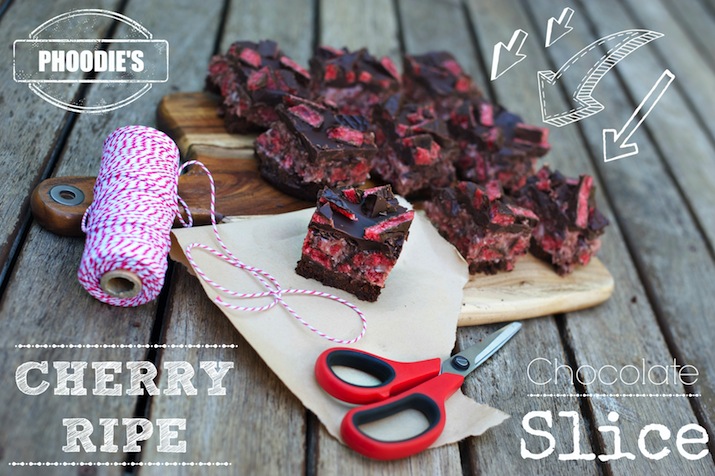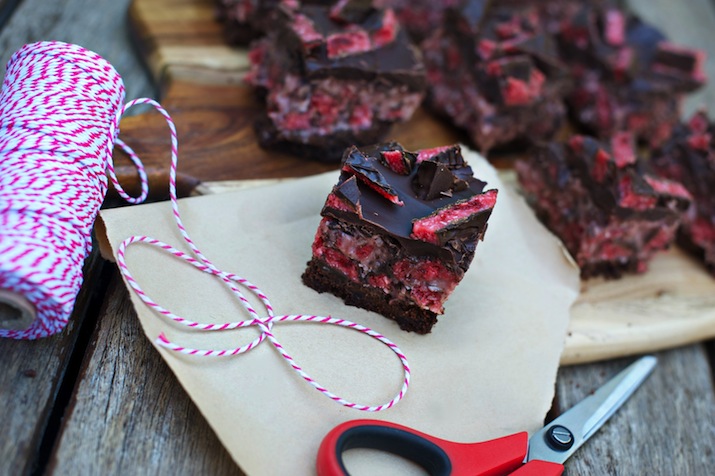 Cherry Ripe.
Australia's oldest (and most loved, depending on who you talk to!) chocolate bar.
People are truly divided on CR's, I find they either fall into the "love 'em" or the "hate 'em" camps. There isn't really an in-between.
However, overall, I'd have to say, (based on the results from my personal survey) the "love 'em" crowd is comprised of far more people than it's opposite, and I for one, fall into it.
This slice takes the CR to a new level and is a MUST BAKE for any CR fan.
A GREAT one for the Australia Day public holiday and (for those of you who are into it) it's pretty pinky/red hue makes for a wonderful Valentine's day dessert!
Note: If serving it after a meal, cut it into larger slices. However, if serving it as an afternoon snack, smaller pieces are better. It's very rich!
Another note: If you like the look of this you'll probably also love THIS.
INGREDIENTS
Makes a tray 25 x 25 cm 
For the base
340 g plain chocolate biscuits / cookies (I use Arnott's Chocolate Ripple)
170 g unsalted butter, melted
For the filling
125 g Copha
395 g condensed milk
Red food colouring (add a drop at a time, maybe 6 drops, but stop once you reach desired colour)
480 g Cherry Ripe chocolate bars, chopped
2 cups shredded coconut
For the topping
400g dark chocolate melts
160 g Cherry Ripe chocolate bars
METHOD
1) In a food processor crush the biscuits until sand consistency is reached. Completely combine biscuit crumb with melted butter in a bowl and transfer to baking-paper-lined baking dish. Use fingers tips to press filling into base of dish ensuring even distribution.
2) Bake in 180 deg cel oven for approx 10 – 15 minutes and then take out and allow to cool.
3) Place the condensed milk, food colouring, coconut, and melted copha (can be done in the microwave) in a bowl and mix gently.
4) Add chopped chocolate bars to the bowl and mix VERY gently – you don't want it to "turn to mush."
5) Transfer to baking dish and spread over the biscuit base. Place in fridge for 20 mins.
6) For the topping, melt the chocolate (carefully in the microwave or over a double boiler) and spread over cherry filling. Top with additional chopped Cherry ripe bars.
7) Refrigerate for as long as possible as this will help you to slice! (Minimum 3 hours!) Using a sharp knife, dipped in hot water, slice the delicious slab of goodness and serve!
Keeps for up to a week in tupperware in the fridge.