PHOODIE'S BUBBLE GUM ROCKY 'WIZZ FIZZ' ROAD 12
October 23, 2014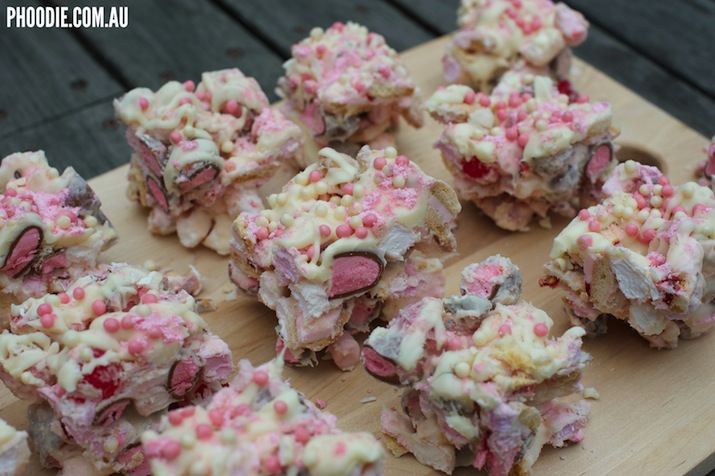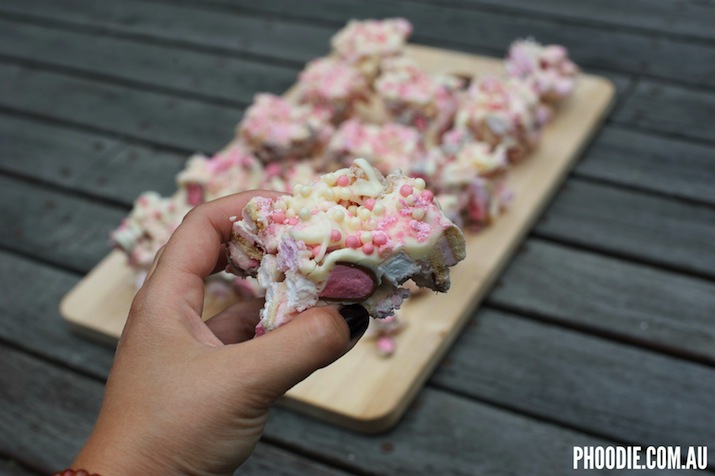 THIS POST IS SPONSORED BY WIZZ FIZZ
The little red spoon.
Who could forget it!?
Certainly not me… or my sister… or brother…. Every Saturday night my grandparents used to take us to the same "Chocolate shop" (I mean do these things even EXIST anymore!? Apart from in small country towns and Switzerland!?) and we would each get to select one thing to take home and guzzle down before bed. And time after time after time we would always choose Wizz Fizz.
Back then, it was just plain old, straighty 180, basic (yet fizzy!) Wizz Fizz… I don't remember there being flavour options…. or were there? Certainly not Bubble Gum! Ah the kids of today… they have it SO much better than we ever did! ;)
Moving on….I was super excited when I was recently given the opportunity to play Willy Wonka and knock together an original (and deliciously crazy!) PHOODIE recipe using this new variety of my age old favourite sherbet. I thought… and I recipe tested….and I quizzed the young folk around me and came up with THIS. This outrageously pink, fun and sparkly, crunchy and smooth BUBBLE GUM ROCKY 'WIZZ FIZZ' ROAD! I hope you have as much fun making it as we did here at the PHOODIE household and I hope you get as much joy from taking your first bite too!
INGREDIENTS
TO MAKE THE ROCKY ROAD
3/4 cup raspberry lollies
2 and 1/2 cups pink Clinkers (cut in halves) – I wanted this whole thing to be "bubble gummy" in colour and to me that was cream, pink and white, so I only used the pink clinkers! Feel free to use the green and yellow ones too!
2  and 1/2 cups mini marshmallows – pink and white only! :)
2 packets Iced Vovo biscuits – chopped into four pieces each
2 packets Wizz Fizz – Bubble Gum Flavour
950g white chocolate melts – melted
TO MAKE THE TOPPING
120g cripsy pink and white chocolate balls (or any ball / sprinkle of your choice!)
1 packet Wizz Fizz – Bubble Gum Flavour
300 g white chocolate melts – melted
METHOD
**Line a 35 cm x 20 cm x 10cm deep dish with baking paper **
1) In a super duper large bowl place the raspberry lollies, the clinkers (cut in half), the marshmallows, and the Iced Vovo biscuits (cut into quarters)
2) Give it a good mix around with your (clean!) hands.
3) Sprinkle the 2 sachets of Wizz Fizz (Bubble Gum Flavour) over the top of the ingredients and give it another mix around with your clean hands or a wooden spoon, ensuring that all of the ingredients get coated with the sherbet.
4) Melt the chocolate for the Rocky Road in the microwave in 30 second bursts, stirring in between, to ensure that it doesn't burn!
5) Allow it to cool slightly (because you don't want it to melt your marshmallows etc) before pouring it evenly over your mixed bowl of goodies. Stir chocolate evenly through with wooden spoon and then transfer to baking paper lined dish. Place in fridge whilst you prepare topping. RED ALERT – Your rocky road will set very quickly, as in, it will  start to set as soon as the first bit of chocolate is poured over the ingredients, so be sure to work quickly, mixing everything together super fast and getting it into the dish ASAP. Flatten it down using your wooden spoon.
6) Melt the chocolate that is to be used for the topping. Once down, use a fork to drizzle the chocolate generously over the top of the rocky road, dripping it down into the gaps and creating a zig zag type pattern on the top. Sprinkle your crispy balls and an additional sachet of Wizz Fizz (Bubble Gum Flavour) over the top of the chocolate and place back into the fridge to set properly (Note: it should set within an hour or two but to make it much easier to cut leave it in for as long as possible. I always leave my rocky road in over night.)
7) Using a large, sharp Chef's knife, cut it into large slabs (as per snaps below) and then from those slabs, cut chunks.
GOBBLE.
ENJOY.
STEP BY STEP SNAPS