PHOODIE'S SWEET & SALTY ROCKY ROAD (Inspired by the infamous Milk Bar 'Compost Cookie!') 0
October 7, 2015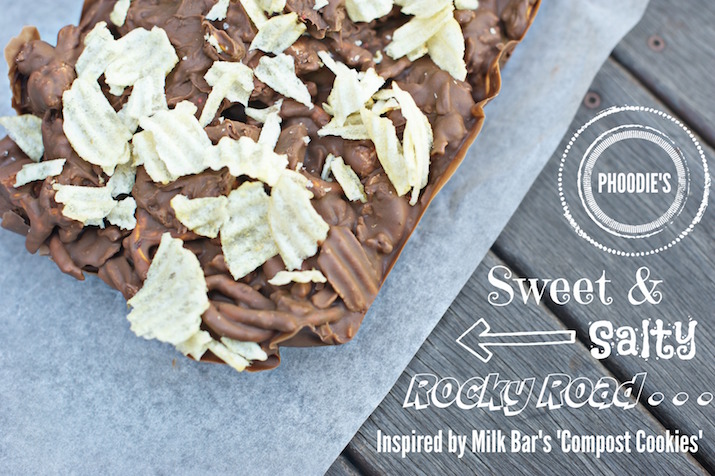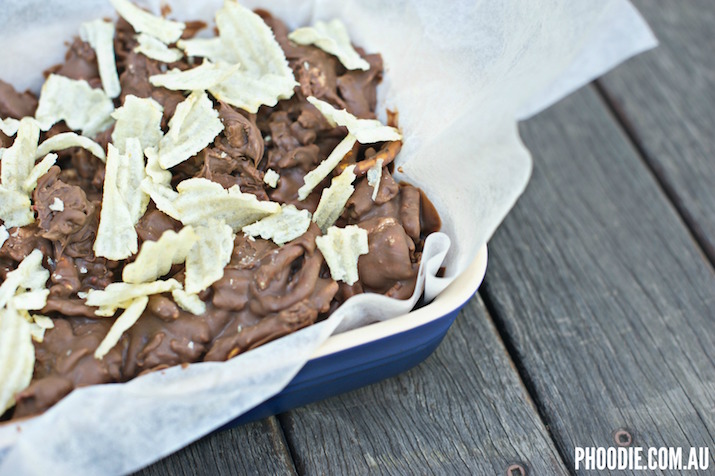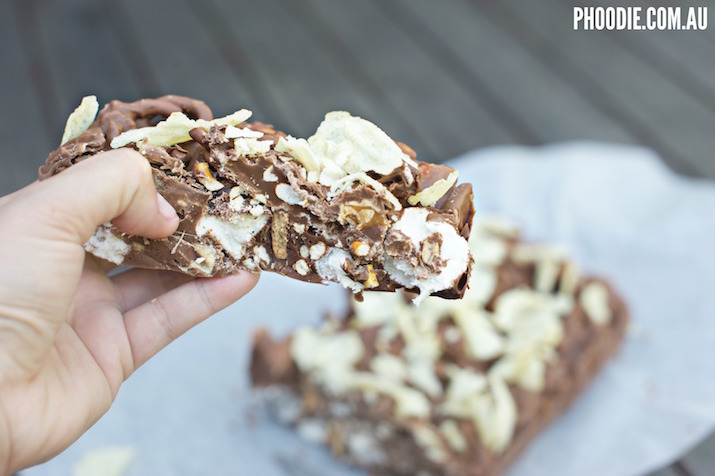 The first time I ate a 'Milk Bar Compost Cookie' I cried.
Silence please, in honour of this moment.
Since then I have been wondering what recipe I could write as an 'ode' to this masterpiece…
And I recently came up with THIS.
The 'Compost Cookie' combines the best of 'sweet' with the best of 'salty' in turn creating the most perfect biscuit that one could ever hope to eat. I have applied this principle to Rocky Road, and I think I have struck gold.
SO easy to make and the perfect hostess gift, why not whip some up today?!
INGREDIENTS
1 cup Arnott's Tee Vee snacks (or any other choc-dipped malt biscuit)
1/2 cup chocolate freckles
6 mini Snickers bars
2 cups potato chips (I use Smith's Crinkle Cut)
1  and 1/2 cups salted pretzels
1  and 1/2 cups white marshmallows
750g milk choc melts
ADDITIONAL 2 cups potato chips – for topping
METHOD
Line a 20 x 15cm dish with baking paper
1) Roughly chop all ingredients except for the choc melts and the potato chips for the topping and place into a bowl. Mix gently.
2) Place choc melts into a microwave safe bowl and melt for about 30 seconds in 10 second bursts, stirring in between.
3) Allow melted chocolate to cook for a minute or so and then pour over mixed ingredients, stirring through as quickly as possible with a wooden spoon.
4) Transfer immediately into a baking paper lined dish (approx 20 x 15cm)
5) Place in fridge to set properly (at least 2 hours) before turning upside down to cut (with a sharp knife). Alternatively, serve the entire slab on a wooden board and allow guests to 'hack off' as much or as little as they like!
Can be stored for up to a week in tupperware in the fridge.