EASY CHRISTMAS COOKIES! AKA 'REINDEER' BISCUITS BY PHOODIE 0
November 16, 2015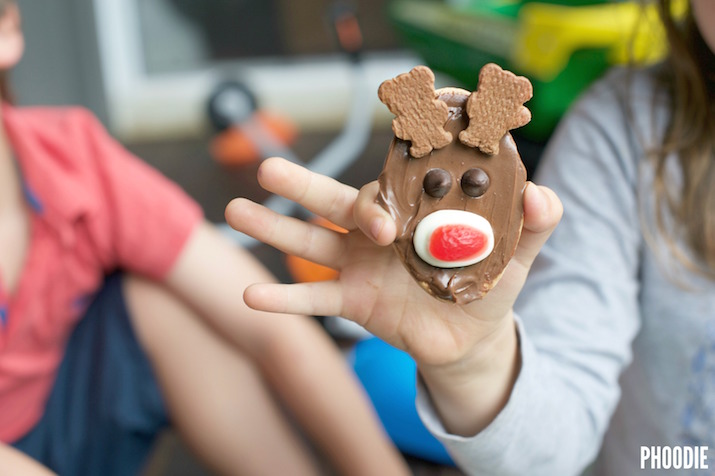 Christmas is my ABSOLUTE favourite time of the year…
For a tonne of reasons… But mainly because I am a kid at heart… and hope I always will be!
The magic of it all….  The excitement in the air…. The decorations….. The trees… The gifts… The food… The food….The food..
THE FOOD!
As always, here at PHOODIE, no matter the subject at hand, we eventually back to food….
And it's not just what I will be chowing down on on the actual day that excites me… we'll get there… but it's the 'leading up to Chrissy' treats that I love. I've got other Christmas recipes on the blog, like my Candy Cane Tarts (click here), my Gingerbread (click here), my Christmas Truffles (click here) but I must say, these 'Reindeer' biscuits are definitely my favourite to date!
They involve a mere 5 ingredients and there is actually no cooking! NO ONE, not even small kids, can stuff these guys up, everyone thinks they're cute and if you're dealing with a nut allergy you can replace the Nutella with chocolate icing or melted chocolate on it's own!
Make sure to send through your pictures to me on Social Media if you make one!
Facebook – Click HERE
Instagram (@phoodiegram) – Click HERE
Twitter (@phoodietweets) – Click HERE
ENJOY!
Phoodie :)
INGREDIENTS
Below is what you will need per 'reindeer', simply multiply it by the numbver of bikkies you want to make!
1 Arnott's Arrowroot biscuit (or any oval shaped cookie / biscuit)
1 teaspoon Nutella (or melted chocolate or chocolate spread)
1 'Strawberries and Cream' lolly
2 mini chocolate chips
2 chocolate 'Tiny Teddy' biscuits (or similar)
METHOD
1) Set up a baking paper lined tray to place completed biscuits.
2) Spread the Nutella over the Arrowroot biscuit
3) Place a 'strawberries and cream' lolly just below the centre of the biscuit as a 'nose'
4) Place the teddy biscuits on either side of the Arrowroot biscuit at the top (as shown in the images below) as 'antlers'
5) Place the chocolate chips on the Arrowroot biscuit as 'eyes'
6) Serve immediately or store in tupperware for up to 3 days.