PHOODIE'S BAKED EGGS WITH CHORIZO +[1] EDGELL CORN 1
March 16, 2016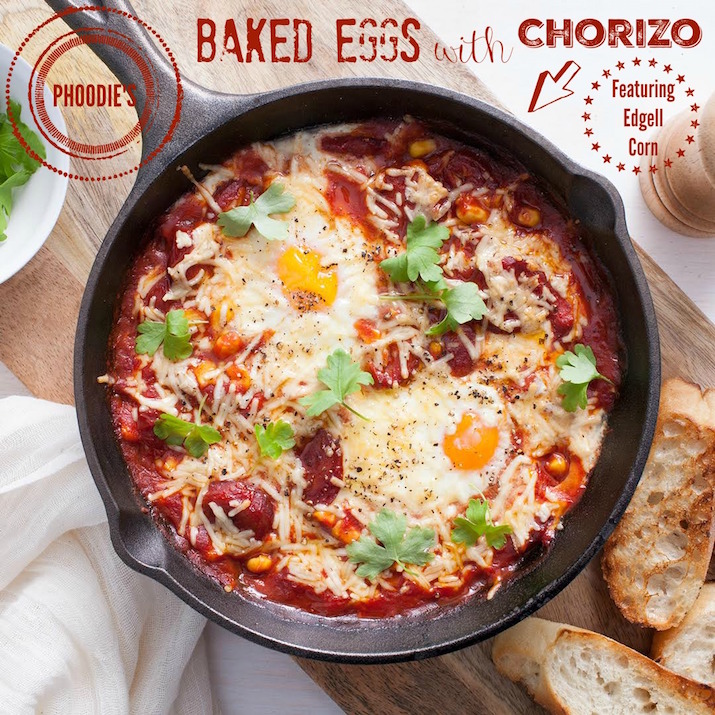 This recipe post is sponsored by Edgell
Everyone thinks that their recipe for baked eggs is the BEST recipe for baked eggs. Now, even whilst that may be the case, here at PHOODIE we speak the truth, and the truth, I can now CONFIRM, is that THIS baked eggs recipe is the only one you will ever need!
SO simple to make, super delicious, and with the addition of corn, extra nutritious!
I've loved working with Edgell to develop this recipe as part of their special Edgell + 1 project. The Edgell + 1 project was designed to show you just how simple it is to add an extra serve of veggies into each meal! As a Mum of two small kids, I was super excited to be involved with this and actually surprised at how easy it was to develop these recipes (I've got loads more on their way, plus there is a stack on the Edgell +1 website) ensuring that the vegetables were included but the food remained a 10/10 on the taste scale!
INGREDIENTS
+ [1] 300g can Edgell Corn Kernels
200g chorizo
1 tablespoon olive oil
700g jar Leggo's Passata
4 eggs
1 cup grated parmesan cheese
Flat leaf parsley, to serve
Crusty bread to serve
METHOD
Preheat oven to 180°C.
Slice the chorizo into 1cm pieces, place in a deep 25cm pan with a tablespoon of olive oil and fry until crispy.
Pour passata on top of the chorizo pieces. You want the passata to be about 4cm deep.
Stir through drained Edgell Corn Kernels
Crack the 4 eggs on top of the passata. Make sure they are spaced out evenly.
Scatter 1 cup of parmesan over the egg whites and tomato, leaving the yolks exposed. Bake in oven for about 6-8 minutes, or until cheese is golden and melted and egg whites are just set.
Remove from oven, scatter over remaining cheese and chopped parsley and serve in the middle of the table for everyone to share with delicious bread.
Tips
Alternatively cook in individual pans for serving. Make a small hollow in the tomato mixture to crack the egg into.
For more great ideas on how to add vegetables to your meals, check out Edgell +1 Website here!

Related posts