ANOTHER PHOODIE GIVEAWAY! $450 BESPOKE 'BAKERS DREAM' PRIZE PACK THANKS TO SUNBEAM FOODS 127
September 27, 2016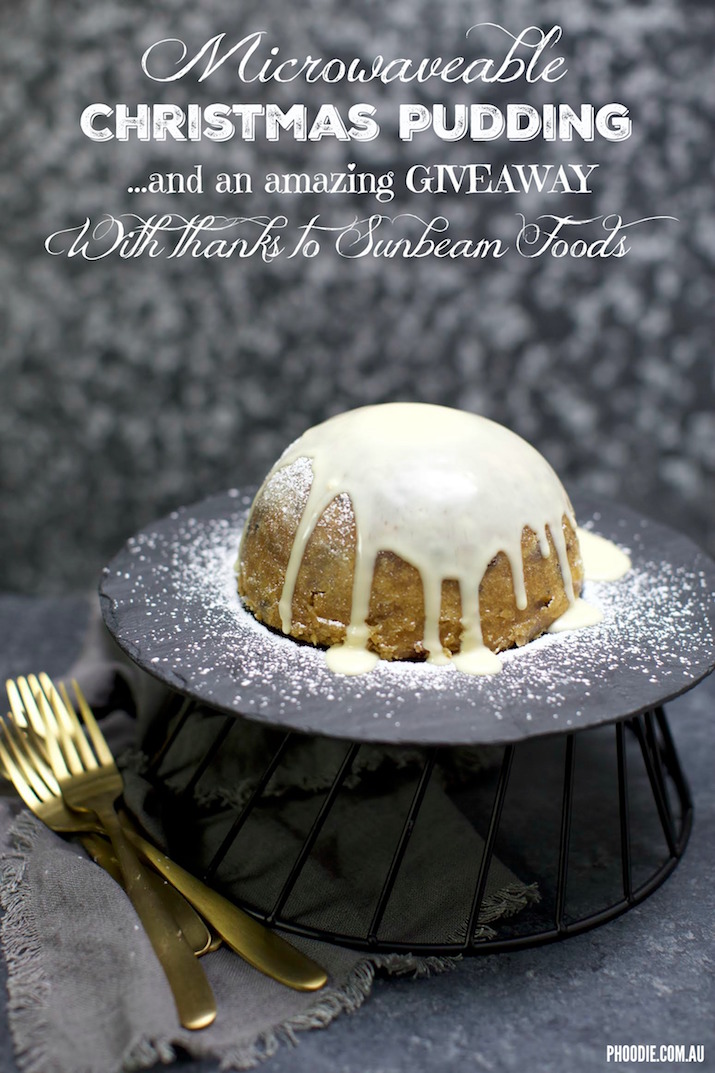 PHOODIES! We are only days away from OCTOBER!
I know, every year flies by faster than the one before, but when it comes to Christmas Baking, that's a good thing right?! The awesome baked goods typically made over the festive season are so satisfying and delicious, that we don't want to have to wait a loooooooong 12 months in between each time we're meant to eat them!
This year I've already seen so many fabulous Christmas recipes floating around and it confirms that Chrissy baking is going to be bigger than ever in 2016!
Baking is made simpler when ingredients are readily available, super yummy and are basically designed to be used in typical Christmas treats. So with that said, Sunbeam Foods are encouraging Aussies to get their bake on in the lead up to Christmas!
Whilst it is great to "try new things" and put a modern twist on the old classics etc, it is also extremely fulfilling to be able to whip up your own delicious version of traditional old favourites such as the Christmas pudding.
Reality TV stars and celebrity chefs, Sammy and Bella have been busy in the kitchen whipping up some awesome Christmas recipes using delicious Sunbeam Foods products. I was lucky enough to taste both their Microwave Christmas Pudding AND their Rum and Raisin Chocolate Salami Log at an event earlier in the year and I can assure you they're both an 11 out of 10!
So today, I would like to not only share both of these wonderful recipes with you but I would also like to offer one lucky PHOODIE reader the chance to WIN a bespoke Christmas baking pack, with the total value exceeding $450!
How great does that sound?!
The prize would include;
· Donna Hay for Royal Doulton cake platter – $100
· 4x Le Creuset ramekins -$53.90
· Cake Knife and server – $49.95
· Kenwood hand mixer $49.95
· Spiced honey and apple syrup $30
· Baker's Secret pudding steamer $26.50
· Xmas cookie cutters – $5
· Keep Calm and Carry on Baking Linen tea towel $6
· $35 worth of Sunbeam product (mixed fruit, sultanas, currants, raisins + almond meal)
· Xmas pudding cloths $5
· Basting Brush – $14
· Pyrex glass mixing bowl – $15 (3L)
· Pyrex glass mixing bowl $12
· Pyrex glass mixing bowl $9
· Wooden spoon $7
· Icing spatula $10
· Nut cracker – $18
· A selection of herbs and spices such as cinnamon quills, nutmeg, star anise, cloves – $15
There is not one more thing that you would need to make this Christmas a beautifully baked one!
And the best part of this giveaway, is that entering could not be easier!
There are three ways in which you can enter, and for a greater chance of winning, I suggest you enter in each of the ways!
Via the BLOG – In the comments below, simply leave your name! Yup, that's it!
Via FACEBOOK (CLICK HERE) On the PHOODIE FB page, In the comments under the SUNBEAM FOODS GIVEAWAY photo, TAG a friend! You can tag as many people as you like to increase your chances of being selected as the winner!
Via INSTRAGRAM (CLICK HERE)  In the comments under the SUNBEAM FOODS GIVEAWAY photo, TAG a friend! You can tag as many people as you like to increase your chances of being selected as the winner!
Entry is open to all Australian residents with one winner selected at random and announced on 04/10/16.
Best of luck to each and every single one of you!
Phoodie :)
MICROWAVEABLE CHRISTMAS PUDDING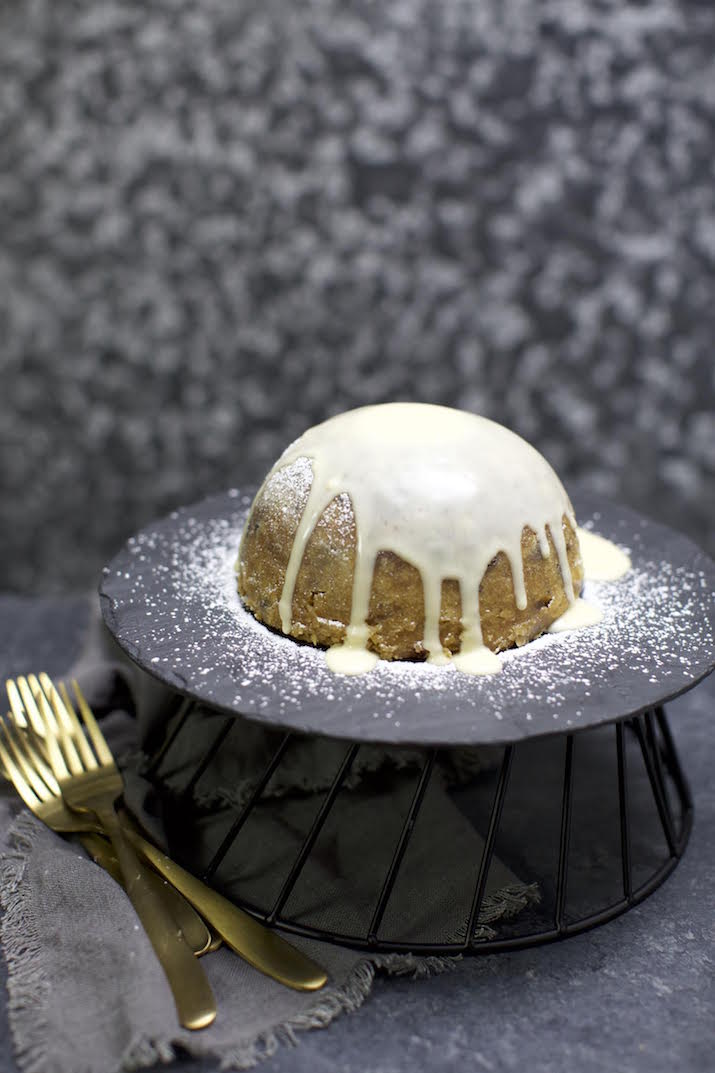 Ingredients
For the mincemeat
375g Sunbeam Mixed Fruit
50ml brandy
125g brown sugar
zest and juice of ½ lemon
1 apple grated
½ tsp ground nutmeg
For the pudding
600g home made Mincemeat
grated rind and juice of 1 orange
2 tbsp brandy
50g self raising flour
50g white bread crumbs, preferably fresh
1 egg
100g butter melted
Garnish
Icing sugar, sifted
Vanilla brandy custard
Method
1.Place the Sunbeam Mix fruit and all the other ingredients for the mince meat in a bowl and allow to soak for at least one hour
2. Once soaked, add the mince meat mixture into a glass heat proof bowl. Add in the rest of the pudding ingredients and mix well to combine. At this point you can either transfer the mix to a pudding basin or flatten the mixture into the current heat proof bowl. Cover with a circle of grease proof paper and microwave for 8-10mintues on high.
3. All to stand for 5 minutes before turning out. Serve with a dusting of icing sugar and vanilla brandy custard. Enjoy!
RUM AND RAISIN CHOCOLATE SALAMI LOG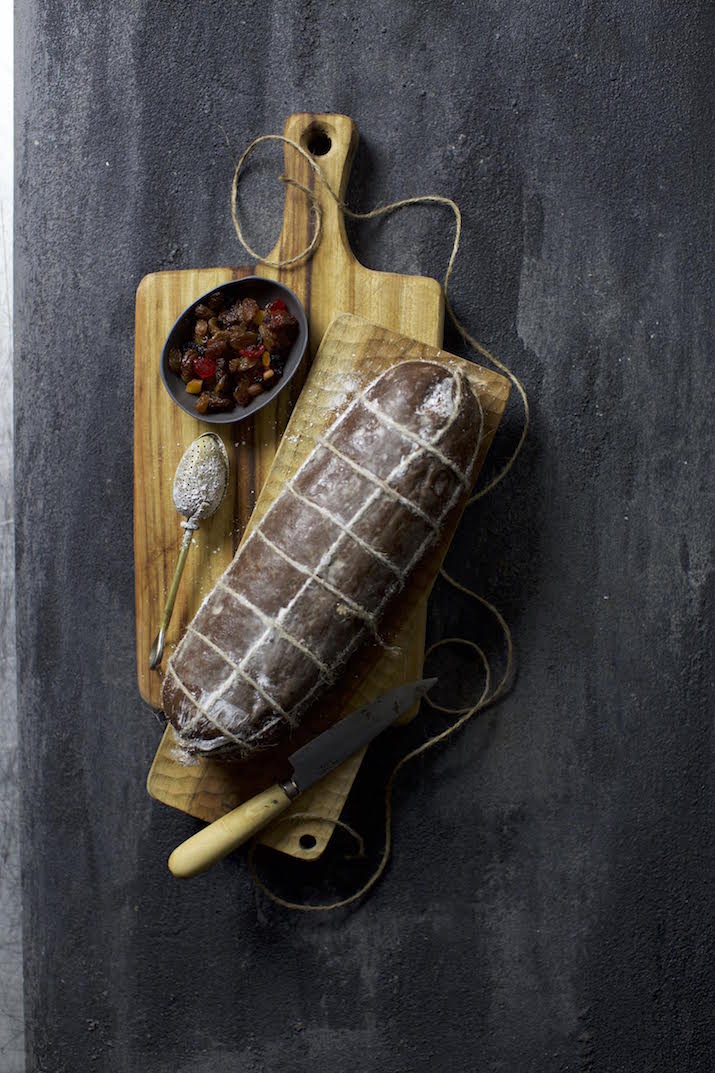 Ingredients
250g good quality 70% dark chocolate, roughly chopped
250g ameretti biscuits, crushed into small pea size chunks
100g soft unsalted butter
150g caster sugar
3 eggs
2 tbsp spiced or dark rum
2 tbsp cacao powder
1 tbsp cinnamon
40g hazelnuts, roughly chopped 4
0g pistachios, roughly chopped
125g Sunbeam Gourmet Selection Mixed Fruit (Dates, Figs, Cranberries & Sultanas)
Garnish
2 tbsp icing sugar
3 tbsp Sunbeam Gourmet Selection Mixed Fruit
Method
1. Melt the chocolate in a bain-marie until smooth. Remove from heat and allow to cool slightly.
2. Cream the butter and sugar together in an electric mixer. Keep the mixer going on medium speed, and once super light and fluffy add in the eggs one by one. Next beat in the spiced rum. Mix until incorporated.
3. Next add sifted cacao powder and cinnamon to melted chocolate and mix to combine. Then beat the chocolate into the egg, butter, sugar mixture.
4. Once you have a smooth chocolate mixture, fold in nuts, ameretti biscuits and Sunbeam Gourmet selection Mixed Fruit. Mix until everything is covered in chocolate. Place in fridge to firm up for about 20 minutes.
5. Take two large pieces of cling film and overlap the wide sides slightly to make one large sheet of cling film. Tip the chocolate mixture out onto the cling film into a log shape about 30 cm long. Use your hands to mold the log and press firmly to remove and gaps or air. Clean hands and begin to roll the cling film over the log to encase the chocolate like a thick salame. Twist the ends by grasping both end of the cling film and rolling the sausage log towards you several times. This should give you a nice even thick shaped log. Knot both ends on the log tightly. Put in fridge for at least 6 hours to set. 6. To tie the chocolate salame, tear off a large piece of baking paper to create a work surface, take out salame from the fridge and sit it on the paper. Measure out butchers string to
6 times the length of the salame and tie one end of the string firmly to the cling film knot. Trim away cling film from log but leave about 2 cm still attached to either end so that the string has something to attached to.
7. Dust hands with icing sugar and rub 2 tbsp into the chocolate log to stop it getting sticky. Add more if needed.
8. To string the chocolate log to look like a salame, make a loop and feed it around log close to where the tied end is. Pull on the trailing end to tighten, but not too tight, form another loop and feed onto salame and tighten loop about 3 cm from the previous loop. Continue around the rest of the salami.
9. Once you reach the end, tie the string firmly around the other twisted Clingwrapped end. Then with your remaining string, feed it back along the opposite side of the salami, looping it over each encircling string. Then tie it again when you reach the top cling film knot.
10. Transfer to a wooden board and serve just like a sliced salame with a knife on the board and some extra Sunbeam Gourmet Selection Mixed Fruit to garnish. Serve fridge cold.

Related posts