CADBURY CRUNCHIE FUDGE SLICE (3 INGREDIENTS!) BY PHOODIE 0
August 4, 2017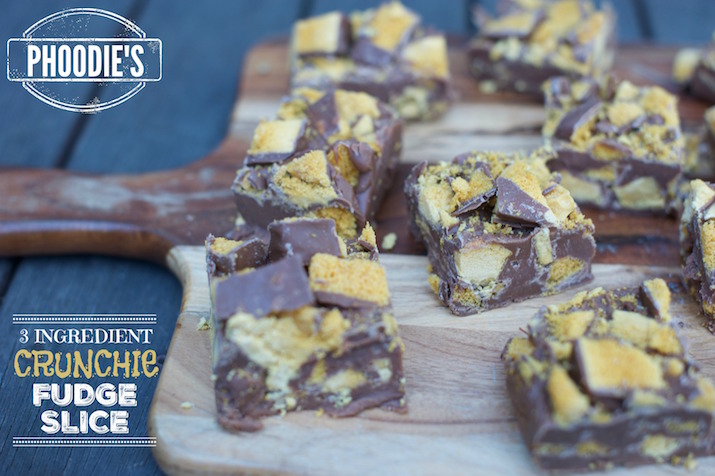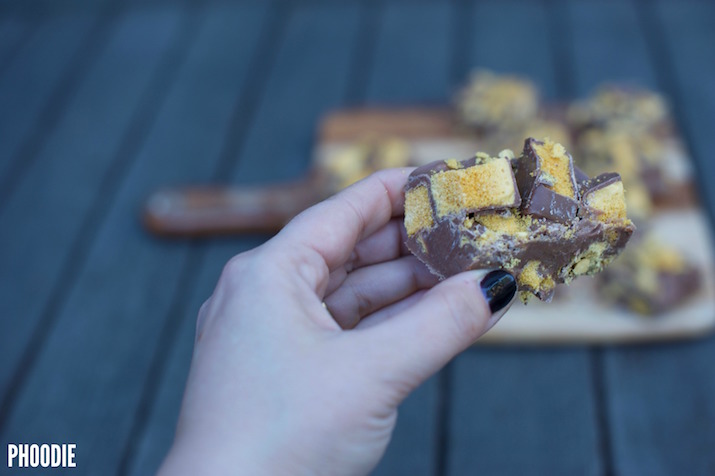 Chocolate Honeycomb is one of my all time favourite indulgences, and this creamy, soft, gooey slice just takes it to the next level!
3 ingredients is all you will need to whip yourself up a batch!
Make sure to snap it and tag me in a photo when you make it.
You'll find me on FACEBOOK HERE
You'll find me on INSTAGRAM HERE
You'll find me on TWITTER HERE
Click HERE for my Creme Egg version, and Click HERE for my Kit Kat version.
Kali Orexi!
INGREDIENTS
395g Sweetened Condensed Milk
400g Milk Chocolate (can use Dark)
4 x Cadbury Crunchies (50g each), chopped, for centre of slice
An additional 4 x Cadbury Crunchies (50g each), chopped, to decorate top of slice
METHOD
Line a 20cm square cake tin with baking paper.
In a pan over a medium heat, combine the condensed milk and the milk chocolate. Whisk continuously until combined.
Once combined, remove from heat and allow to cool for about 20 seconds.
Pour half of the mixture into the tin and spread with a spatula.
Place 4 of the Crunchies (CHOPPED!) on top of the first half of the poured fudge, making sure to cover the fudge, and then pour remaining half of fudge mixture on top of chopped Crunchies and spread evenly with spatula.
Top with additional chopped 4 x Crunchie bars.
Set in fridge.
Slice with sharp chef's knife.
Stores for a week in tupperware in the fridge.