PHOODIE'S RIDICULOUSLY DELICIOUS VEGETARIAN LASAGNE FEATURING EDGELL BLACK BEANS #Edgellplusone 1
November 5, 2015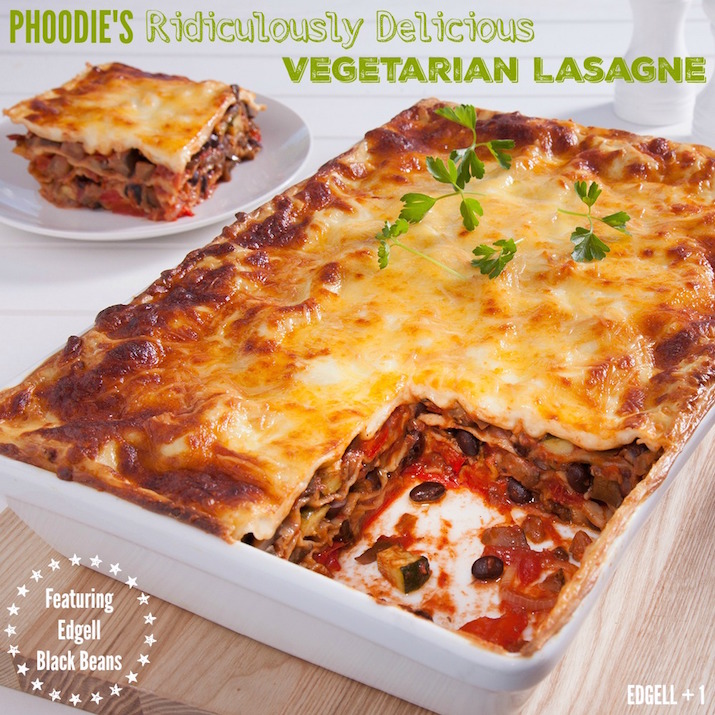 This recipe post is sponsored by Edgell 
The name says it all – this Vegetarian Lasagne is ridiculously delicious. I've snuck some black beans into the layers of yummy vegies and then covered the whole thing in melted cheese. Sound good!? That's because it is!
The Edgell + 1 project was designed to show you just how simple it is to add an extra serve of veggies into each meal! As the Mum of two small kids, I was super excited to be involved with this and actually surprised at how easy it was to develop these recipes (I've got 3 more on their way, plus there is a stack on the Edgell +1 website) ensuring that the vegetables were included but the food remained a 10/10 on the taste scale!
INGREDIENTS
1 x 400g can Edgell Black Beans
2 red capsicums
2 zucchinis
2 small eggplants
Olive oil
1 small white onion
2 cloves garlic
2 large Portobello mushrooms
800g can tomatoes
Salt, pepper
40g butter
40g flour
1½ cups milk
Grated mozzarella and parmesan for topping
Fresh lasagne sheets – as many as desired (personal choice as to more or less pasta)
METHOD
Chop the capsicums, zucchini and eggplants into 2cm cubes. Mix together with 1 tablespoon olive oil, season and place (on a baking paper lined tray). Cook in a preheated oven at 200°C for 20 minutes. Remove vegetables from oven and reduce heat to 180°C.
Meanwhile, cut onion into rings and sweat in a medium pan with crushed garlic, a little oil, salt and pepper. Add chopped mushrooms and stir. Once this has cooked for about 2 minutes – pour in tomato, stir thoroughly.
Once oven vegetables are cooked, toss them into onion mix.
Add drained and rinsed Edgell Black Beans, taste and re-season.
To make the white sauce; melt the butter in a saucepan on a low heat. Stir in the flour, a little at a time, once you have made this 'paste' take it off the heat and gradually whisk in the milk. Once all whisked in put back on heat, continuously whisking, and allow to come to a slow boil. You will see it will thicken up. Once thickened, take off the heat and add grated cheese.
In a 22cm x 32cm lasagne dish, assemble the lasagne by spooning some of the vegetable mix on to the bottom of the dish, add a lasagne sheet on top, then add more vegies, then add another lasagne sheet. Repeat until dish is almost full. Make the second last layer a lasagne sheet and then your final layer all of the white sauce. Cover with grated cheese (as much or as little as you like.) Bake in a 180°C oven for about 40 mins.
Serve with rocket/green salad
TIP: Like all lasagnes, this is best made the day before, stored in the fridge and reheated the next day to develop flavour.
For more great ideas on how to add vegetables to your meals, check out Edgell +1 Website here!