CHOCOLATE REINDEER BARK BY PHOODIE + MERRY CHRISTMAS TO YOU ALL! 0
December 7, 2016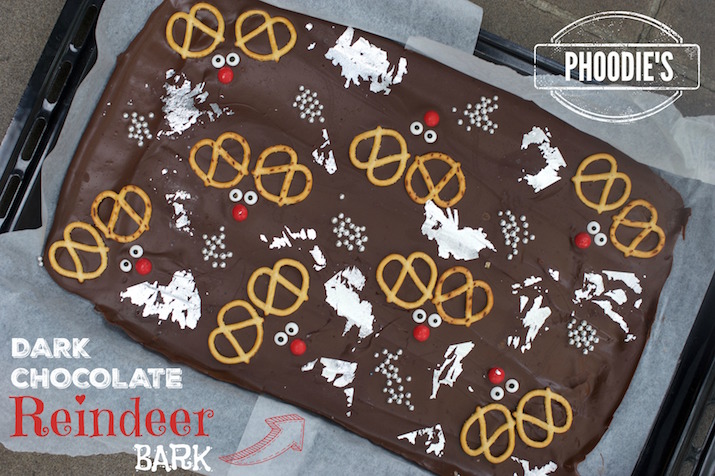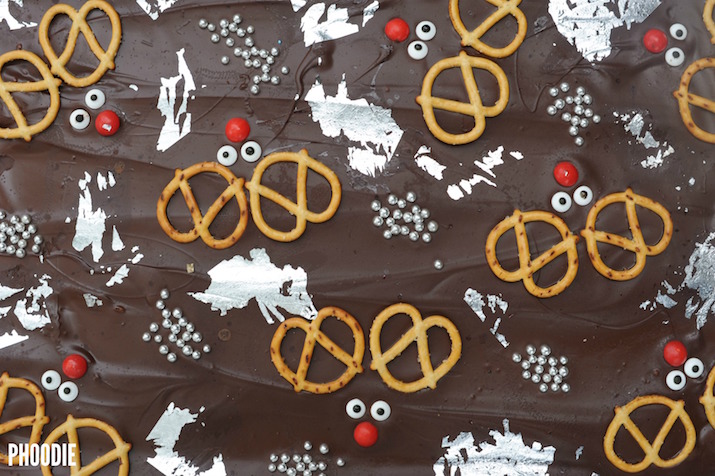 "It's the MOST Won-der-ful time of the yeaaaaaaaar!"
It really is.
And for so many reasons!
It's Summer.
School's out.
Work's out (for a short while anyway!)
…..and Christmas is on it's way!
Apart from all of the 'serious stuff', to me, Chrissy is about receiving gifts and stuffing one's face! What could be better!?
What?
WHAT?!
Ohhhh… GIVING gifts! Yes, yes, that's right, it DOES feel better to give then to receive…. sometimes…
But WHAT to give to the person 1) who has everything 2) who you don't know that well 3) who you don't want to spend a million dollars on?!
THIS.
Fabulously and deliciously cute Reindeer Chocolate bark! I normally use dark chocolate but you can definitely mix it up and use milk or white to suit the recipients tastes!
Some other awesome edible ideas are my Mini Christmas Puddings (click here), my Mint Chunk Rocky Road (click here), my Rocky Road Christmas Wreath (click here) and my Reindeer Cookies (click here.)
In other news…..I am taking a little bit of time off over December! You'll still find me hanging out on Social Media though, on FACEBOOK – www.facebook.com/phoodieblog and on INSTAGRAM -www.instagram.com/phoodiegram) And with that said, I would like to take the opportunity to wish everyone a safe and happy Christmas (if you celebrate) and a wonderfully sunny 'Festive Season' (if you're not a Christmas person!)
Thank you SO much for all of your support in 2016! I look forward to an even bigger, brighter, better and tastier 2017!
Phoodie :)
INGREDIENTS
To make a large tray
900g dark chocolate, melted
2 pretzels per reindeer
1 red skittle per reindeer
2 candy eyes per reindeer
Silver cashous/balls
Silver leaf – optional
METHOD
1) Melt the chocolate in 20 second bursts in the microwave. Make sure to stir in between.
2) Spread melted chocolate over a baking paper lined tray.
3) Use pretzels, eyes and skittles to form scattered 'reindeers' as per images below.
4) Sprinkle cashous in clusters.
5) Apply silver leaf randomly.
6) Set in fridge and then snap into pieces to serve.
KALI OREXI!